The toy photography hobby is fantastically rewarding on its own. Sharing the photos with others on social media often takes it to another level of enjoyment. But some photographers take it beyond the digital and make prints of their work, either for personal enjoyment or for sale. And with the growing accessibility of print-on-demand merchandise, you can even put your photos on things like coffee mugs, tote bags and playing cards. A bit of a disclaimer, however: "Your mileage may vary." Some printing companies take issue with any image containing a licensed character, and sometimes LEGO takes issue with commercial use of images of their toys. While it's usually possible to print a few items for personal use and friends, there's no guarantee this will always be an option.
That said, read on to hear the experiences of several toy photographers who have ventured "beyond the screen" with their work!
I have no delusions of grandeur about my photography, but it's an art form that delights me and something that most of my friends find unique and fascinating. Even though I've only been sharing on social media since 2016, I've received a fair number of requests for prints of photos that particularly resonated with viewers. Who am I do deny them the joy? (ha-ha!)
For the most part, however, my printing and merchandising efforts are for my own pleasure.
There are many approaches to sharing or selling prints. Some people take the idea of being an "artist" very seriously and choose high-end, archival-quality prints. I have chosen the casual, cheap route to make it easy on my friends. Places like CVS in the U.S. will print photos on canvas or on glossy photos mounted onto wood blocks (among many other choices like greeting cards, books, calendars, holiday ornaments, key fobs, etc) at a very reasonable cost. This allows for a modest profit and/or to cover shipping costs.
Shutterfly is also a good resource, but it's best to catch them on a sale or with a discount code or they get a little pricey. Their products have been nice quality, though.
I have displayed and sold my photos at conventions, but so far only as a side note next to t-shirts and books on a vendor table devoted to Havok, a flash fiction publishing venture.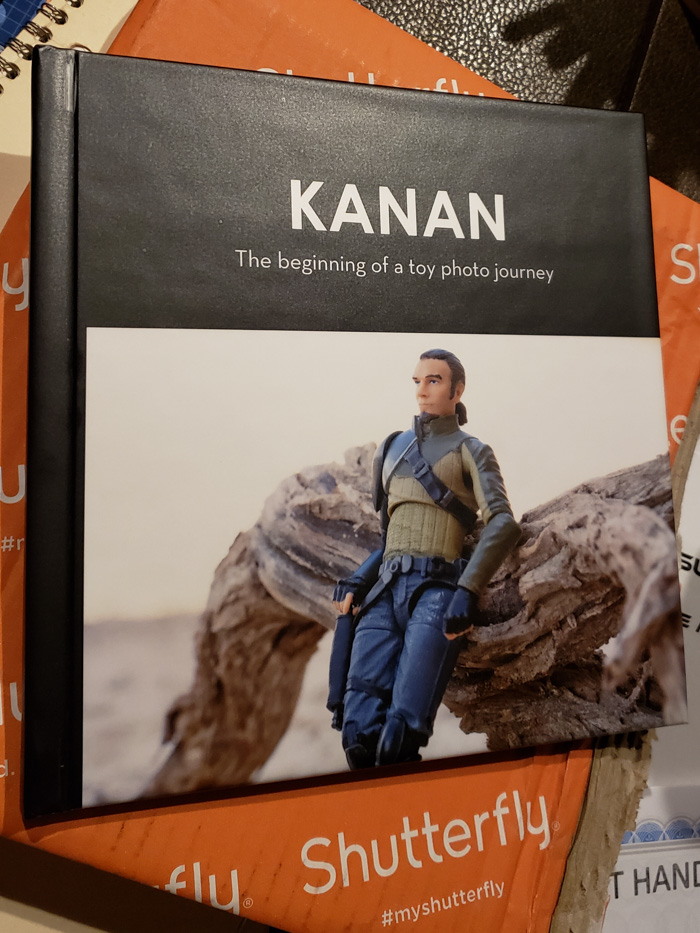 I was surprised at how good it felt to hold a book of my photos in my hands and page through it. The occasional investment to see my work on physical items around my home is thoroughly rewarding.
If you read the blog a lot then you'd know the reason I started toy photography back in 2016 was to re-create my life with my husband from the moment we met as a Christmas gift. Looking back on it now its a little old school and crudely done but I will always cherish it for what it is, snapshots of our life together. I did it the regular old fashioned way, sending my photos to a 24hr photo print shop. I got a small photo album, placed the photos in each slot, and wrote little snippets on the side, like I mom would do in all our photo albums.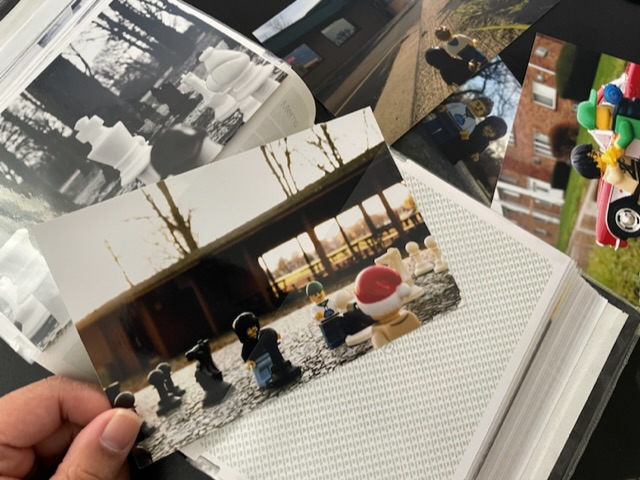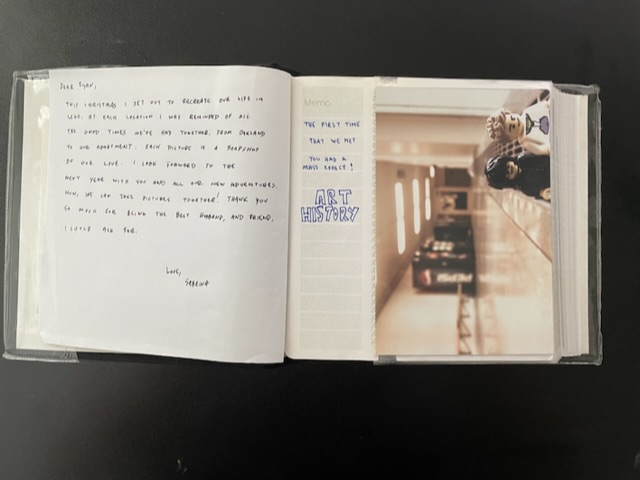 Afterwards, I just kept going with the toy photography. But, rarely printed. While I've mostly stopped re-creating my life in toy photography there are moments and times when I print photographs. Mostly, it's as gifts for my friends, family and co-workers. And, the occasional request for a print. My work hasn't been displayed on any galleries but a few of my coworkers have displayed my work in their homes.
In honoring my toy photography origin I tend to create custom cards or photographs for my friends and family on special occasions. Very similar to what I gave my husband for Christmas in 2016 but I've gotten a little better at photography and now there are so many more ways to print your work. Let me tell you it's much easier now to create a photo album or a photo book now than ever with sites like Shutterfly. It's even easier to make Canvas prints with sites like Mixtiles. When the shuttle bus driver at my work was leaving I recreated her wedding in toy photos and gifted it to her along with a couple of LEGO minifigures. I wasn't able to get a print to give her when she left but she since has printed the photos and add them to her wedding album.
One of my favorite things to do is print small little inspirational cards with a little photo and words to hand out. Sometimes, they are the size of a business card. I've even started a Valentine's Day tradition, where I hand out custom cards to my co-workers along with a piece of candy just like you would in elementary school. This is one of my favorite things to do, I think as adults we forget the simple joys of receiving a valentine's day card from a friend without the pressures of Valentine's Day. I don't have a photo of the cards but I do have a video of my co-workers reaction to receiving them.
I created the cards on Google Slides. But, Powerpoint works too. Just a few words on a photo. I printed them on glossy paper at a FedEx cut them out myself. Put them in small plastic bags I got at the dollar store, with some candy and bam custom cards. These are mini cards the size of a business cards, but if you want to make your own custom card that's a normal size with google slides check it out here.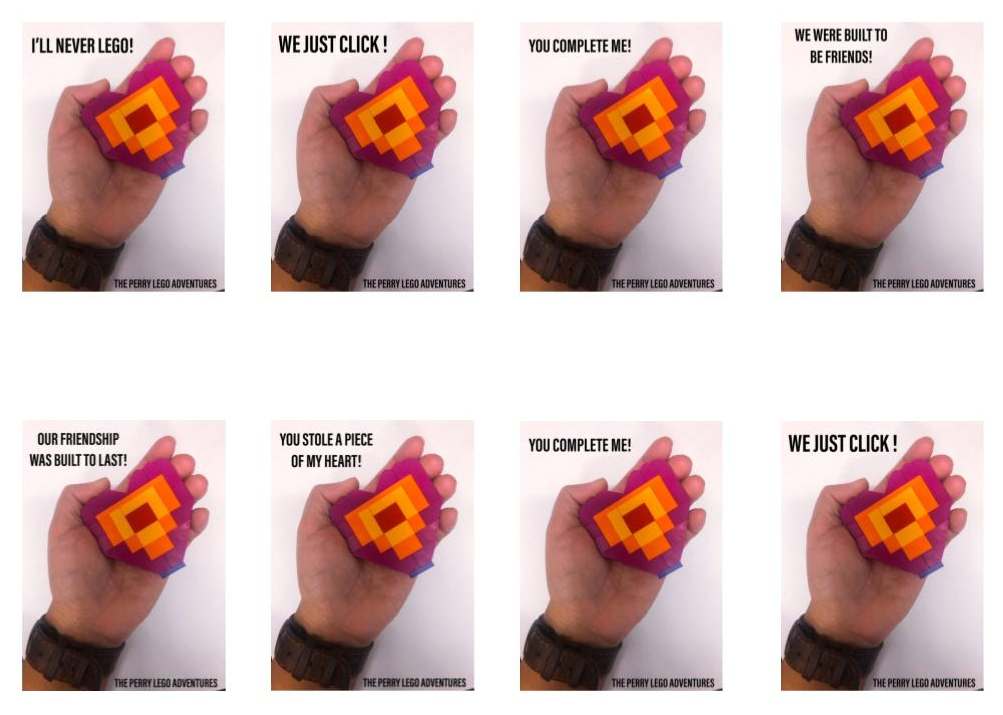 However, one of my favorite things to receive are the post cards from other toy photographers in the annual Stuck in Plastic Christmas Card Exchange. In joining the card exchange I realized that creating toy photography for the purpose of creating a card is something special there is nothing like holding a custom card in your hand. You can go to Moo.Com to print your own postcards.
Lately, I've really been enjoying using the Fujifilm Instax Printer to print Instant Film versions of my favorite toy photos I've taken. Your photography can look awesome on your IG feed, but it's even more satisfying to see and feel it on a printed page or hold it in your hand. I definitely recommend printing your work in any capacity. Whether its just for you or for display.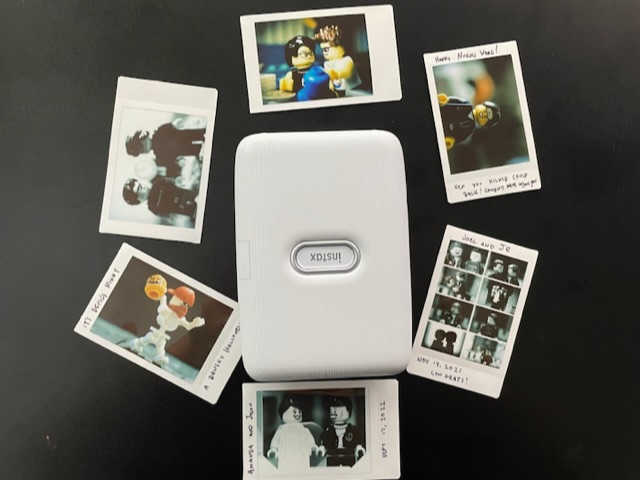 One of my must-have Christmas gifts for family and friends are my calendars. Everybody looks forward to them every year. I create two different types, using two different suppliers. My full size calendars are created through Mixbook. They have dozens of different calendar designs and layouts to choose from 12 x 12 or 11 x 8 ½ which can be totally customizable with just a few clicks of your mouse. Excellent stock and print quality. Lots of personalization options. Quick shipping with reasonable shipping rates.

Creating a calendar is very easy with Mixbook. From your main page you can upload your photos, choose & change layouts, customize backgrounds, add stickers and add text. The Manage Events button along the top of the screen, allows you to customize dates that will appear on your calendar. Add birthday's, anniversaries, special occasions or simply choose from a selection of preloaded special occasion dates.
Once your photos are loaded, you can simply drag the photo to the box you want it placed in. You can edit the photos once placed and if your photos don't meet the proper resolutions for printing, a notification will appear informing you that you need to make changes. Stickers are simply a drag and drop process and there are hundreds of different stickers to choose from.
HINT: I normally have my calendars ready for the middle to end of October and keep them ready to order as they often have some great sales leading up to the holidays.
Desktop calendars are great for gifts for your Team at the office or a wonderful little addition to Christmas gifts. Canvas Champ has 3 different sizes for desktop calendars but I personally use the 4 x 6 size. I do up a batch of these for co-workers and friends every year and they eagerly await them. I use the .ca (Canadian) website but they do have a .com site as well.
Creating a calendar through Canvas Champ is very similar to Mixbook. They have a number of different templates to choose from and you can load up to four pictures for each month which is a feature I really love. Load your photos, drag and click into the template layout you want to use and in no time at all, you are done.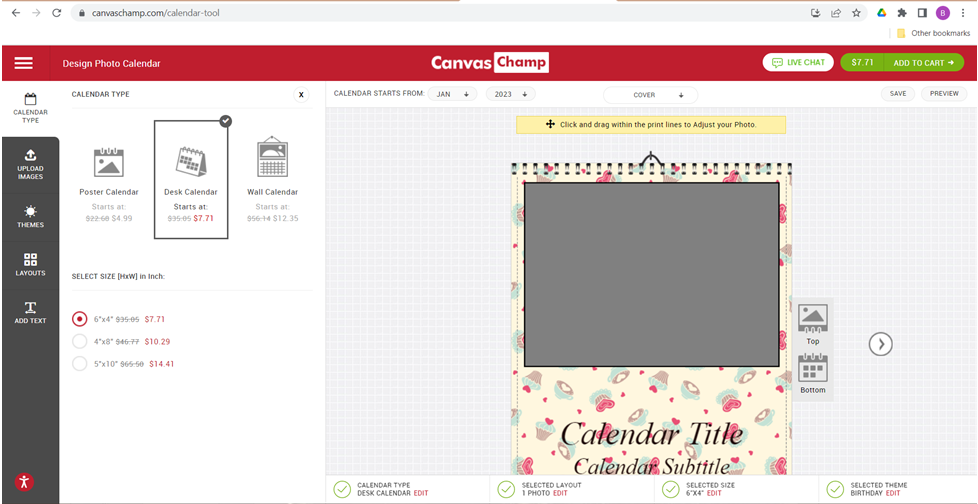 Canvas Champ prints calendars on high quality matte finish stock, making this calendar durable and able to last the whole year. They are printed on both sides–which initially worried me when I first ordered them, thinking you would be able to see the picture on the other side, but with the high quality stock paper this isn't an issue at all. Canvas Champ also offers many different photo gift options. I personally have printed a few canvas prints and last year did up two photo pillows of my friends' dogs. They were a hit!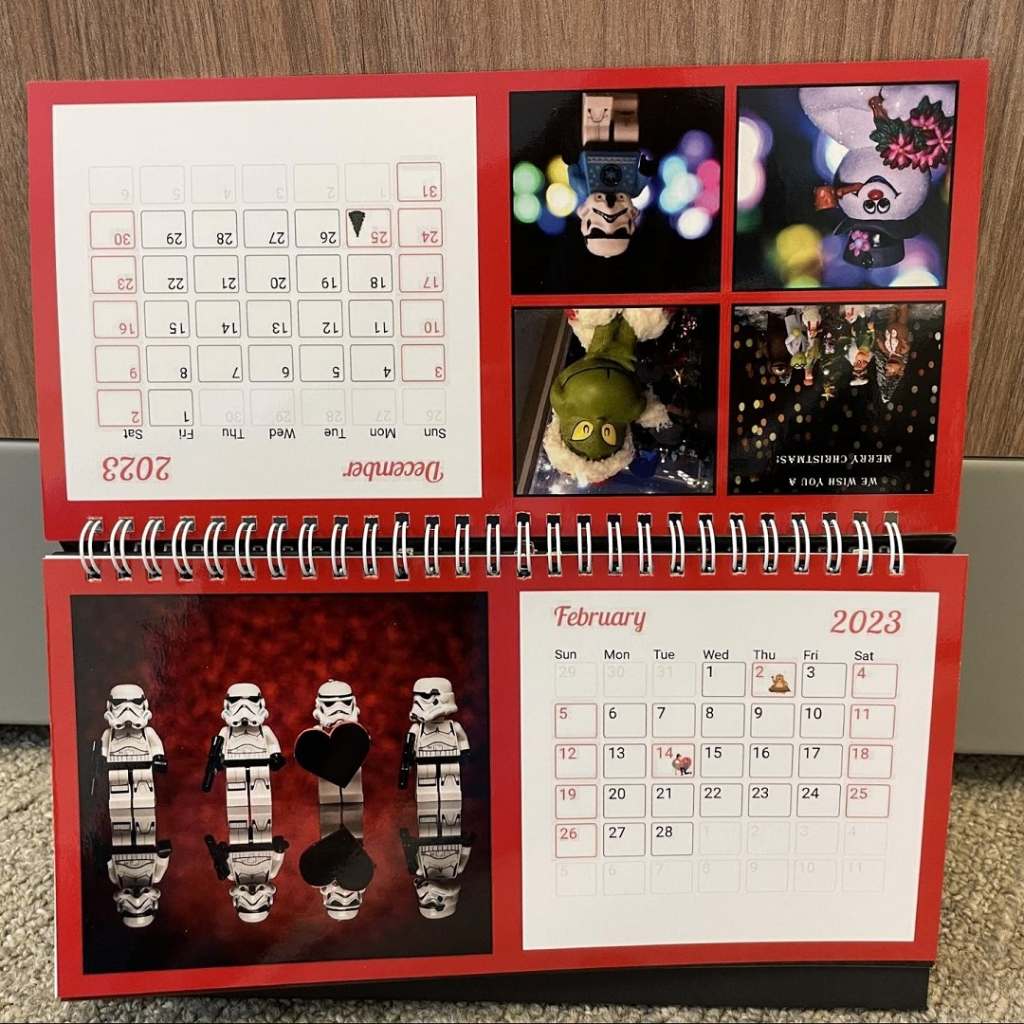 Conclusion
There are many fun ways to use your photos beyond simply posting on social media. If you've done something different with yours, or have a favorite printing or software resource, tell us about it in the comments!