Now, the making of a good compilation tape is a very subtle art. Many do's and don'ts. First of all you're using someone else's poetry to express how you feel. This is a delicate thing.

Rob Gordon – High Fidelity
Dear Reader,
When Shelly told me it was my turn to pick the next podcast challenge I was both nervous and excited. I'll be honest I really didn't know what kind of challenge I wanted to do. We had just done the monochrome challenge. The only thing I knew was that I wanted to do something that was geared more toward the creative side of toy photography instead of the photography aspect.
I don't know about you, but whenever I need some sort of inspiration, I tend to gravitate towards film, and tv more than music.
However, I have always been the kind of person, to use song lyrics to inspire. For those of you who are fans of dungeons and dragons, I think of myself as a bard. I always have lyrics stuck in my head. The Pokémon theme song was stuck in my head for a good ten years. I have to sing "whoa we're halfway there" in the middle of the work day to myself every shift. Every sentence has the potential to be a song lyric pun. Life becomes a musical.
For my own entertainment, I would suggest #tp_mixtape so that I could see lyrical photo puns, rock ballads, pop songs, and musicals in toy photography. And boy did everyone deliver. This turned out better than I could have imagined. I want to thank everyone who shared pieces of themselves through their photography and the songs that inspired them. I feel like I got to get to know each and every photographer who participated a tiny bit more.
Normally, for a podcast post I'd write a little bit more about what I learned. About, how fascinating it was to analyze the 145 songs chosen and the photographs that were inspired by them. I'd write about how weird it was that there was only two children's songs used for Toy Photography challenge. How each era of music, produced different photographs and I didn't notice it until I looked at the bigger picture.
I'd write about after creating a playlist with all the songs used, I texted Shelly saying I have made so many more realizations, and have so many more questions I want to ask you. Which resulted in us rerecording the episode.
Instead, I invite you to listen to the podcast but also listen to the Spotify Playlist that inspired this month's Toy Photos. Because, for me that was when my appreciation for this challenge grew ten fold.
Listen to all the songs here. The Toy Photographers #tp_mixtape Playlist on Spotify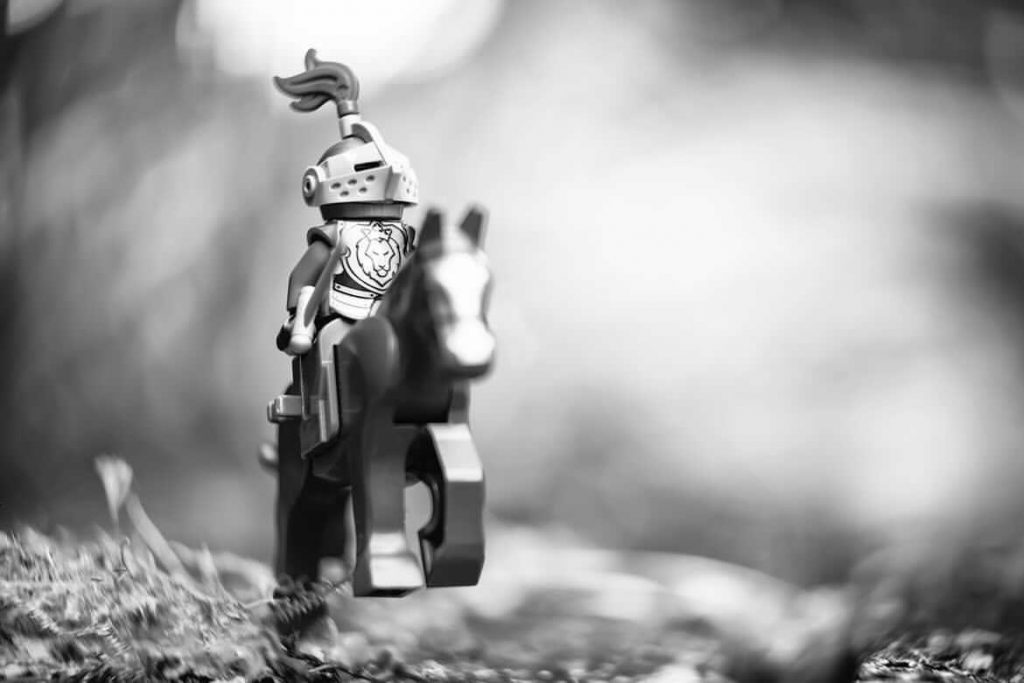 Making A Mixtape.
Track 1 – "The Start Of Something New"
Like, the first song in High School Musical "The Start Of Something New" I had no idea what was to come. I just new that "this could be the start of something new" I just didn't know what it was.
While the podcast challenge was progressing I was following the hashtag. As a new entry was submitted I would look at each photo, read the song lyric the toy photographer chose, and then listen to the song that inspired the photo. And it was fun. Each individual photograph taken was a sight to behold, from the whimsical to the emotionally raw and heavy.
It wasn't until I was writing this podcast post, after recording the first time, did it occur to me to actually make a playlist. I was going through the #tp_mixtape and writing every song out.
Then I realized you don't just add songs to a list to make a playlist. That isn't a true mixtape. I wanted everyone who takes the time to read this article to be inspired, to ask questions, to have realizations like I did. I wanted people to see what I saw behind not only the photographs but the song choices.
I thought, should I list the songs by year? Should I list it by genre? Should I make multiple playlists. An A side and a B side. The possibilities were endless. At first I just listed out every song.
However, I started to notice similarities between songs, between eras, between photographers. But, I couldn't really figure out what was similar.
I thought maybe, I'd figure it out if I separated the songs out by decade. After, I did that I had even more questions.
Even though there was 145 different songs used. I wanted to, NO, I needed to find a deeper meaning, I wondered why most of the songs were 80s songs. I wanted to know why, no one chose to do 90s boy bands, why wasn't there a lot of Disney? Why were all the songs chosen from the Aughts so depressing? What was it about the songs chosen, that warranted a toy photo? What was it about those bands, about those particular lyrics that made people pick them.
Why make a pun about Penny Lane and Not Day Dream Believer? Why use Batman and Joker with a song from Toy Story instead of Woody and Buzz?
Track 2 – "Play It Again, Sam" Rerecording The Episode
It was after all those questions, thoughts and ideas, flooded into my mind. I messaged Shelly. Asking her all my questions, wondering out loud, it was in that text exchange she said,
"It's not ideal, but I think we should rerecord the episode".
And, so we set a date to rerecord. I could breathe easier knowing I could get all my thoughts out.
However, my research wasn't done. I was still in a crisis, not an existential one just a normal one. Anyway, deciding to rerecord gave me a reason to take an even deeper dive into the songs chosen to inspire the toy photography.
Track 3 – "Working 9-5" Listening To The Playlist
I work 12 hour shifts, so listening to a 10 hour playlist created by Toy Photographers to use as inspiration is simply the greatest gift I didn't know I needed. When the challenge started, I figured I was going to make a playlist of songs, I like, that inspire me, that remind me of my life, and remind me of the one I love. I don't know why I didn't think other people would do the same. Listening to the playlist, listening to those songs now reminds me of this challenge, reminds me of the toy photography community and the unbelievable photos that came out of it.
The Song List – On The Back
Along with creating an actual mixtape playlist, I listed out every song and artist used and linked the photo the toy photographer created. This was by far the most labor intensive post I've ever done, it reminded me of actually creating a mixtape with a cassette tape and recording the songs off the radio. I felt the same way I did, when I would download songs and burn CDs for my cousins, taking care to create an immersive listening experience.
I followed Rob Gordon's rules from High Fidelity. "The making of a great compilation tape, like breaking up, is hard to do and takes ages longer than it might seem. You gotta kick off with a killer, to grab attention. Then you got to take it up a notch, but you don't wanna blow your wad, so then you got to cool it off a notch. "
You see as a community we didn't just compile a list of songs, we made a mixtape.
The Spotify Playlist
Did we make a Mixtape? A Compilation? A Playlist? Either way give it a listen. Maybe, you will be inspired to take other photos. I also encourage you to click each song title to view the photo inspired by the song.
Did I mention the song list below is in order of the playlist? You can listen to the playlist and look at the photos at the same time.
Listen to all the songs here. The Toy Photographers #tp_mixtape Playlist on Spotify
Records… Actual Record Albums
These songs are what you call classics. They're oldies but man are they goodies. And, honestly they aren't even that old, they were just all on records.
A Day In The Life – The Beatles – (brickandmordor)
Penny Lane – The Beatles (barb_bphotography)
White Rabbit – Jefferson Airplane (Neil The Traveler)
These Boots Are Made For Walking – Nancy Sintra – (doctornvrmore)
Blueberry Hill – Fats Domnio (zekezachzoom)
Monster Mash – Bobby Picket and The Crypt Keepers – (toddretired)
You're Dead – Norma Tanega – (doctornvrmore)
I Wanna Be Your Dog – The Stooges – (morriswhyadd)
Golden Years -David Bowie – (velvet_fafol)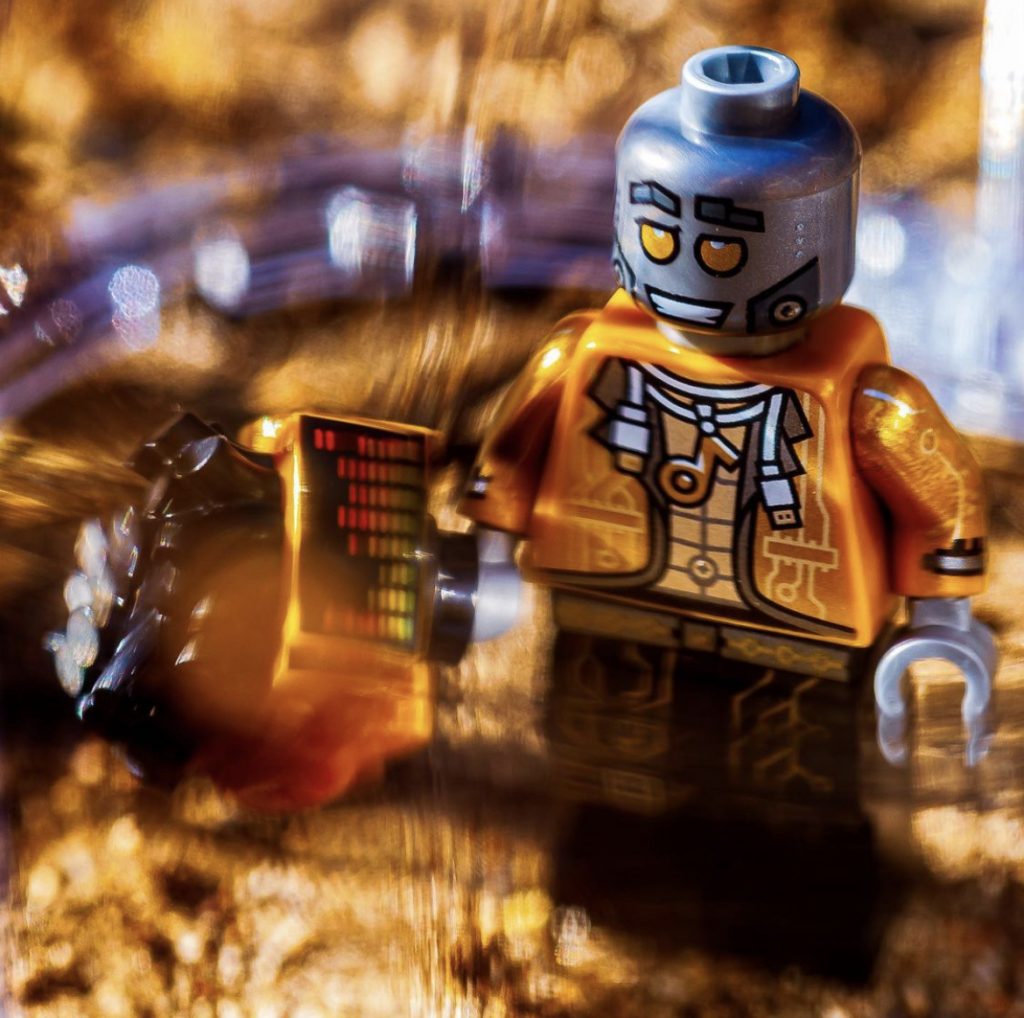 Tangled Up In Blue– Bob Dylan – (greenehenphotograph)
Surfer Girl -The Beach Boys (jlandroth)
Good Morning – Singing In The Rain (skizzoph)
Rambling Boy – Tom Paxton (pnmaryf)
Mrs. Robinson – Simon And Garfunkel
La Bamba – Los Lobos (zekezachzoom)
I Want To Hold Your Hand – The Beatles (zekezachzoom)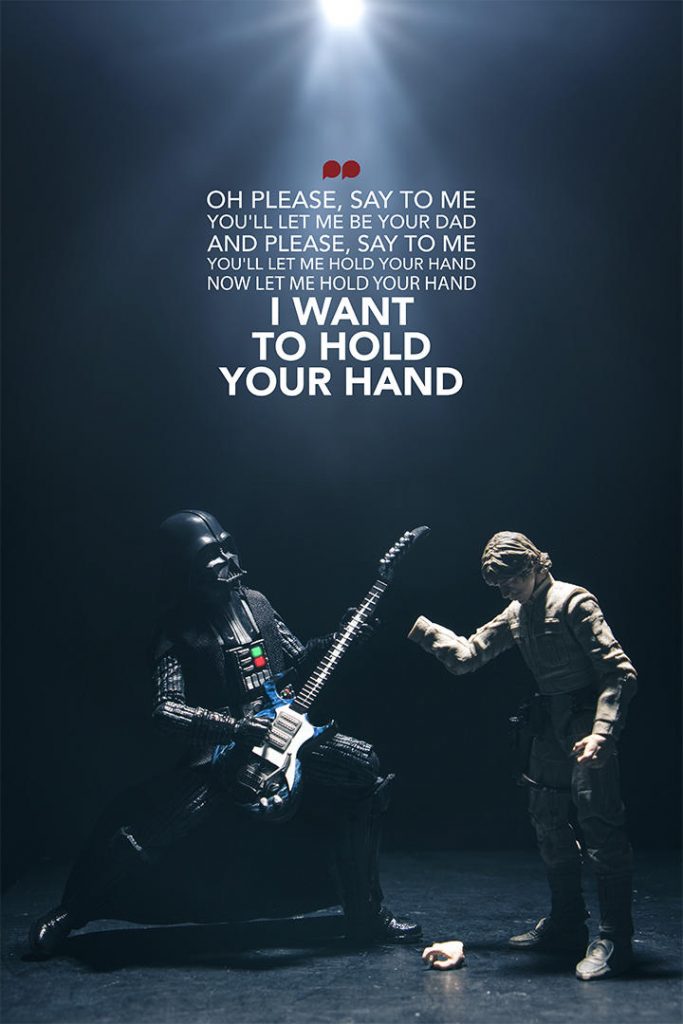 Blue Days Black Nights – Buddy Holly (mischievousminis)
The Joker – Steve Miller Band – (greenehenphotography)
A Case Of You – Joni Mitchell – (morriswhyadd)
Pennies From Heaven– Frank Sinatra – (Tao Liao)
Goodbye Yellow Brick Road – Elton John – (doughlyeyg)
Die Roboter – Kraftwerk – (Tomek)
Stuck In The Middle With You – Stealers Wheel (zeekezachzoom)
Don't Eat Yellow Snow – Frank Zappa – (joecow)
Everyone Loves The 80s!
The 80s really did inspire a lot of creativity out of the Toy Photography Community. I wonder if our photography styles are influenced by the music that we listened to in our formative years? Or maybe, there's just a lot of rebellious rocker toy photographers. Let me tell you, that the toy photography that 80s music inspired is totally rad. Totally.
Welcome To the Jungle -Gun's N Roses (barb_bphotography)
I'm Gonna Be(500 Miles) – The Proclaimers – (mysiren)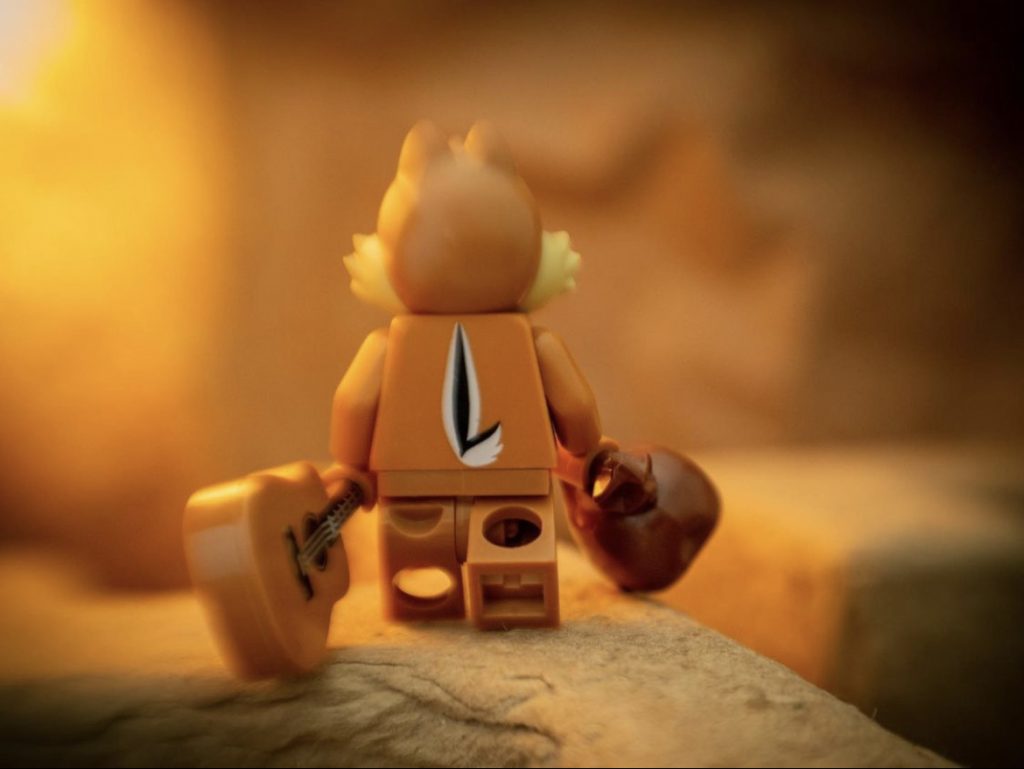 Nebraska – Bruce Springsteen – (doctornvrmore)
Everybody Wants To Rule The World – Tears for Fears – (shellycorbettphotography)
Nebraska– Bruce Springsteen -(doughleyg)
Bohemian Rhapsody – Queen – (zekezachzoom)
One Two Freddy's Coming For You – Nightmare on Elm Street – (agent_variant)
One Way Or Another -Blondie – (doctornvrmore)
Masters of War – Bob Dylan – (tomekskog)
Children Of The Revolution – T. Rex -(tomek)
Born In The U.S.A. – Bruce Springsteen – (tomekskog)
Use Your Illusions I & II -Guns and Roses – (tavisrussell)
Heart Shaped Box – Nirvana / Lights Up- Harry Styles /You Light Up My Life- Debbie Boone/ Hearts On Fire – Illenium and Dabian ft. Lights – (theperrylegoadventures)
Heart Of Glass – Blondie – (tomekskog)
Sad But True – Metallica (tomekskog)
Tainted Love -Soft Cell (shelly)
Sail Away – Styx – (shellycorbettphotography)
Here Comes The Rain Again – The Eurythmics – (doughleyg)
I'm an Englishman in NY – Sting – (leadbricks)
I'm an Englishman in NY – Sting – (tomekskog)
Manic Monday – The Bangles (leadbricks)
I Just Died In Your Arms Tonight – The Cutting Crew – (doctornvrmore)
Time After Time – Cyndi Lauper – (cerbojam)
Word Up! – Cameo – adamfigurephotography
1999 – Prince – (Josh Reynolds)
Kickin' Child – Dion – (mischievousminis)
Smile – Nat King Cole – (cerbojam)
Never Gonna Give You Up– Rick Astley – (theperrylegoadventures)
Did you think that was it for the 80s. Well, No. There's More.
Everybody Was Kung Fu Fighting – Carl Douglas (phdecker)
Jukebox Hero – Foreigner – (toddretired)
From The Bottom – Blues Brothers (empire_of_lights)
Down Under – Men At Work (brickandmordor)
Walk Like an Egyptian – The Bangles – (phdecker)
Black Cars -Gino Vannelli (morriswhyadd)
Rocket Man – Elton John -(mysiren)
Don't Stand so Close to Me – The Police (shellycorbettphotography)
Mr. Roboto – STYX – (zekezachzoom)
Thriller – Michael Jackson – (zekezachzoom)
Purple Rain – Prince (barb-bphotograph)
Emotional Rescue – Rolling Stones – (shellycorbettphotography)
Blood On Blood – Bon Jovi – (doctornvrmore)
The Windmills Of Your Mind – Barbra Streisand – (morriswhyadd)
Endless Love – Lionel Ritchie (doughleyg)
Like A Prayer – Madonna – (phedecker)
If I could Turn Back Time – Cher- (brickandmordor)
Fear of the Dark– Iron Maiden – (skizzoph)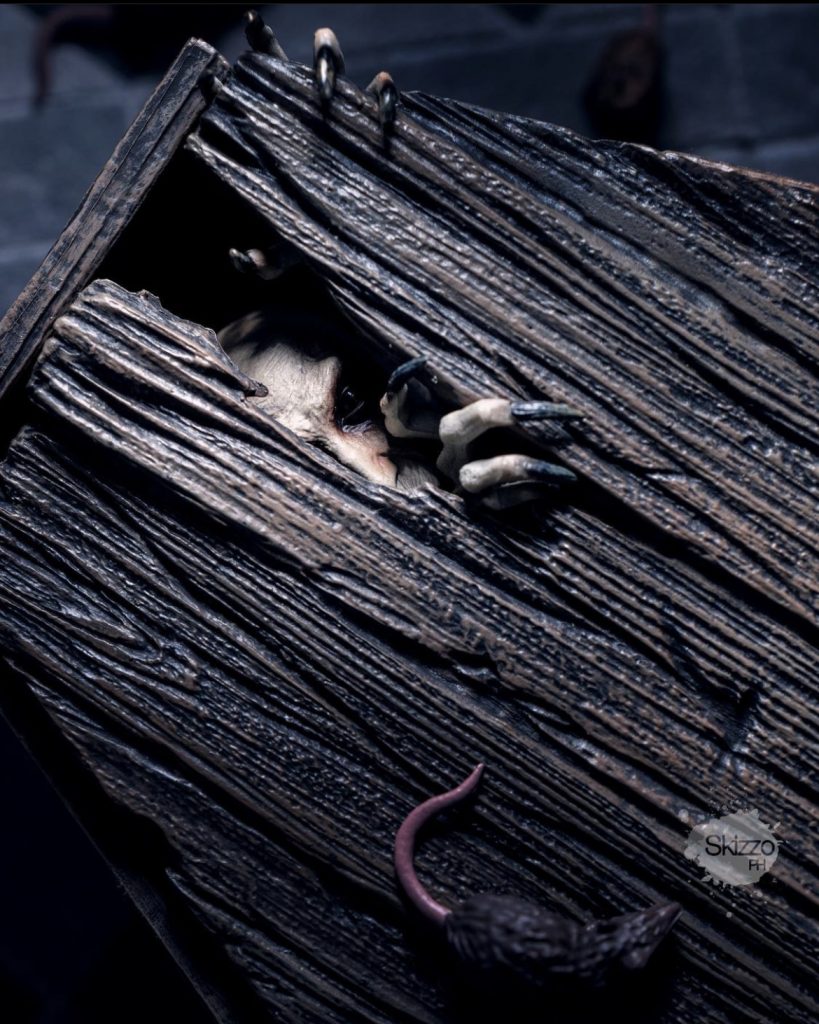 Karma Chameleon – Culture Club – (cerbojam)
Horse With No Name – America (toddretired)
Stray Cat Strut – Stray Cats -(brickandmordor)
Wanted Dead Or Alive – Bon Jovi – (brickandmordor)
Wanted Dead Or Alive – Bon Jovi – (toddretired)
Wanted Dead Or Alive – Bon Jovi – (zekezachzoom)
Mortal Kombat Theme Song – (Fredrik Tornqvist)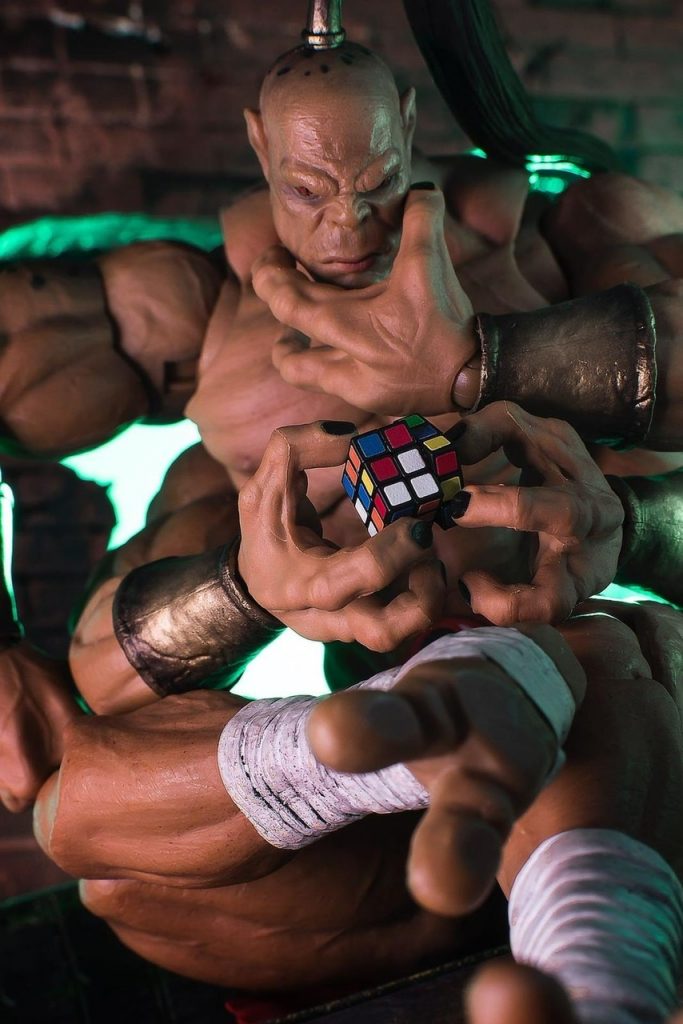 What 80s song did we miss? Let me know in the comments below. I think we need more Aerosmith, or maybe more Guns N' Roses. I know it's this one.
A Tiny Bit Of Country
Since, I was apparently the only one who chose a country song as inspiration. I'll tell you about how the photo came about. When, I was young my dad would sing For Baby to me to help me fall asleep. Now, whenever I hear the song, I immediately get really sleepy.
For Baby – John Denver – (theperrylegoadventures)
What songs did your parents use to sing you to sleep? Let me know in the comments below.
Nursery Rhymes
Maybe, this was so obvious no one thought to do it except one.
Old McDonald – Thomas D'Urfey (yes I looked this up its from before 1706) – (tavisrussell)
The House Of Mouse – No One Wanted To Do Disney?
Honestly, I am surprised that there was only 2 Disney songs used in this challenge. Considering, Disney makes so many toys. Maybe, we aren't all as connected to our childhood as we thought. Maybe, no one thought to do this because it was way too obvious. Maybe, creatively it wasn't as fulfilling to use a Hercules toy to take a "I can go the distance photo" as it was to take a rock ballad and use toys to express "Sweet Emotion". As weird, as I think it is not to use animated movies and tv show songs in toy photography, I am truly in awe of the choice not to take the easy more obvious route. However, saddened I may be by the lack of McDonalds kids toy photos missed. Maybe, that should be a challenge? Let me know below.
You've Got A Friend In Me – Randy Newman – (toddretired)
I Love To Laugh – Mary Poppins (pnmaryf)
You've Got A Friend In Me – (shellycorbettphotography)
I'm Late – Alice and Wonderland – (pfmary)
What Disney songs would you use in the future? Let me know in the comments below. I once used I Can Go The Distance from Hercules.
The Songs You Listen To Alone
When, I was going through this challenge picking songs and creating images. There were moments where I felt really vulnerable. I was afraid to share songs that meant something to me and to create photographs out of music I love. It felt like doing the self- portrait challenge again. But, I realized it was okay. I didn't have to be afraid. Every photo I take is a little part of me already. Not every photo is a soul searching deep dive. However, when I took the time to listen to the music people chose, and look at the photo that accompanied it, I really felt like I was getting to know each photographer a little bit more. Even, if it was that everyone just loves the 80s.
But, sometimes people chose those songs you listen to when your alone in your room, or in the car. Thinking about life, asking yourself what does it all mean? And, I am so impressed by everyone's ability to capture emotion in toy photography.
Why Does It Always Rain On Me? – Travis – (tomekskog)
Unofferable – Half Moon Run – (dariamaret)
I'll Be Waiting For Your Call – Dawes – (morriswhyadd)
Late Nights In My Car – Real Friends – (theperrylegoadventures)
All That Matters -Rea Garvey -dariamaret
Griptide – Barbarossa – (dariamaret)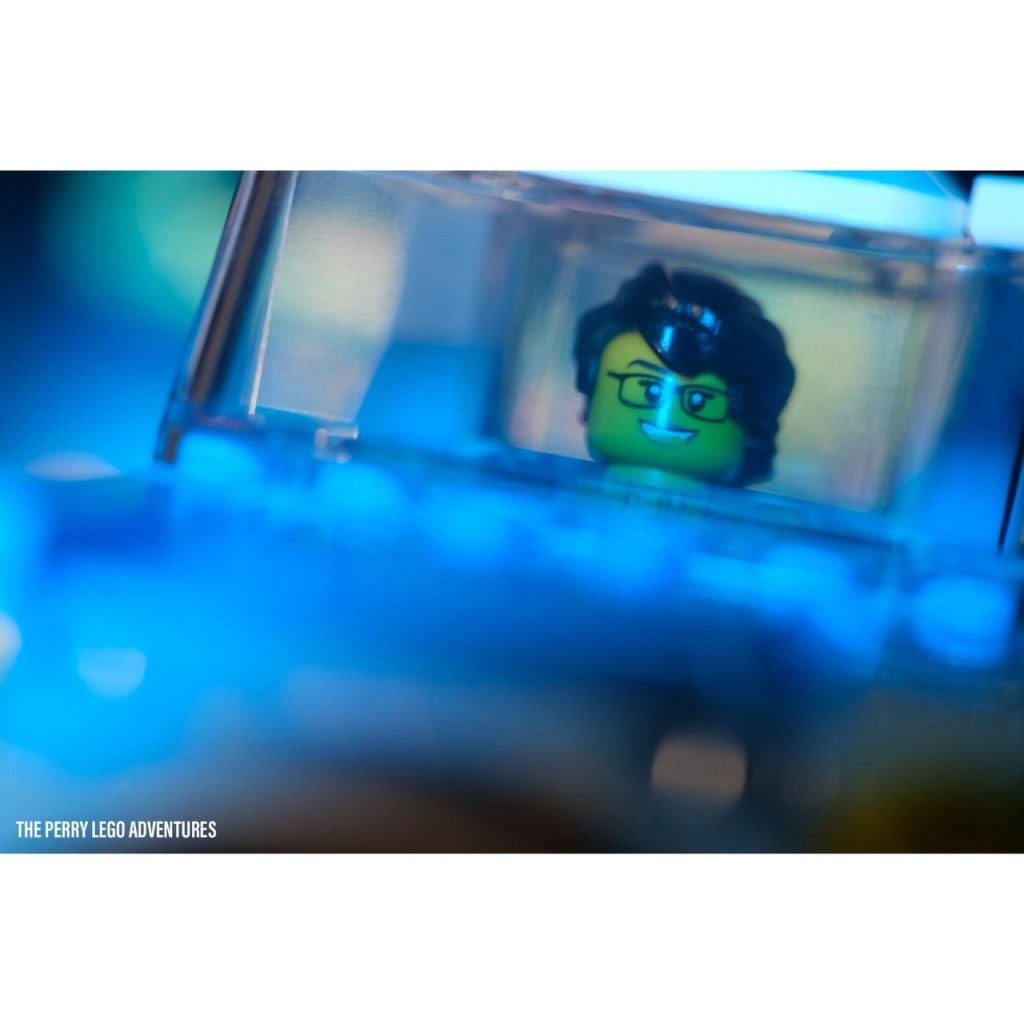 What's On Your Walkman? Did You Draw On Your CDs Too? (Nineties)
While the 80s had a lot of style. The 90s toy photos are like the 90s very different in mood, style and aesthetic.
Never a Cornflake Girl– Tori Amos (brickandmordor)
Dr. Worm – They Might Be Giants (adamfigurephotography)
The Great American Nightmare – Rob Zombie – (doctornvrmore)
I'm Sticking With You – Velvet Underground (doughleyg)
Carry On Phenomenon – Kishi Bashi – (shellycorbettphotography)
Wolf & The Moon – Ulver – (tomekskog)
Amor Prohibido – Selena – (doctornvrmore)
Eat it– Weird Al – (Brickandmordor)
Supernova – Liz Phlair – (adamfigurephotography)
Parklife – Blur – (tavisrussel)
Jumper – Third Eye Blind (theperrylegoadventures)
Superman's Dead(The World's A Subway) – Our Lady Peace – (morriswhyadd)
Good Riddance(Time Of Your Life) – Green Day – (theperrylegoadventures)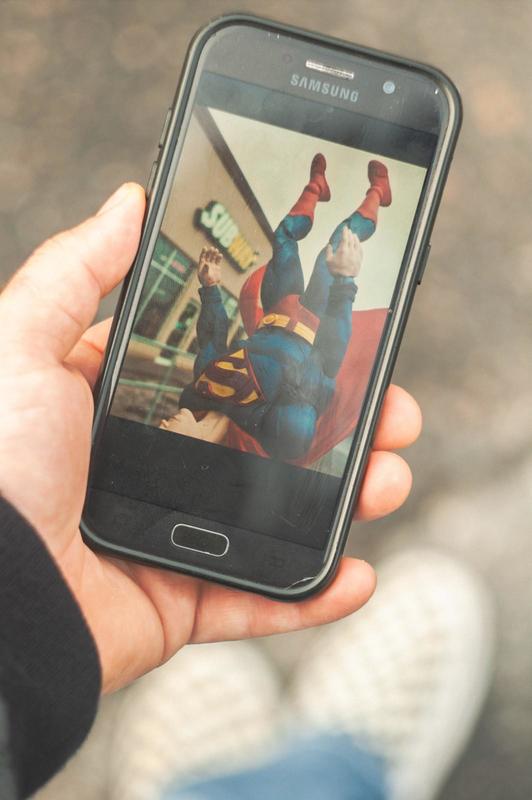 Some Millennial's iPod (The Aughts) Dude, Just Use Napster…
If you don't know what Napster is you had to be there.
Hurt – Johnny Cash cover of Nine Inch Nails – (theperrylegoadventures)
Yellow Ledbetter– Pearl Jam (morriswhyadd)
Don't Be Crushed – Hawksley Workman – (morriswhyadd)
60 Revolutions – Gogol Bordello – (doctornvrmore)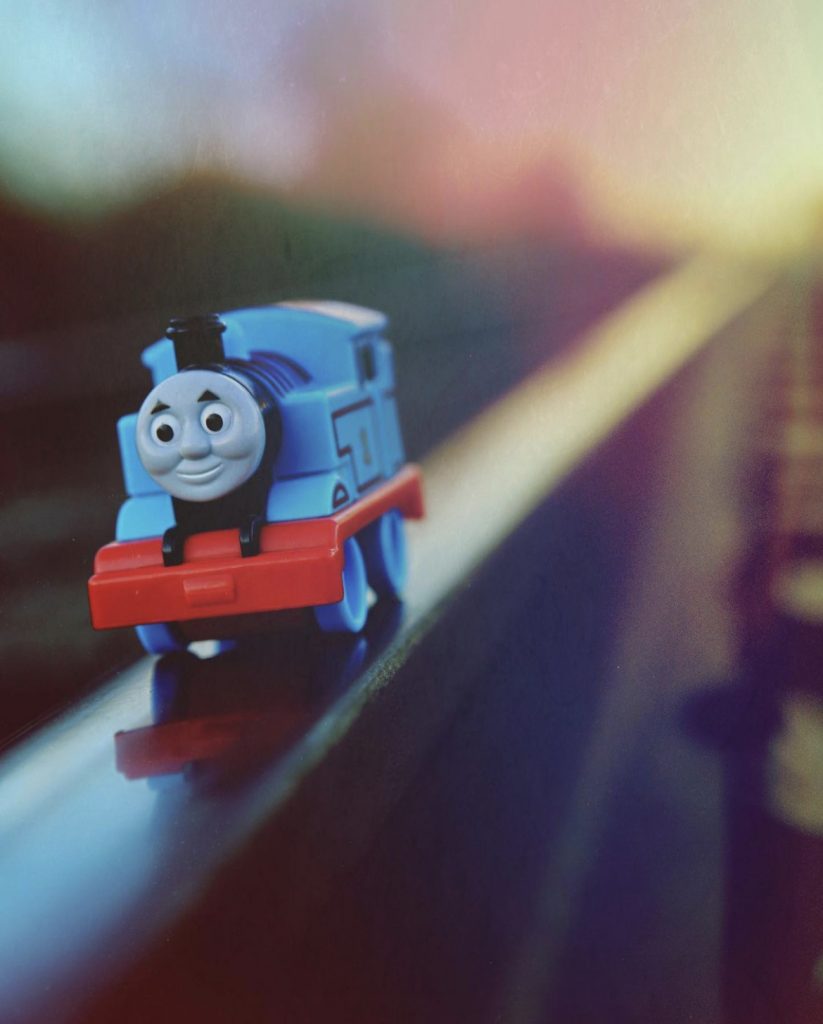 Bring Back The Sun – Our Lady Peace (morriswhyadd)
Wipe That Smile Off Your Face – Our Lady Peace (morriswhyadd)
She's a Rebel – Green Day (doughyleyg)
Grey-pink- Muchy (Flies) – (tomekskog)
Sk8er Boi – Avril Lavigne – (barb_bphotography)
All The Small Things – Blink 182 – (theperrylegoadventures)
Feeling Yourself Disintegrate – The Flaming Lips (empire of lights)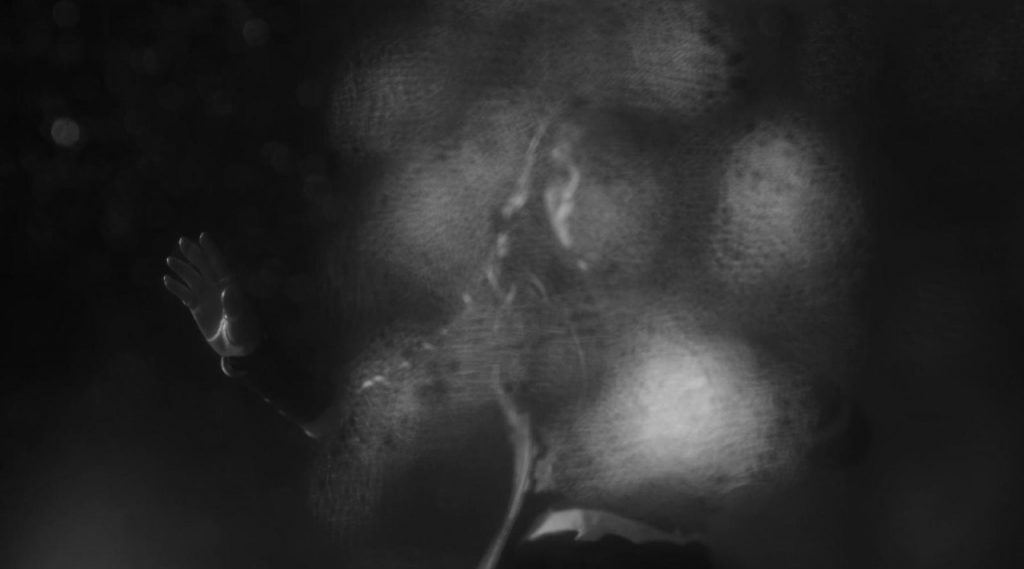 Run From Me -Timber Timber (morriswhyadd)
Fix You – Coldplay – (spideygoeshygge)
Boys of Summer – Don Henley (tomekskog)
Superman(It's Not Easy) – Five For Fighting – (theperrylegoadventures)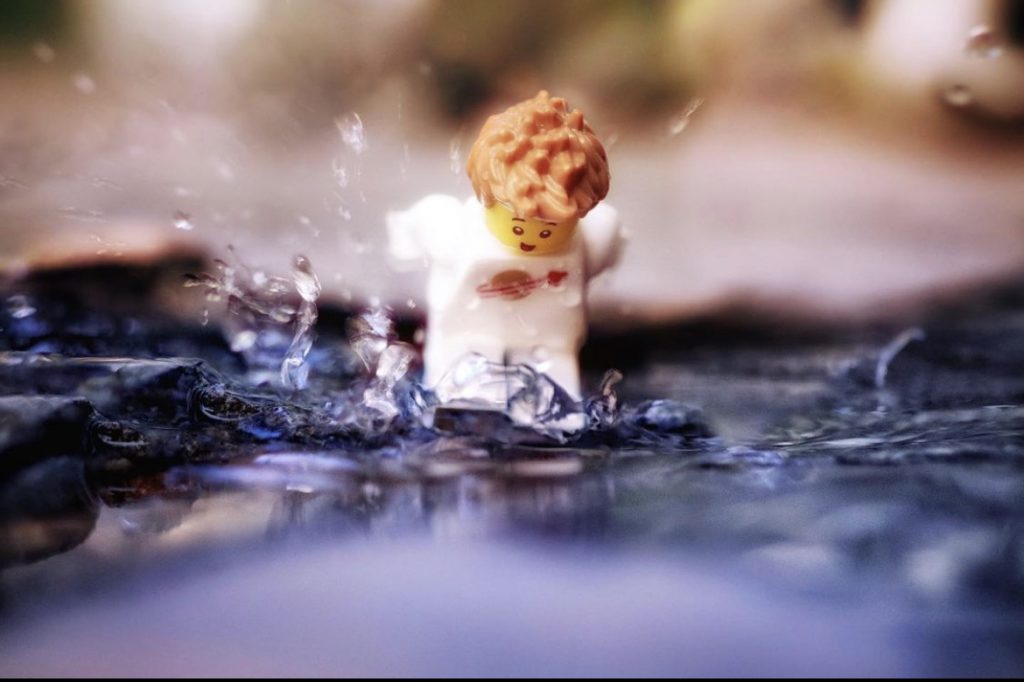 Hoppípolla – Sigur Rós – (spideygoeshygge)
The Rip – Portishead – (tomekskog)
A Grave Is A Grim Horse – Steve Von Till – (tomekskog)
Who Let The Dogs Out -Baha Men – (zekezachzoom)
Knights of Cydonia -Muse – (leadbricks)
She Wolf – Shakira -(angeljavier3828)
Boulevard of Broken Dreams – Green Day (theperrylegoadventures)
Wake Me Up When September Ends – Green Day – (theperrylegoadventures)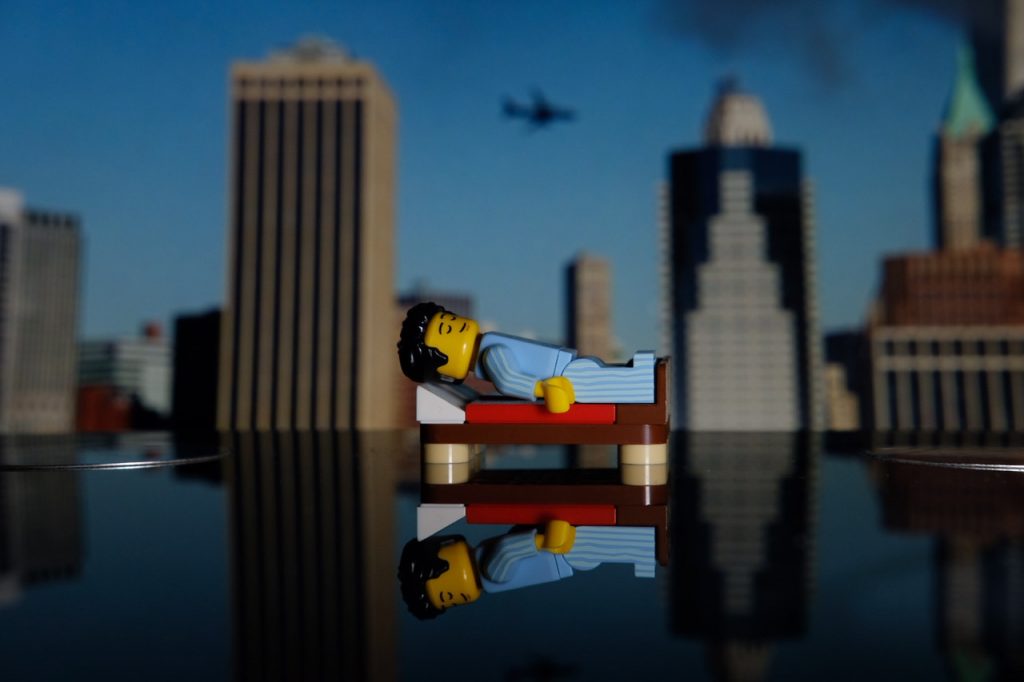 Do People Really Call It The Naughts? More Like, The Twenty-Tens
I'm not a fan of using the term Naughts. But, It seems to be a trend. Like, most of the songs chosen from this decade. Minus a couple, but then those were songs that were going against the grain.
Lego House – Ed Sheeran – (theperrylegoadventures)
Radio Song – Esperanza Spalding – (brickandmordor)
Thrift Shop – Madilyn Bailey – (morriswhyadd)
What does the fox say? – Ylvis – (zekezachzoom)
Wrecking Ball – Miley Cyrus (barb_bphotography)
Thunder – Imagine Dragons (spideygoeshygge)
Hold Up – Beyonce – (doughyleyg)
Holy Musical B@tman – StarKid Productions – (theperrylegoadventures)
Beautiful People – Ed Sheeran (ft. Khalid) – (spideygoeshygge)
Tokyo Summer – Mounties Band – (morriswhyadd)
Bubblegum K.K – K. K. Slider -(mischievousminis)
Skye Boat Song – Outlander Bear McCreary – (nutelasabe)
Nightcall – Kavinsky -(doughleyg)
Roll Me Up And Smoke Me When I Die – Willie Nelson – (doctornvrmore)
Today's Hits
Old Town Road – Lil Nas X (jemimabonnie)
Turn The Fridge On – Donor Lens – (morriswhyadd)
In The Sun – Andrew Judah – (morriswhyadd)
Drink My Rivers – Andy Shauf – (tomekskog)
I'm On Fire – Cassandra Violet – (theperrylegoadventures)
Black Lives Matter – Dax – (phdecker)
Touch The Sky – Hillsong United – (spideygoeshygge)
Someone Just Like This – The Chainsmokers & Coldplay – (theperrylegoadventures)
Can't Stop This Feeling – Justin Timberlake – (adamfigurephotography)
Danger -Jucee Froot – (doughleyg)
Keep Hauling – Fisherman Friends -(cerbojam)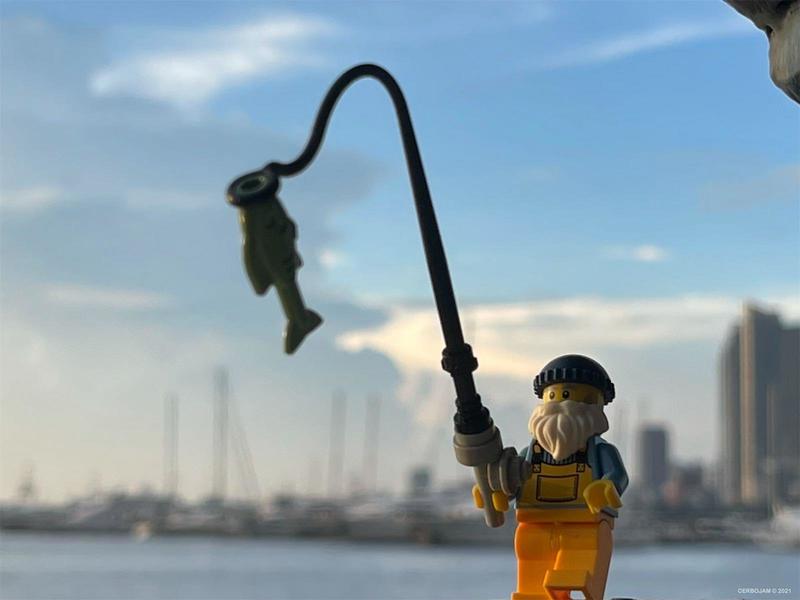 Drivers License -Olivia Rodrigo -(theperrylegoadventures)
You Will Be Found -Dear Evan Hansen (theperrylegoadventures)
Your Turn To Roll – Critical Role (theperrylegoadventures)
Closing Time
Congratulations! You have made it to the end of this article. More props to you if listened to the ten hour Spotify playlist.
I realize that this might be the longest article I have written. But, I felt that every song, every photograph and every photographer deserved to be on the list.
Music and lyrics can be very important to people, and in looking at every photograph and reading every caption, I know every photographer shared a song and took a photograph that meant something for them. And for me that meant spending two weeks, writing, editing, and compiling lists and organizing, and linking every single photo, artist, and photographer into this article.
Like Hoobastank says, in The Reason
"I've found a reason to show
A side of me you didn't know
A reason for all that I do
And the reason is you"
Because like giving someone a mixtape, this truly felt special.
I will end this article with a quote from, Closing Time by Semisonic. "You don't have to go home but you can't stay here."
Sabrina
ps. Listen to Shelly Corbett and I deconstruct creativity and music in the actual podcast episode. If you haven't already.
Bonus Track
Like Nickleback says you better, "Look at this photograph because every time I do it makes me laugh" And that is what this challenge meant to me. And that is where I'll end this article.