Welcome to another Feature Friday! This week we're showcasing the work of Alice Anderson aka @curriousherring on Instagram. Dive in to the Q&A and her toy photography artwork below.
Tell us a little about yourself:
Hello! I'm Alice, 28 years old and I live in the UK. I've had a passion for photography ever since I was a child, and now in my adult life I work full time as a photographer. My love for toy photography opened me up to a world of opportunities, which I'm continuously thankful for! 
How long have you been a toy photographer and what attracts you to this hobby?
I started doing toy photography around 2015. Back then I was photographing games and consoles, too, but the toy side of things slowly took over. Being able to set up my own miniature worlds really boosted my love for the medium. I guess it's a part of me that never wants to fully let go of my childhood, along with the nostalgic feeling I get from creating scenes from a game or movie.
Tell us about your process for creating images, from original thought to final photo image.
In all honesty, a lot of my ideas come to me as I'm setting up. Sometimes an idea may spring to mind because of a new prop I've made or bought, or I'll be inspired by a game I'm playing at the time. Other times I just stumble across somewhere that I think would make an ace photo, and often those more simple, in-the-moment shots turn out to be the ones I'm most happy with. The photo rarely turns out how I first imagine it to be, but I enjoy the creativity of setting up along the way. 
What photography editing software do you commonly use in your image creation and how does it help you express your ideas?
I mainly use Lightroom for the main edits—adjusting the colour and lighting to perk it up a bit. I'll then drop it into Photoshop for dust removal and to clean up any unwanted areas. Photoshop is extremely useful for editing out stands or for levitation shots! As I work full time with Photoshop, I'm lucky to have a wide understanding of all the tools, so it makes it a lot easier to express crazy ideas.
What is your current equipment setup?
My current setup is a Canon 7D MKII, and I switch between several lenses—a Sigma 105mm and the Art Prime 50mm are my go-to for toy photography.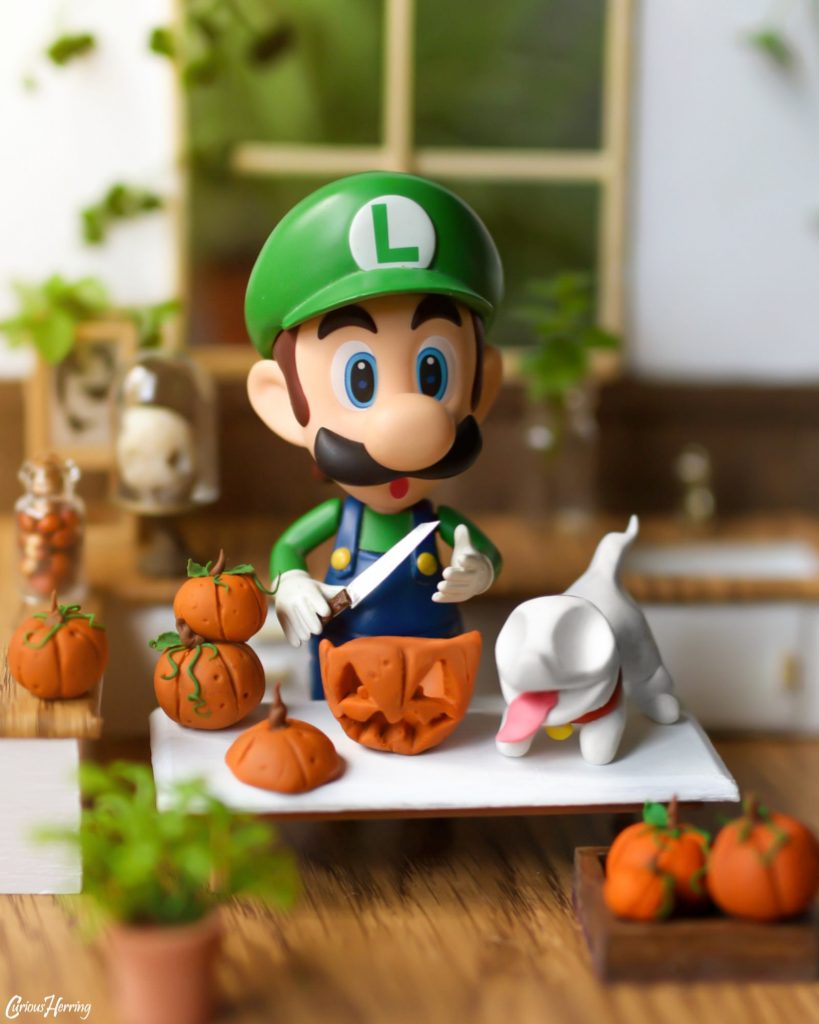 Tell us your favorite photography environment (indoor or outdoor) and why it's the place where you like to create your best work.
This is a tough question as I love having a mix of environments to keep things fresh. Most people who have seen my work will know how much I love using water in my shots! I'm a sucker for an image with a simple, crisp water reflection, but at the same time I'm obsessed with miniatures and enjoy the process of setting detailed diorama shots indoors.
What has been your most treasured feedback?
My most treasured feedback is when people tell me that one of my images has made them feel nostalgic, or taken them back to a happy memory. It's also really rewarding when parents tell me that their children love my photography. There's something so rewarding in all the feedback, but those two kinds of feedback always remind me why I love toy photography as much as I do.
There are a lot of toys out there to photograph. What is your favorite toy line and why?
NENDOROIDS! I can't get enough of them! I love that you can easily change the faces over, or move the arms and legs into different positions. It gives the image so much more potential. And let's be honest, they're ridiculously cute!
Your work is fantastic, but everyone has to start somewhere. If you could go back in time and talk to your younger self, what would you make sure you knew on day one of your toy photography journey?
There's a lot that I would say to mini me… I think in regards to the photography itself, I'd say remember to clean up your scene. Remove big bits of nature out the way, which may warp the perception of the figures' proportions; keep your figures clean and always ensure that you focus on getting the lighting right before anything else! I would also tell myself to never listen to the negativity that people will throw your way. Whether it be snide comments about how toy photography is childish, or comments from others trying to knock you down. No one should let anyone else get in the way of their hobby. Do it because you love it, not for the sake of getting a post out on social media. 
What are the most important tips that a new hobbyist should know if they are interested in pursuing toy photography?
Ensure your lighting is set up well. Avoid setting up a photo in natural light and just taking a snap there and then, be patient and wait for the lighting to hit in just the right way. Your lighting techniques can turn a flat image into something filled with depth. Also, when creating a shot, think about the set up and how it can help add depth. Use foreground and background blur to your advantage! 
What is your greatest toy photography achievement?
Becoming a Brand Ambassador for Nintendo UK has by far been my biggest achievement in the world of toy photography. I often think back to the first time I visited the headquarters, I was so excited I could have cried. Actually, I'm pretty sure I did cry! It was probably the most overwhelming feeling of my life and I will never, ever forget it.
Thank you Alice for helping us get to know you better!
You can find more of Alice's amazing imagery at curriousherring.com.