Skill Sharing at the Toy Photographers Saloon: Saturday, 20 March 2021
This year the toyphotographers.com blog, is holding monthly virtual meet ups, where we talk to photographers around the globe about how they take Lego, action figures, miniatures, custom creations and more into fantastic works or art. It's just like the podcast, except everyone is sharing in the experience together. Each month as a group we choose the next topic, project or theme we want to hash out in our next saloon reminiscent of the days of the renaissance.
Here's the result of our first one.
The mission
Two photographers, two different setups, two different photos, one lesson.
David Barnes – the gear head , the mayor
The mission was to create two photos with two different types of setups. One very simple, the other with lots of gear options. I was responsible for the "lots of gear" setup. So, selecting a saloon for the theme, I created a set with the Lori Dolls Local Café & Terrace café play set for 6-inch dolls and $3 of supplies from the dollar store, including a wood grain shelf liner that I used to cover the bar. I also added a piece of packing foam for the bar. I put up wall decorations from a Tim Holtz Idea-Ology pack of scrapbooking snippets and a re-positionable glue stick. The set cost me less than $5 dollars since I already had the toys from my daughters.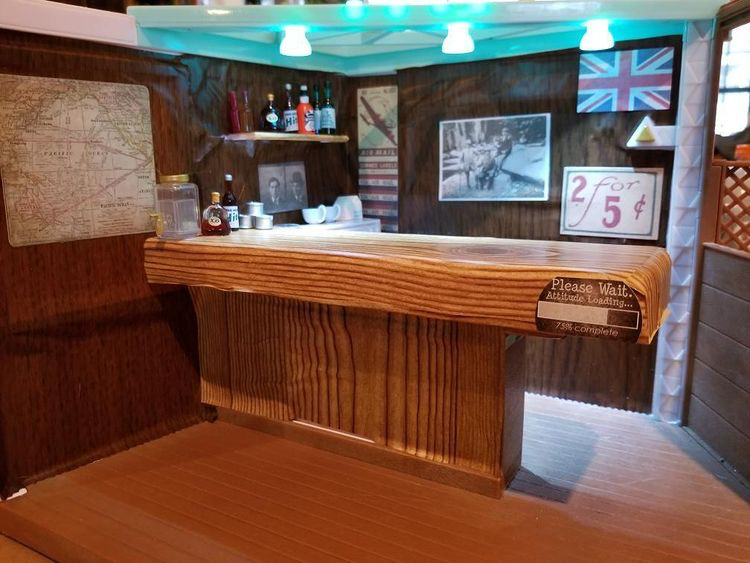 David's loadout
My photography equipment was more expensive.
Camera: Canon 6D MKII 50mm macro tethered to a computer Canon 5D MKIV
Video: Sony a6300 – VideoSony a6000 – VideoBlack Magic ATEM mini – for video control in zoom.

Lights: Godox R1 LEDs – Godox AK-R1 Accessories Kit barn doors/honeycomb grid reflector/conical snoot/diffuser, two 1×1 Neewer light panels on wall mounted booms, two 168 LED Neewer lights on clamps

Main Stand: Manfrotto Mini-Salon 190 camera stand was used for the tethered camera and laptop
I put the set on a lazy Suzan so it could be moved in front of the camera to select the angle. We selected some Marvel Legends action figures and put them into the set and played with the lighting and framing. Here are our pictures.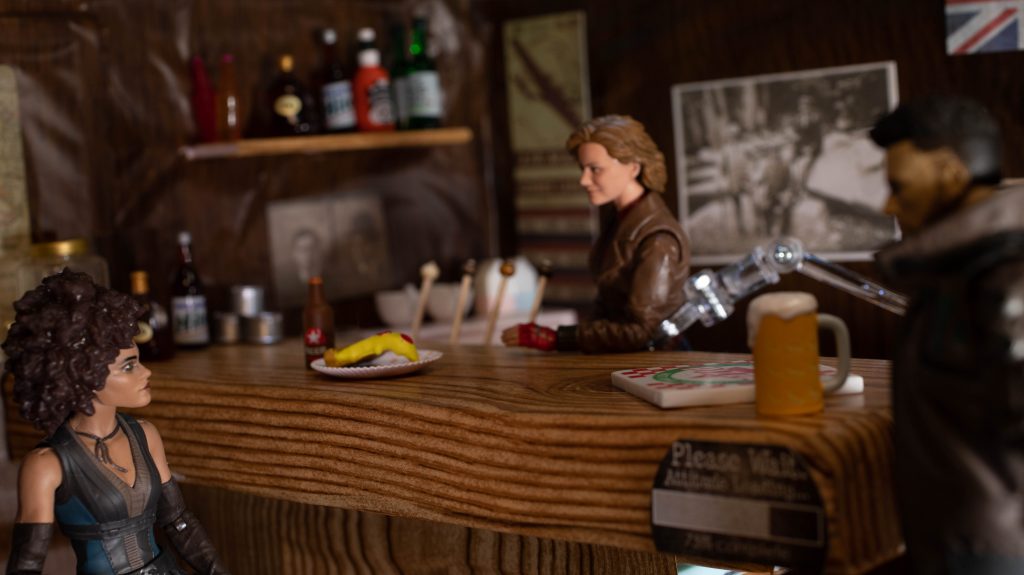 Sabrina Perry – the minimalist, the sheriff
I was responsible for the minimalist setup, which, I'll be honest, wasn't hard since I don't have a lot of gear to begin with. When we decided, to go with the saloon theme, I was excited at first. I mean who doesn't love a good western? But I realized I don't have anything remotely western, save for a few minifigures. And then David sent me this amazing photo of an incomplete bar. I thought, how can I compete with that? Granted, that wasn't the point of the lesson. We weren't competing. We were working together to show fellow photographers that there are many, many ways to take toy photos. It doesn't matter what you have—it's supposed to be fun, and you can accomplish great things with a lot and with very little. Inspired, I built a cardboard bar. I've been watching a lot of DIY set building on YouTube. I thought I didn't have enough LEGO to build a bar, but it turns out a handful of brown bricks are all you need. I printed a few LEGO Movie posters and a couple of LEGO wanted signs. To complete the look, I added a few accessories from the Hagrid's Hut LEGO set, and suddenly Harry Potter becomes a bar scene.
Sabrina's loadout
The photography equipment I used was a beginner's loadout.
Camera: Fujifilm X-T20, 35mm lens untethered and unstable (no tripod).
Video: Just my five-year-old iPhone 7.
Lights: Ulanzi U-Bright, Ulanzi VL49 RGB (2000mAh)
Stands: Two stacks of books. Stack 1 (D&D Players Handbook, Dungeon Masters Guide, Monster Manual), Stack 2 ( How To Beat Your Dad at Chess, Chess Tactics for Kids, Chess Endgames for Kids).
I put the set on a LEGO baseplate, and on top of my printer so it slid better. My version of a lazy Susan. We selected our minifigures, presented options to our friends on Zoom, and voila, photo magic.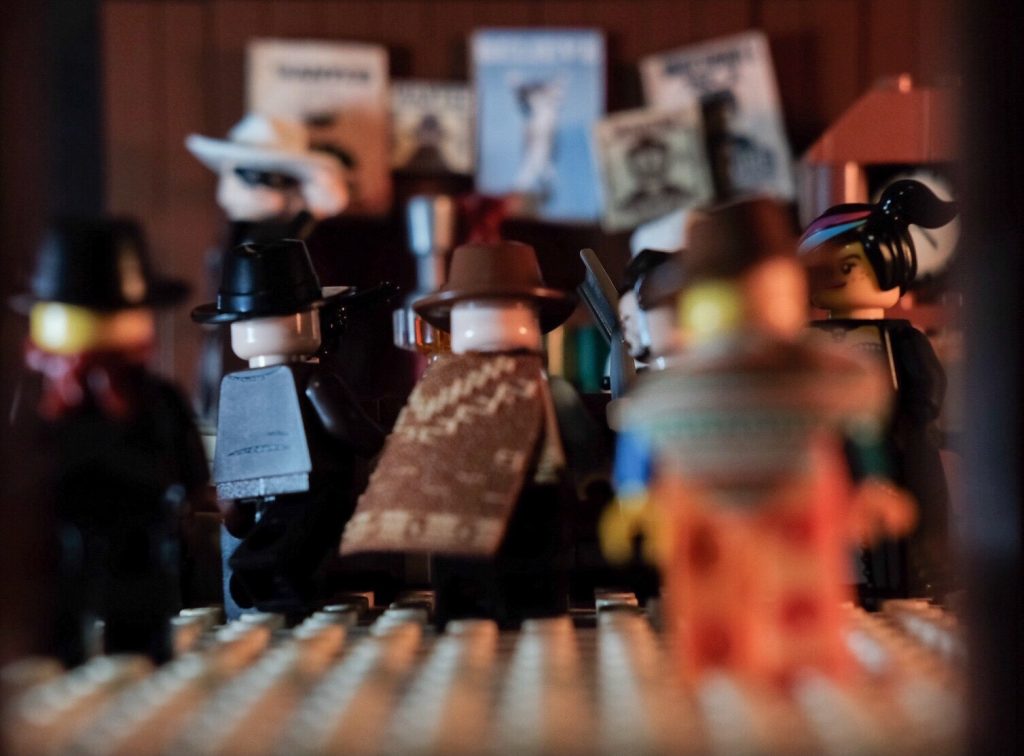 David and I set out to showcase two different ways to take similar photos.
Two photographers diverged in a virtual Zoom call.
I took the road less travelled and that didn't make a difference.
If you liked this article and want to join in on the fun, find us on MeWe where we update everyone on our Monthly Meet Ups, just like this one. So, don't dawdle our next one is only days away! Maybe, next time you could be the new sheriff in town? Believe me, the town is big enough for all of us.