PlayMonster's Snap Ships have turned out to be a fun, versatile new addition to the constructible toy world. A finalist in the Construction Toy category of the Toy Association's 2021 Toy of the Year Awards (results will be announced on February 12), the line presents a future world where humanity must defend against constant attacks from the Komplex, a brutal alien threat defeating and assimilating species throughout the galaxy, and growing stronger with each devastating victory. To fight them, humanity relies on the Forge, an elite team piloting their own space armada.
Snap Ships are available in multiple builds—each including instructions for several variations, though the creative options are really only limited by one's imagination and the number of pieces in their uniquely-shaped box.
For this review, PlayMonster sent along one ship from the Forge and one from the Komplex. I was pleasantly surprised by the array of ships I could create with just two sets, and that's without attempting any custom builds. The Forge Sabre, for example, offers three distinct variations comprising approximately 40 pieces: The Sabre XF-23 Interceptor (pictured here) is the primary fighting ship in the war against the Komplex, and looks a bit like a U.S. F-15 Eagle, F-16 Fighting Falcon or F-35A Lightning fighter jet outfitted for space travel, while the Sabre XB-04 Light Bomber is reminiscent of something from Star Trek's iconic Klingon fleet, and the Sabre XR-01 Fast Recon ship has a wide profile, possibly inspired by the Northrop Grumman B-2 Spirit Stealth Bomber.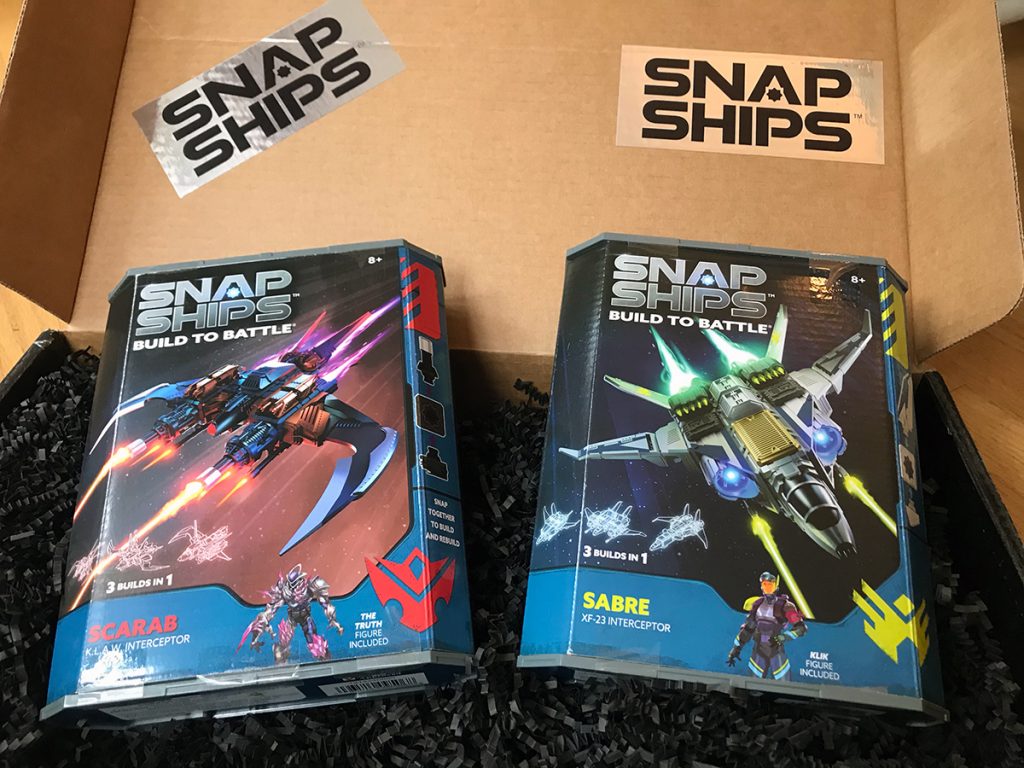 Additionally, the ships come with a special piece of "UJU tech" sealed beneath a sticker in a blind compartment. The gray, spring-loaded launchers with translucent orange projectiles are extra powerful add-ons leftover from the ancient and technologically advanced UJU KON civilization. It's a fun idea and surprise bonus in every box, but these guns end up a bit cumbersome when snapped onto actual ships. The UJU tech seems much better suited for folks constructing their own imaginative creations, especially larger builds using pieces from multiple sets.
Featuring a wide array of shapes and sizes, building pieces connect via a unique and smart system of raised squares on the "male" sides and recessed stars on the "female" sides, which can accept the squares at various points—imagine the corners sliding into 12, 1:30, 3, 4:30, 6, 7:30, 9 and 10:30 on a clock face (or look at the photo below). Once connected, structural pieces hold together firmly and stay well in place, while guns, wings and other details are designed to move and pivot.
Ships also come with tiny pilots who fit into accessible cockpits. Klik, the newest member of the Forge (see above), pilots the Sabre, which seems like a good job for him since his legs are permanently fused together and he's only able to move into sitting position. The Komplex Scarab, which I'll get into momentarily, comes with a similar, though decidedly more alien, pilot called The Truth. Details on these pilots are scant and articulation is highly limited, but Snap Ships are really not about the figures.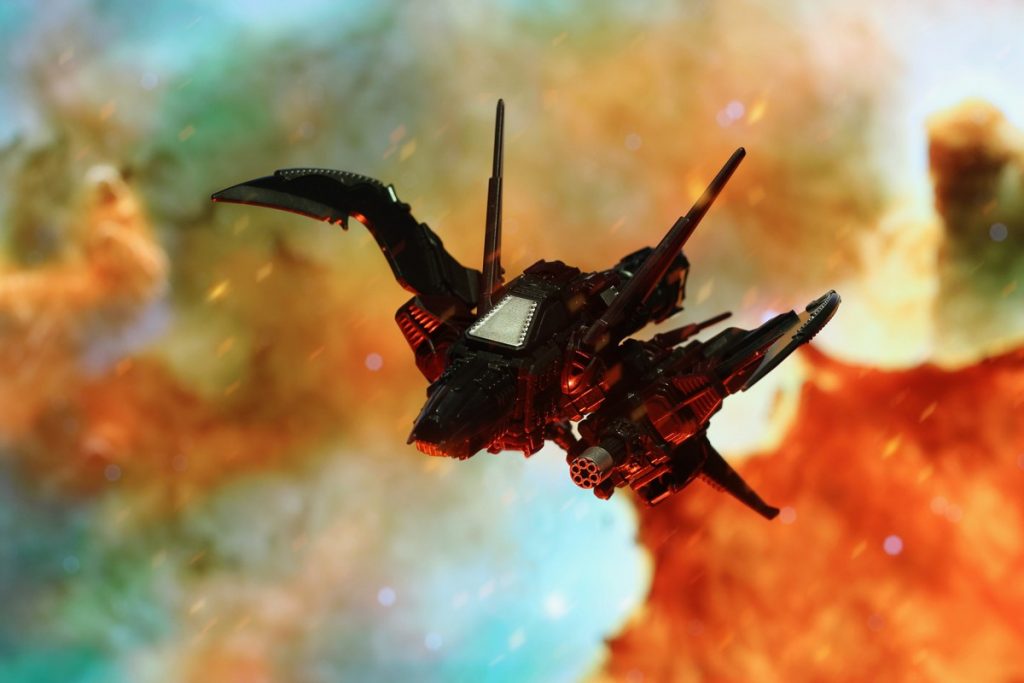 Made with a black and oxblood-red color scheme, the Komplex Scarab's design has an aggressive look that perfectly captures the evil vibe of the aliens who built it. The ship's three build options include the Scarab K.L.A.W. Attack Striker (shown above), the bird-of-prey-like Scarab K.L.A.W. Light Fighter, and a Scarab K.L.A.W. Interceptor. Both the Scarab and the Sabre come with a brilliant flight stand, as seen in Matt's section below. Each octagonal, hard plastic box top, after connecting with a matching curved arm, doubles as a sturdy flight stand base, creating an excellent display for your ships.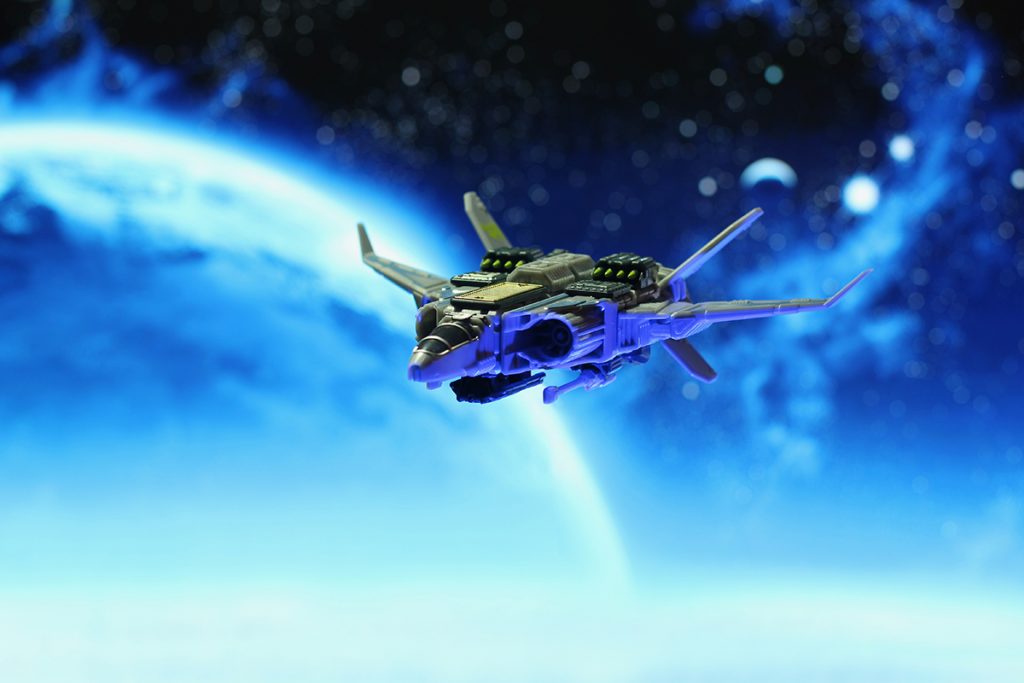 PlayMonster missed a huge opportunity not allowing the bottom of the box—another octagonal plastic piece—to click together with the box top/flight stand base, which would have made the flight stand into a perfect storage container for unattached UJU tech, spare parts, the included piece-separation tool and alternate weaponry. Beyond the UJU tech, both ships come with optional projectile launchers and ammunition (also seen in Matt's photos below). It would have been so nice if the flight stand base held all this stuff so everything stayed together in one place. Adding two pieces of tape makes this possible, but it would require only very minor retooling to avoid this uglier, homemade solution.
Aside from PlayMonster's team overlooking the one very obvious opportunity, Snap Ships are an innovative new construction toy with lots of potential for future sets and expansions. They're fun to shoot and look great in toy photos. Build elements never overpower the overall appearance of the sleek, sci-fi designs, and they have a real presence in front of the lens. I had very satisfying results using some creative lighting, a large TV screen/monitor for my spacescape backgrounds, and a bit of Photoshop to remove flight stands. Any toy photographer who likes construction toys and enjoys shooting spacecraft and science-fiction subject matter should have a good time playing with and photographing Snap Ships.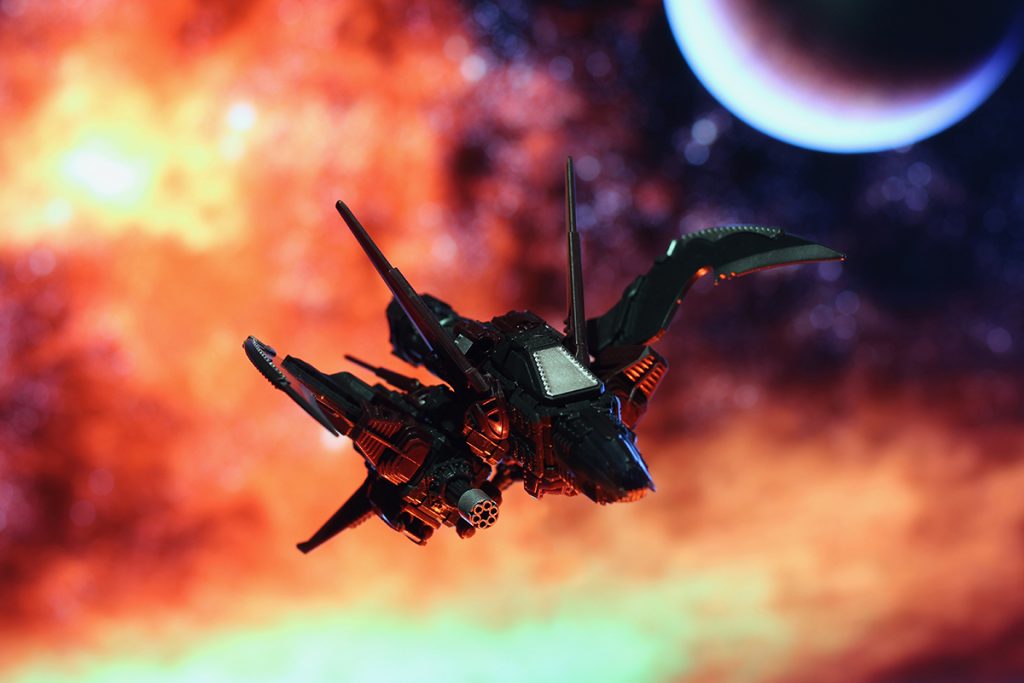 My first impression after opening the shipping box was that Snap Ships would be fun to build and rebuild. The eight-sided boxes are a nice size/shape and feature lids that double as stands for the ships. I first built by following the instructions and then quickly jumped into more intuitive building.
For whatever reason, I had expected some kind of game/rules for mock battle but it is more free-play oriented than that. A bit of browsing on their website turns up original video content and–most interesting–their Augmented Reality (AR) app. The app includes 3D animated instructions and an entire world of ships, complete with technical details and pilot profiles. It's fun to play with the AR functionality and to see the ships larger than life in your own environment.
Lets build!
Play/photo time
I took the ships along on a weekend camping trip out in the California desert knowing that a bit of inspiration would strike while out away from civilization.
They turned out a bit more challenging to shoot for me. Generally, I shoot for fun and to have a laugh at the subject or myself. Given their battle-based storyline, I detoured with more of an exploration-oriented idea in mind.
Back to home
After returning home from camping, I set up a small Fome-Cor stage with limited props for these two Lensbaby shots below. I seem to forget that I have a love/hate relationship with this one Lensbaby, but it does come out of the case from time to time. It's not an issue with the 'baby but an issue with my impatience.
---
Some BTS for the starfield image:
Snap Ships are fun to build and rebuild. I could definitely see picking up another set (or four) if I happened across them in a store. With enough of them together, you could build an impressive wall of greebles for backdrops for the ships or other toy photography.
Learn more about Snap Ships, watch videos and explore the AR app at snapships.com.