Today, I'm taking a look at two different interpretations of Star Wars' most infamous Sith Lord, Darth Vader. I'll be comparing The Hasbro Galaxy of Adventures Darth Vader (MSRP $9.99) to the Disney Store, ToyBox Darth Vader (MSRP $12.95) to see which one of these figures is best suited to rule the toy photography galaxy.
Disney Infinity and beyond
Darth Vader is one of my favorite characters from the Star Wars universe. He's formidable and intimidating, and both of these figures offer an excellent, stylized take on the Empire's main man in black.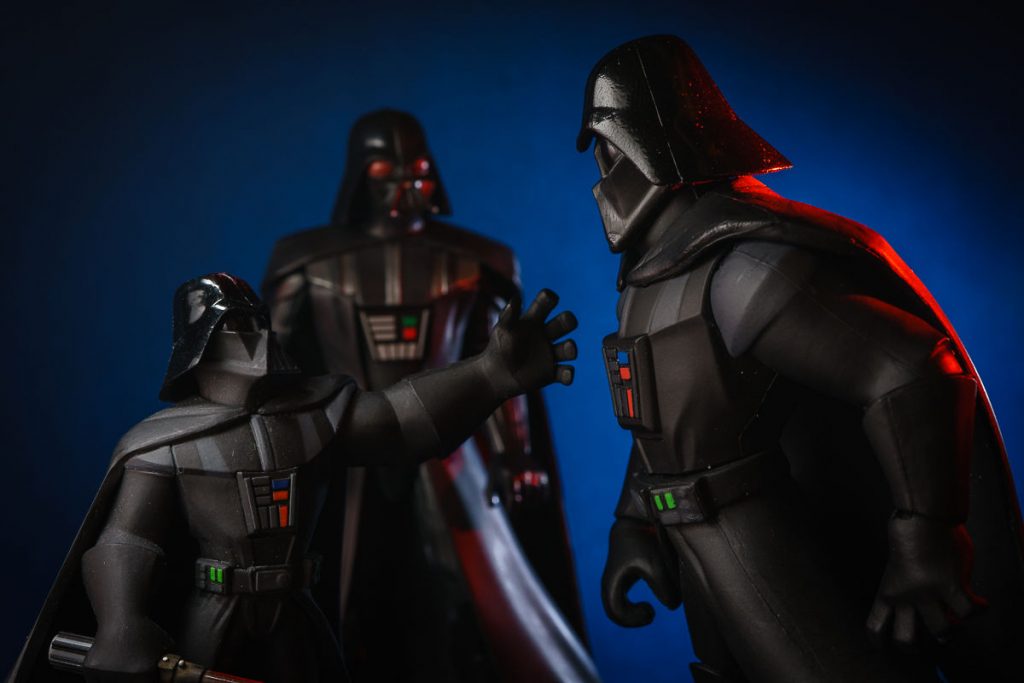 Toybox Vader builds on the art style from the discontinued, Disney Infinity video game. He is bulky and exaggerated, with a playful, cartoonish build.
Galaxy Vader is much sleeker and more sinister in comparison. His appearance is reminiscent of how Vader looked in the excellent, Star Wars Rebels animated series.
Both are touted as 5-inch figures, though Galaxy Vader towers over Toybox Vader despite there only being a 1/4-inch difference.
Paint & build
Though complicated on the inside, Darth Vader isn't known for being colorful on the outside. Keeping true to his fashion sense, there isn't much to say in terms of paint on either figure. Both feature a few colored buttons on the chest and belt, with some grey striping on the upper torso.
Galaxy Vader has wonderfully menacing red eyes that emphasize the figure's villainous appearance. He also has some additional silver paint applications on the helmet, chest and belt.
Galaxy Vader has sculpted detailing on his arms and legs, with a highly reflective, glossy finish that resembles his appearance in the films.
Toybox Vader has some gray on the top of his shoulders, but not much else to report on the detail side. The build of the figure is purposefully flat, with a matte, two-dimensional, comic book-like appearance.
No capes!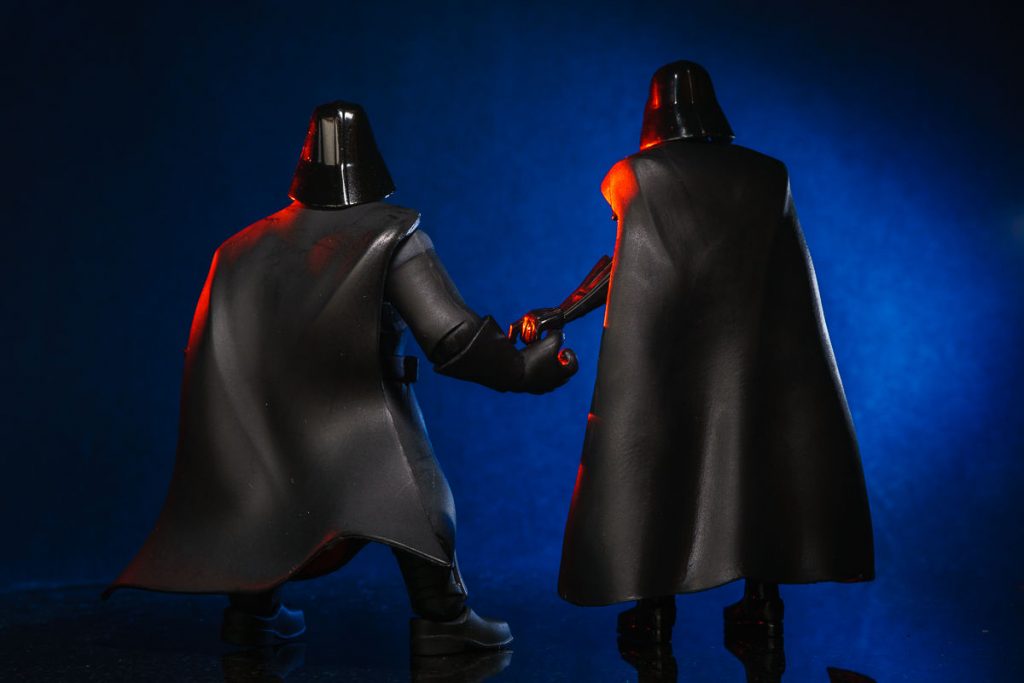 Both Darths have a non-removable cape and an inner robe. The cape and robe on ToyBox Vader is made of a stiff, thick plastic while Galaxy Vader's is softer and more malleable. They both look great, with simulated folds, but I did have issues with Toybox Vader's cape when attempting to pose the figure. More on that in a bit.
Both Vaders also have highly reflective helmets, which gave me some troubles trying to light them. In an effort to minimize the reflections, I ended up trying to make my light source bigger by bouncing it off of a 11 x 14″ piece of white card stock.
An elegant (yet diminutive) weapon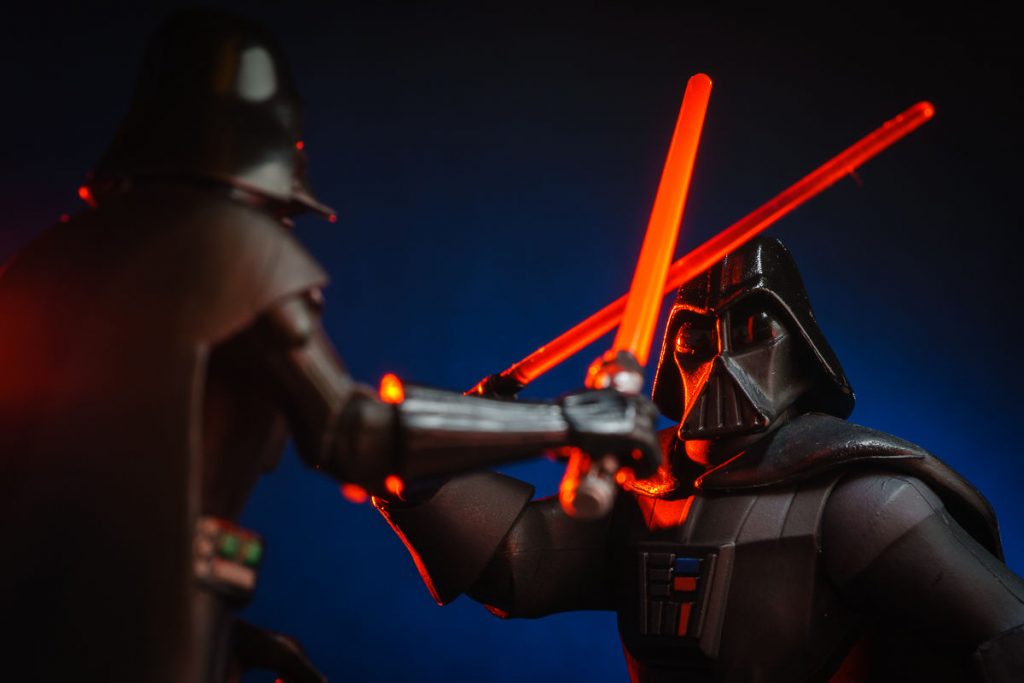 Vader would not be complete without his signature, red lightsaber, and it is the sole accessory included with both figures. Yoda may say that size matters not, but Toybox Vader's saber is a bit on the puny side.
This is especially evident when you place it in his hand. I had trouble keeping the lightsaber from slipping out of his grip (much like star systems through Tarkin's fingers).
Galaxy Vader's lightsaber has a bigger hilt & blade, along with nice silver and black detailing. Size wise, it looks great on either figure and puts the Toybox version to shame.
Articulation & posing
There is a good amount of articulation to be found on both of these figures, especially given their price point. Neither is quite capable of a super hero landing, but with 10-plus points of articulation, they can achieve a wide range of poses.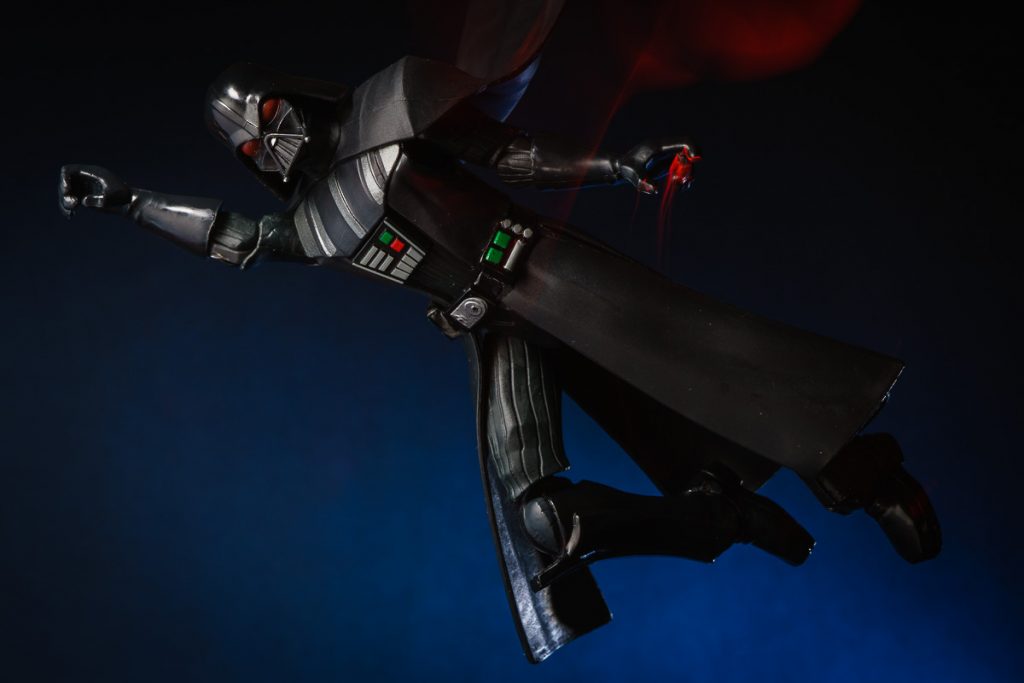 I did have issues getting Galaxy Vader's joints to bend. His knee and elbow joints were extremely stiff when I first removed him from the box. So much so, that when I tried to adjust one of his knees, it popped right out of its socket.
This kept on happening with the figure, and flecks of black plastic would break off each time, weakening the spot where joint attached. It got to the point where the joint became unusable, and would pop out of its socket each time I tried to bend it. Perhaps my figure was defective, but proceed with caution if you pick him up.
Galaxy Vader has a spring loaded, action slash feature which whips his torso around. It doesn't get in the way of posing the figure, but you may have to adjust him more than the desired position so he springs back to where you intended.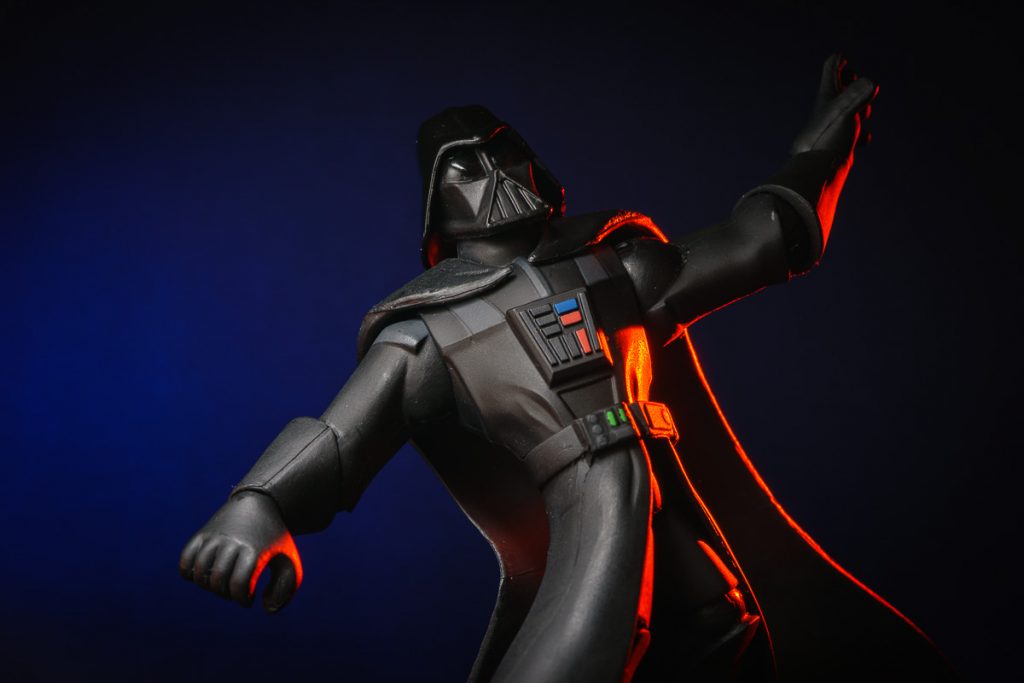 Toybox Vader's joints were much easier to adjust, but his thick robe restricted a full range of movement for his legs. To make matters worse, his heavy cape made posing him difficult, as the weight would throw him off balance.
Toybox Vader doesn't quite have the same moves as Galaxy Vader, but his limbs remained intact, so he wins this category—provided his cape doesn't knock him over.
Conclusion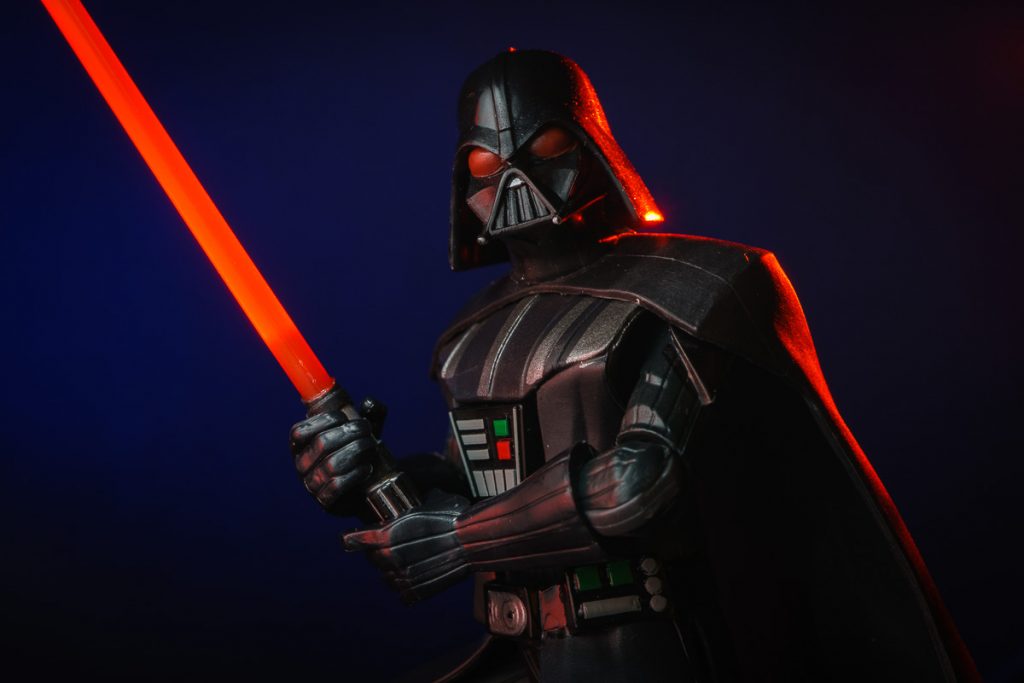 Aside from limbs falling off, both of these Vaders are fun to work with. I found Toybox Vader's exaggerated build lent him to more amusing, comic-relief type images. Galaxy Vader's slim build and evil eyes, gave that figure the versatility to play it either serious or silly.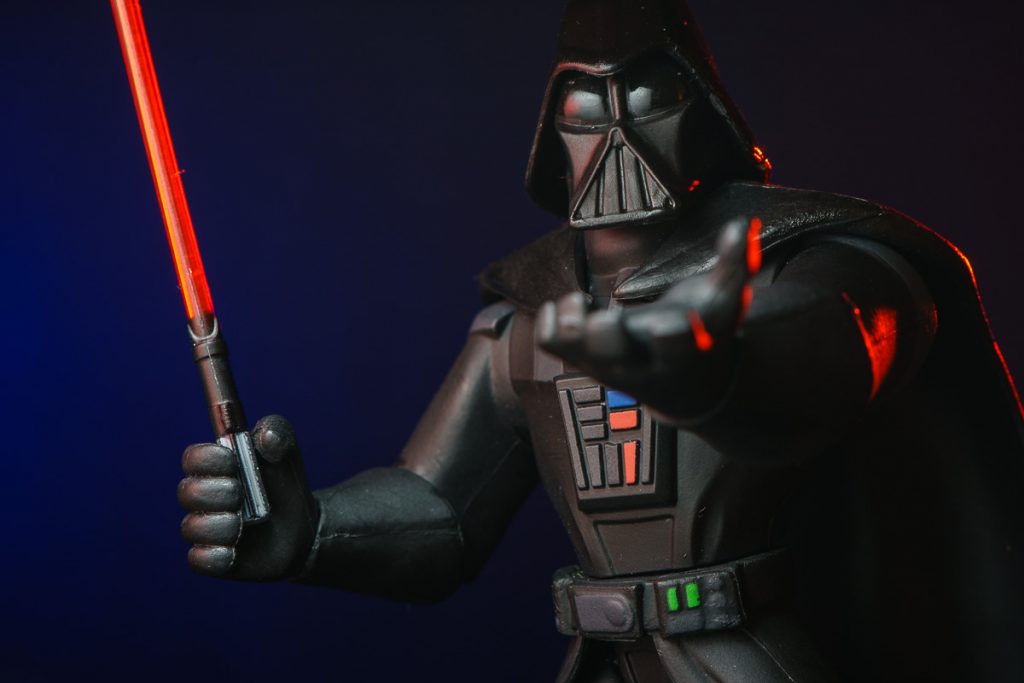 They are both a good bang for the buck, if you're in the market for a fun Vader with a ton of photographic potential. I'm really disappointed that my Galaxy Vader fell apart on me, as I would have liked to get more shots out of the figure. Toybox Vader is still going strong, so as long as I can get him to stand upright, I see a lot more photo shoots in our future together.
Do you have a favorite Vader? Sound off in the comments.