If you're a close observer of the toy photography community you've probably seen an increase in toy photographs tagged with #lumecube and wondered what all the fuss is about. So we're here to review the Lume Cube – a review with the toy photographer in mind.
Background
The Lume Cube first appeared on my radar, soon after their successful KickStarter closed. I was disappointed I wasn't able to get in on the ground floor. I had been searching for the holy grail of toy photography lighting and was once again thwarted. I've looked at and dismissed several other macro lighting options over the years: ring lights (the lighting tends to be too even), regular studio lights (too big), LED video panels (expensive and need additional filters) and other experimental lighting options via KickStarter (expensive and untested). I eventually settled on a small (cheap) LED adjustable video panel that I added a diffuser and filter to. I paired this up with a bounce card to maximize my portable lighting set-up. It wasn't very elegant, but it got the job done.
So when Lume Cube first became available at my local camera store I was intrigued. But honestly I couldn't bring myself to pull the trigger on the light. I can buy a lot of LEGO for $79. I knew that one light would work ok, but two to three lights would be better. So I put this investment on hold.
When Trevor Farrow, head of marketing for Lume Cube,  reached out to ask if we would like to review the Lume Cube on the blog and help them with their upcoming Lighting Contest – the answer was a swift and enthusiastic: Yes! I know I'm not the only one who has been intrigued by these cute little lights. What a great way to see them in action AND support our community. It's not every day that a company wants to give back to a community as niche as ours and we want to support these opportunities whenever we can!
So with the help of Brett Wilson, James Garcia and Sunny Ang, we've put the Lume Cube through its paces so you can decide for yourself if it's worth the money. At the end of our joint review, will be all the information you will need to enter the contest to win your own Lume Cube.
The Reviews
Shelly
I will cut right to the chase and say that I think the Lume Cube is a great product; one I really enjoyed using. It's light weight, small, powerful, adjustable and easy to use. Best of all, it helped my mobile phone photos to 'pop' in some dreadful lighting situations.
Lume Cube On the Road
I love the convenience of photographing with a mobile device. It's perfect for travel photography, impromptu photo sessions and for sketching out ideas. Unfortunately I've learned that without good lighting, my phone photos often look flat. With the Lume Cube on hand I knew I didn't have to worry about taking the toys out on an overcast, grey day; I had my portable sunshine!
Because this light is compact and lightweight, more so than my trusty LED video light, it didn't take up any space in my small backpack. I could set up my photo, quickly add the light, use the handy phone app to adjust the level of illumination until the scene "popped." With the brightness slider on the app, I could easily see how the light changed and effected my set up. This is a nice feature if you're starting to learn about lighting and want to see your changes in real time.
Because my subjects are LEGO and therefore small, I rarely used the light at full strength. I found that 20-50% was more than enough to illuminate without creating harsh hot spots. Of course if I added a filter or a diffuser I would have to increase the brightness to compensate for the density. By first setting up my photo with a light on, then adjusting the light through the handy Lume-X application, I was able to get the look I wanted without disturbing destroying my scene.
Lume-X Application
I think the application might be my favorite aspect of the Lume Cube lighting system. Toys are notorious for falling over, especially if you have a multi toy set up. To be able to adjust lighting levels while using the app and not putting hands near the set up was a neat trick. I'm sure it saved me from the inevitable frustration of disturbing the scene as I often knock my figures over when working in close quarters.
But the Lume Cube isn't just for mobile photography. With all the filters, diffusion options and adjustable brightness, these little cubes act just like a professional lighting set-up, but on miniature scale. I had fun playing around with the filters, both above and below water. Im glad to here via the podcast that miniature barn doors and snoots are on their way. I like the idea of a professional set-up, but on a scale suitable for macro photography. This is truly the set-up I've been searching for.
Underwater
Oh hey, did we mention that this light is waterproof? As someone who has fished their portable lighting out of the water more than once, this came as welcome news. My mind started dreaming about the possibility of placing lights safely in the middle of streams and lakes. But what about actually placing the light under water? I knew I had to try it!
From my past underwater photography experience I know that lighting works differently underwater than above. Water bends and diffuses light; its basically an immersive filter. Because of this you always need more light than you think to get the same illumination above water. After I added a filter to the Lume Cube and turned it up to full power I was wishing I had more than one light to create the effect I wanted. In an ideal world I would have two to three lights to illuminate my subjects both in studio and in the wild. While this might seem like a big investment ($79.99 per light) it's actually cheaper than some of the other options I've looked at.
More tests
Because I only had one light at my disposal for testing, I resorted to a bounce card to fill in the shadows. Here are two examples of using one light with a bounce card to add illumination to the shadows and reduce your work in post production. Sometimes being limited can inspire creativity.
I used one of the Hoinecomb Filters blocked with tape, except for one hole. The bounce card was used to add detail to the front of the figure.
I used the Lume Cube to illuminate the wings and a bounce card to fill in the shadows on the face of the figure. Also notice the mirror trick in the background.
In conclusion
I can now see what all the fuss is about. While there are many lighting options on the market for the toy photographer this is a neat and tidy set up. There is more than enough power in just one light to help you elevate your toy photography game. With the addition of 10 power levels, filters, diffusers and light modifiers, you have plenty to inspire your creativity. Its small size makes it ideal for tucking away into your bag and still leave plenty of room for toys. And the Lume Cube is sturdy enough to withstand the abuse of location photography. My brief time with playing with the Lume Cube has sold me on this set up. Its stylish (yes Im that shallow), powerful, flexible and will hold up to the abuse I'm going to put it through.
Brett
I could probably be called a "control freak" when it comes to my toy photography. I control the environments where I take my toy photos, digging up moss, planting it and creating forests with sticks. The weather is controlled with atmosphere aerosol and spraying water. Repositioning these dioramas or positioning a mirror behind, I control the background. But one thing I couldn't control was the light, up until now.
I won't lie, I've hovered my mouse over the "buy" button many times on the Lume Cube website. I don't know why I've never committed to the purchase? Maybe it's because I wasn't convinced it could do what I wanted for my toy photography. Now that I've had the chance to play and review (albeit it briefly), I regret not buying a Lume Cube the very first time I considered it!
At just 1.5 cubic inches (6.5 cm) in size and weighing 3.5 ounces (100 grams), a Lume Cube is an unobtrusive yet incredibly powerful asset to add to any toy photographers' kitbag!
With 10 manual brightness settings that change in increments of 150 lumens (the brightest maxes out at 1500 lumens!), and the ability to slide the brightness from 1% to 100% via the mobile App, trigger two different strobes and use it as a flash, the Lume Cube is incredibly versatile.
13 magnetic filters (diffusers, warming gels, colour gels and honeycomb grids) and 4 magnetic diffusing bulbs, sure sounds like a lot of options. But when you can stack and combine them, there's very few ambiances that can't be replicated.
And there's a built-in 1/4″ 20 tripod mount on to the bottom of the cube allowing it to be mounted to a tripod.
Despite only have a limited time to play and experiment, and copping a horrible 'change of seasons' cold that cut my play time even shorter, I'm super impressed. Recently I've been playing around with the sun and misting water into frame. But I've only got about an hour window to do this when the sun is at the right angle in the mornings…not anymore! The Lume Cube replicates what the sun gave me in the mornings any time of the day, or when the clouds ruin my plans!
The cube also makes a great alternative to a bounce card, illuminating subjects with a gentle diffused light. Plus, I think the addition of a Lume Cube to my toolkit might see me back in the studio taking toy photos. And, my window to photograph toys is now wider, not being reliant on the sun. I've got my own little 1.5 cubic inches sun in my camera bag!
I can't wait to experiment and explore the possibilities with this wonderful little cube of light. I'm especially looking forward to seeing what this amazing little cube does when it's submerged in water. Oh, did I mention it's waterproof?
James
If you listened to my recent podcast interview with Trevor Farrow, you heard how enthusiastic I was about the Lume Cube. Going into the interview I wanted to appear non-partial and unbiased, but just couldn't hold it in. I love this little light! From the moment I took it out of the box I knew it would become a permanent tool in my studio and camera bag.
For the sake of my tests, I decided to shoot exclusively in my studio and really push the limits of the Lume Cube. At first its brightness and small size felt like a limitation. Like Shelly, I found myself wishing I had a handful of them to scatter across my scene. All of my initial setups had harsh shadows and I found it difficult to light the entire scene.
With time however, as I became more comfortable with it and utilized things like filters and the incredible mobile app, I found it to be an amazing and versatile tool.
One great spec about the Lume Cube is a simple one: The inclusion of a universal 1/4 20 mount on the bottom. I was able to screw it right into my JOBY GorillaPod which gave me a wide range of placement options around my scenes. As an added bonus, it also hilariously looks like something straight out of War of the Worlds.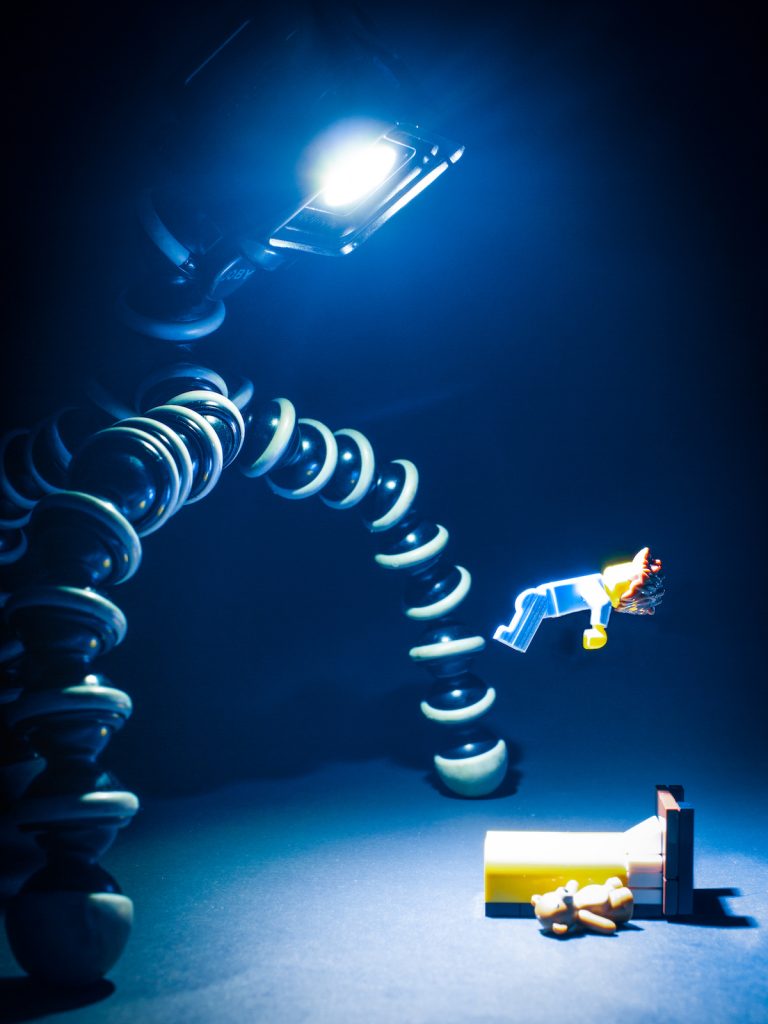 My absolute favorite thing about the Lume Cube is its size. I knew it would be small, but didn't anticipate how small until I had it in my hands. Its 1.5 cubic inches (6.5 cm) allowed me to "hide" it inside of my photos to achieve some great effects, like this indoor sunset:
Until now I've been using two large umbrella lights to illuminate my studio – holdovers from my days of working with video. They're great lights, but their size makes them quite limiting and frustrating to work with on a macro scale. That's where the Lume Cube really shines! This thing can really fit anywhere within your photos, like behind these Death Star panels:
I spent a great bit of time playing around with the magnetic filters that attach to the Lume Cube's "Lighthouse," a metal cage that wraps around the Lume Cube without adding much additional weight or sacrificing its small size. The color filters were a lot of fun, as they allowed me to capture cool practical effects right in my camera with some clever positioning.
I'd say that for the majority of my tests, I was looking for photos I could only capture with a Lume Cube. The more comfortable I became with it however, the more I found that it could actually replace some of my current studio lighting. I was eventually taking photos that didn't look like Lume Cube shots – they were simply well-lit toy photographs! At the end of the day, that makes this a must-own product for your studio or camera bag. Not only will you be able to utilize the light in fun and interesting ways, it's simply a great lighting solution for toy photography.
Sunny
When I first got an email from Shelly regarding getting a set of Lume cube plus accessories to do a review of it in the toy photography sphere, I thought I would just receive the basic light cube and maybe a diffuser or two. When my package arrived, I was pleasantly surprise to see a bunch of great accessories that included diffusers, color filters and light modifiers.
One of the few comments among the reviewers in the group were how small these cubes were and how strong the light can throw. Prior to this review, I owned a pair of similar light cubes and was eager to see what Lume cube had to offer.
Right away, the Lume cube had two features that stood out for me:
The use of magnets to snap on the accessories
The Lume-X app
Snap On Accessories
This is a great feature, to be able to snap on accessories via magnets on top of each other. Want a blue light with slight diffusion? No problem. Just stack the blue filter to one of the diffusers.
Lume-X app
If you have the intention to get one of these Lume cubes, the first thing you need to do is to download this app right away. It connects via Bluetooth to your mobile phone and lets you adjust the cube to be in flash, constant or strobe mode. The best part of this app is the ability to adjust the light intensity in small increments via your hand phone. No more going back and forth from camera to setup. You can adjust the light intensity at your camera position and avoid the risk of knocking down the figures/props or worst, messing up the whole scene.
This was a pretty straight forward setup. I mounted the Lume cube (with a diffuser attached to it) on a tripod, placed it behind the whole setup. The diffusers come either in a bulb shape or as a flat snap on accessory. The different pieces of diffuser lets you cut out light up to 95% , 76%, 56% and 20% (bulb shaped diffuser) and up to 43%, 50% and 60% (flat snap on diffuser). Coupled with the software control, I was able to comfortably adjust the light from the camera position.
I attached the blue color filter with a diffuser for this shot. I moved round the setup, holding the Lume cube and a mobile phone running the Lume-X app, experimenting with different lighting position and intensity. For all my shots for this review, I never had go beyond 20% brightness.
I shot this at ground level and walked round the scene , taking 3 shots of various lighting configuration, all the while focusing on Beaker. The 1st shot I did , I put on the red filter together with a diffuser and adjusted the light from the right. Then I swap to a blue filter and took another shot with the light coming the left and lastly, with just the diffuser, lit and shot the two figures. I composited the 3 differently lit scenes in post . Technically, you can light this one scene with 3 light source, but I had only one Lume Cube at time of review , hence the way this shot was executed.
Final Thoughts
The Lume Cube has been a blast to use and I already have more scenes in mind to use it for dramatic lighting. It feel s sturdy, even more so with the Light House casing. Listening to the recent podcast with Lume Cube's Trevor Farrow, I was so happy to hear about the barn door accessory. This is something I will definitely be getting because at the moment, I grab hold of any flexible material and wrap round the Lume cube to help control the spill lights. I certainly look forward to more accessories. Lastly, the Lume-X app has been a great help in making my photogrpahy shoos a more enjoyable experience.
Contest
Ok, now that you've made it this far, you will probably want to know how to enter the contest sponsored by Lume Cube for a chance to win one of three prizes. Simply head over to the Lume Cube's website and follow the instructions on the giveaway page. You will be able to link to your photos, no matter where they are originally posted. You can enter as many times a you like. Every photo will be judged on the following criteria:
1. Originality 
2. Creative Lighting 
3. Attention to Detail (Posing, props, scene, set up)
The prizes are as follows:
The winners will be chosen by the Lume Cube team, Johnny Wu (
Sgt Bananas
), and the Toy Photographers main editorial team. Don't forget, you have until September 26th to enter this contest! If you have any questions about the Lume Cube or lighting in general, please leave them below and we will do our best to answer them on this Sunday's podcast.