The instant that little NO SERVICE materialized at the top of my phone as Dave and I rolled into that deceptively picturesque beach town in Oregon, I was like, Oh fuck.  I've made a huge mistake.
How will I yelp the best gelato? Compare brunch menus?? Sniff out where the locals eats!
Yeah, I didn't call my husband even once but getting the best food into my face? Top priority.
How the hell did that happen?
So, I don't know how and why but I ended up sharing a beautiful house with all the action figure, practical effects douchebags. And if I didn't have an inferiority complex when I got there, I sure do now! Those guys rolled in with portable studio lighting, fireworks, canned fog, knee pads, and toys galore. Their on the spot setups were more intricate than anything I've ever done in my home studio. (And I say "home studio" but what I really mean is "three of the cheapest Ikea desk lamps on top of a table nobody wanted.")
But as the hours and days progressed, the panic about my phone began to dissipate and the detox of my soot black, radiated soul was soon underway.
To be honest the weekend brought me back to the haze of high school/college. The frat parties. Nights where you could all just go hang out at someone's place. Where all these like-minded people, all existing within the same time period of our lives, were in great proximity. Within arm's reach.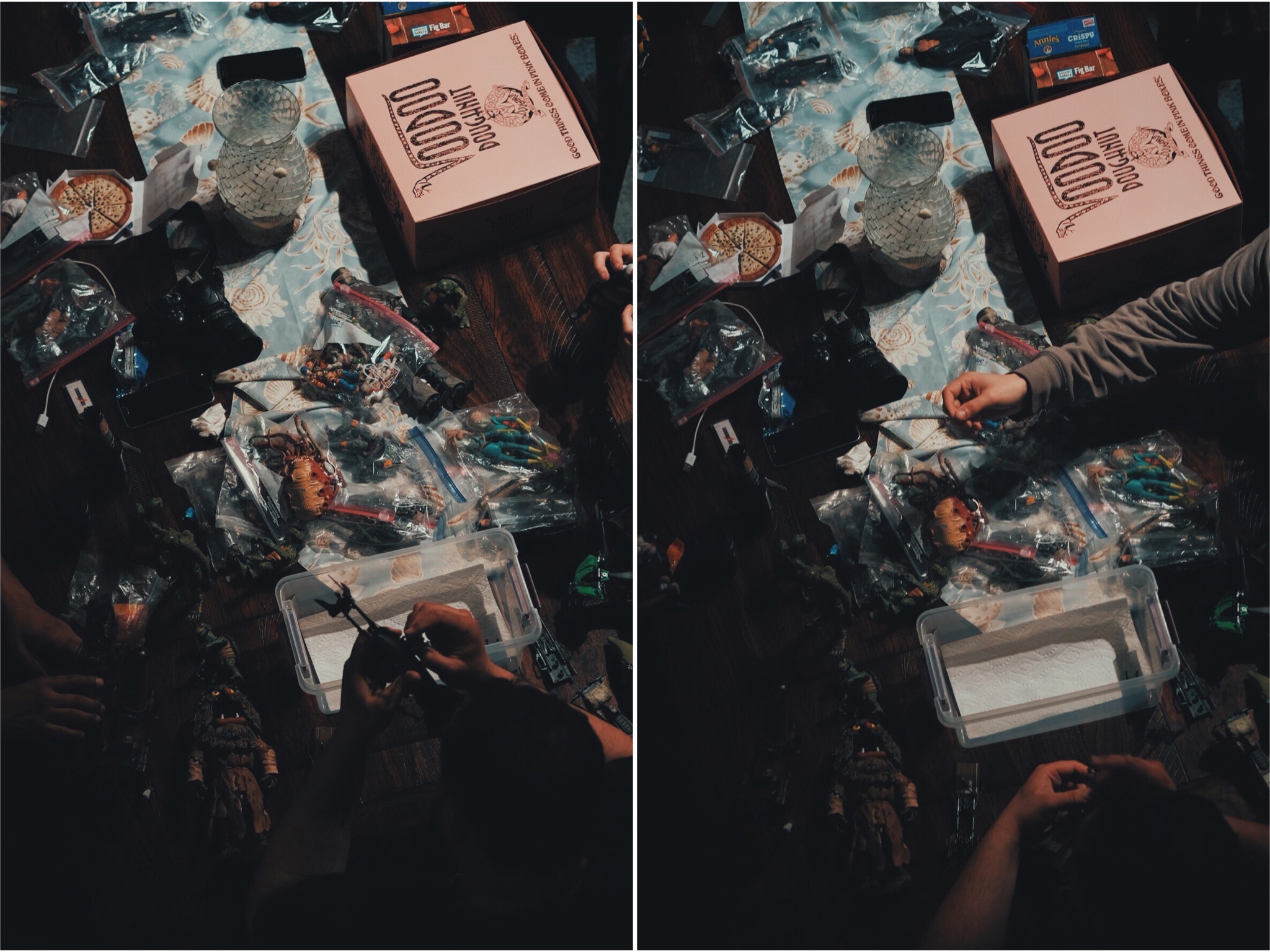 No shame
Dave, Austin, Eric, Jazer, Jax. We stayed up every night until the wee hours talking toys and photography, venting our frustrations about Instagram, and we all understood exactly what everyone was saying. Then going over to Shelly's and being able to geek out with zero reservations or shame…!! It was a great release.
I don't know about you, but there's not one person in my life that understands even a little bit of this. Why don't I do some real photography? Why is my Instagram full of toys for children and not selfies? Why do I talk to all these people I don't know? And really. I never know how to answer without shrugging, telling them to suck my dick and to go back to posting aesthetically deficient pictures of their sneakers and mind their own business.
(Btw, did you guys find me terribly unfriendly that weekend? 🙂)
For me, creating is a release but I didn't feel any need for that those four days. I didn't take many pictures but I reveled in your company, your stolen food, the conversations and laughs, and it's been a very, very long time, but I felt light again. At peace and unburdened by all the various things life likes to do to you.
More than just a shared hobby
Our community goes way beyond a shared hobby, a personal quest to see yourself in art. I mean you can and already do all that by your lonesome, but we are a safe space. We are where a very real part of you can take refuge because we all understand and appreciate your hard work. It's never more apparent than during these annual toy safaris.
So, while everyone was doing their thing on the beach, I actually got some writing done! Unless you or Shelly are terribly opposed, I'll be on here at least for a few more articles lol. Thanks for reading.
~ Eva (aka @greaterbeast)
Ed. Note: If you would like to see more of Eva's ramblings here on the blog, please leave a comment below.