Introduction
Hi, my name is Aimee and I am an irrigation farmer from southern NSW, Australia. I grew up on my family farm where we specialise in the production of lucerne hay and silage. I worked locally in accounting and irrigation, before moving back to the family farm in September 2014. It was at this time that I saw a post by the LEGO Travellers online – it was my first sighting of LEGO photography and I was hooked!
Growing up there was always LEGO about thanks to my younger brother. And he was constantly building machinery to replicate what Dad was doing outside in the paddocks. LEGO was my brother's domain. But, that didn't stop me having a go and building a few things. And I still remember when I got LEGO pink window shutters and pink flowers! How excited I was!!
I really enjoy macro photography – the perspective, the art of telling a story in something so small, the discovery! After seeing LEGO photography, I found a world that combined these two things – LEGO and photography. And after searching high and low, I couldn't find anyone photography a LEGO farmer outside, in the dirt, and showcasing agricultural through LEGO.
And so, my LEGO Farmer was born on the 6 September 2014.
This is me taking that very first photo: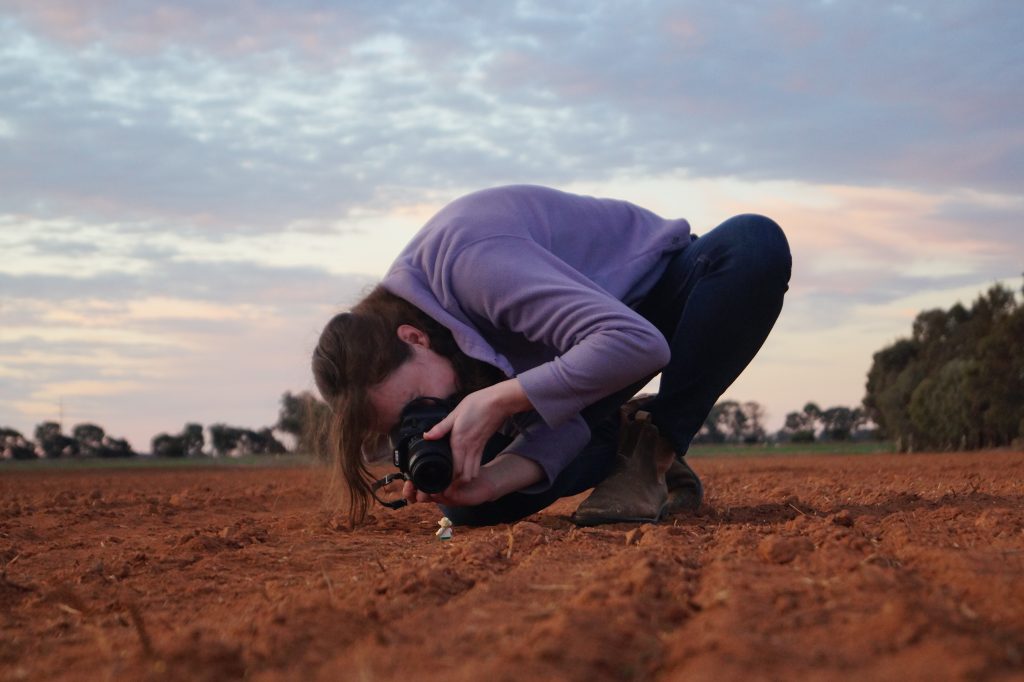 Photo courtesy of Lynda Snowden.
And that very first photo: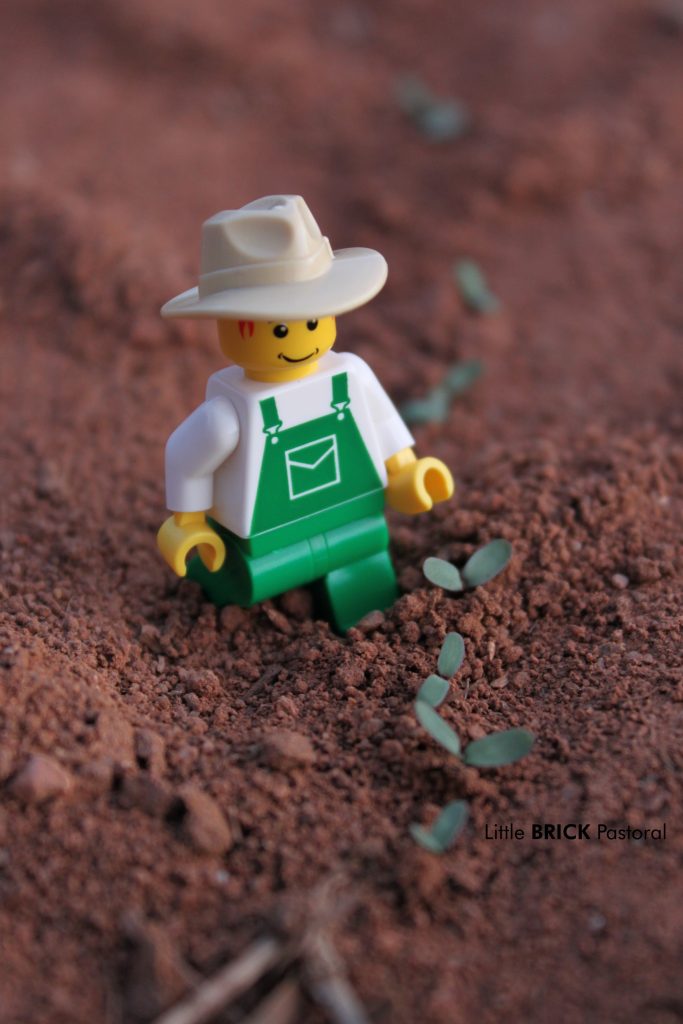 From that first photo, I took a few more photos, before launching the LEGO Farmer with a Blog, Facebook and Twitter. I later added an Instagram account (and opened up even more of a world of LEGO Photography)!
Originally, I thought my friends and family would get a kick out of the photos, we'd have a bit of a laugh, and that it would be a bit of fun! But soon enough I realised that this had strong potential. This was a unique way of connecting with people from around the world. It was a positive and entertaining way of sharing what happens on a farm.
Like this photo, I was able to share daily farm happenings, just in a smaller scale. Share things that I consider to be normal – but for many it provides an incredible insight into something they haven't been exposed to before.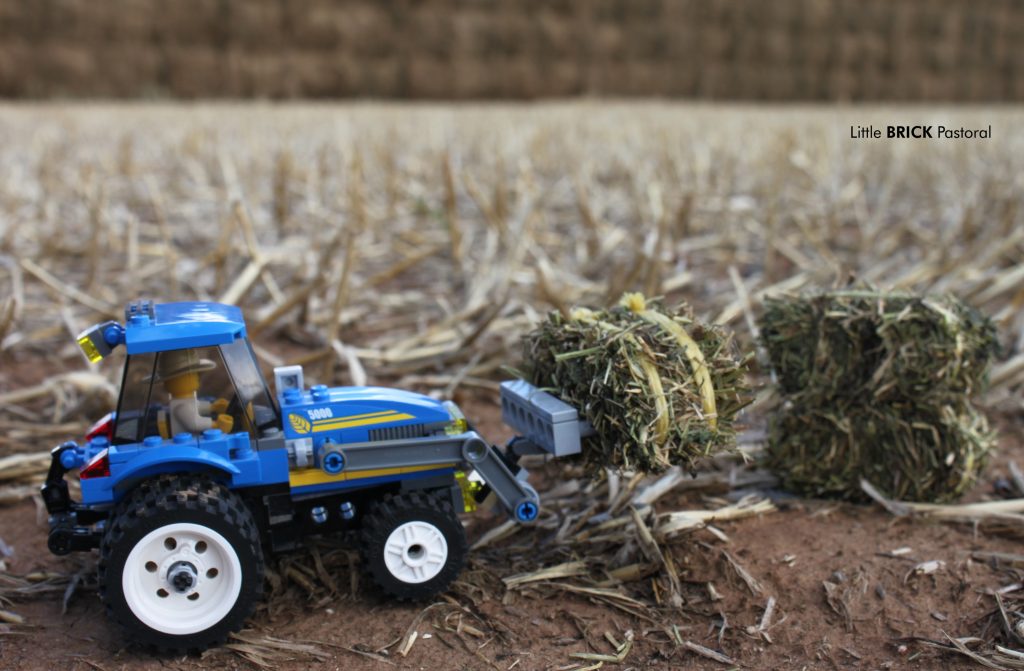 But, why?
I believe that it is really important to tell the story of farming and embrace consumers in our conversation. I chose to combine two mediums I love – LEGO and photography – to share my story and to share the wider agricultural industry with the world.
The other big "why" for me is education. Through Little Brick Pastoral I have found a way to build a connection, and to bring farming into conversations. I get to take farming into the Royal Exhibition Building each year for Brickvention. I get to spend three days talking to families, mainly city based families, talking to them about farming. About where their food comes from. About the diversity of Australia agriculture. About how exciting and innovative our industry is.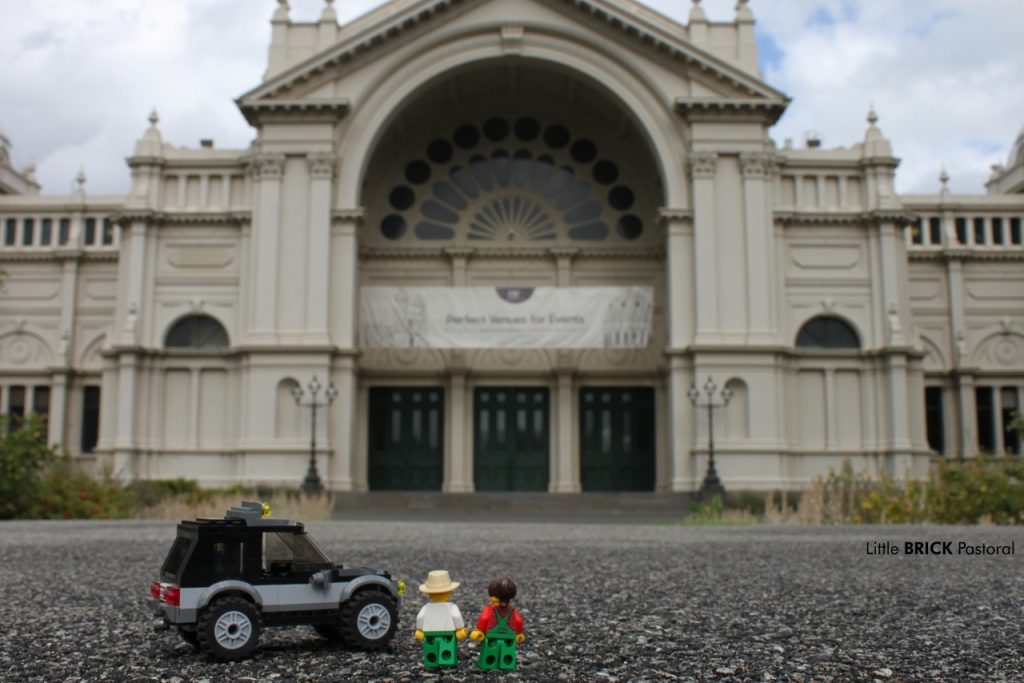 But, why LEGO?
Well, the truth is, and I know this is a really bad pun – but I use it all the time – LEGO connects! We remember playing with LEGO as a child. We share our LEGO bricks with our children and grandchildren. LEGO is a toy that appeals to toddlers and adults alike, boys and girls, and children from around the world.
There is also another element to LEGO – the imagination! This photo was created in the lead-up to the Deni Ute Muster. The Deni Ute Muster is a three day country music festival, camp out and show that celebrates great Australia utes in a town not too far from me. The photo was one that got a lot of traction, because it shows the creativity and scope of LEGO. 
And now?
Since starting Little Brick Pastoral a whole world has opened up for me. And I have discovered and built (and quite literally built brick by brick) my way of sharing my love of Australian agricultural, introducing agricultural education, and encouraging careers aspiration in the wider food and fibre industries. I was named a 2016 NSW/ACT Rural Women's Award Finalist, a 2016 RAS Rural Achiever, and a 2018 ABC Heywire Trailblazer. I was an Australian delegate to the Global Youth Ag Summit. I have attended many conferences and shows to share my story, and I partnered with NSW Department of Primary Industries to create my first Teacher Resource Kit.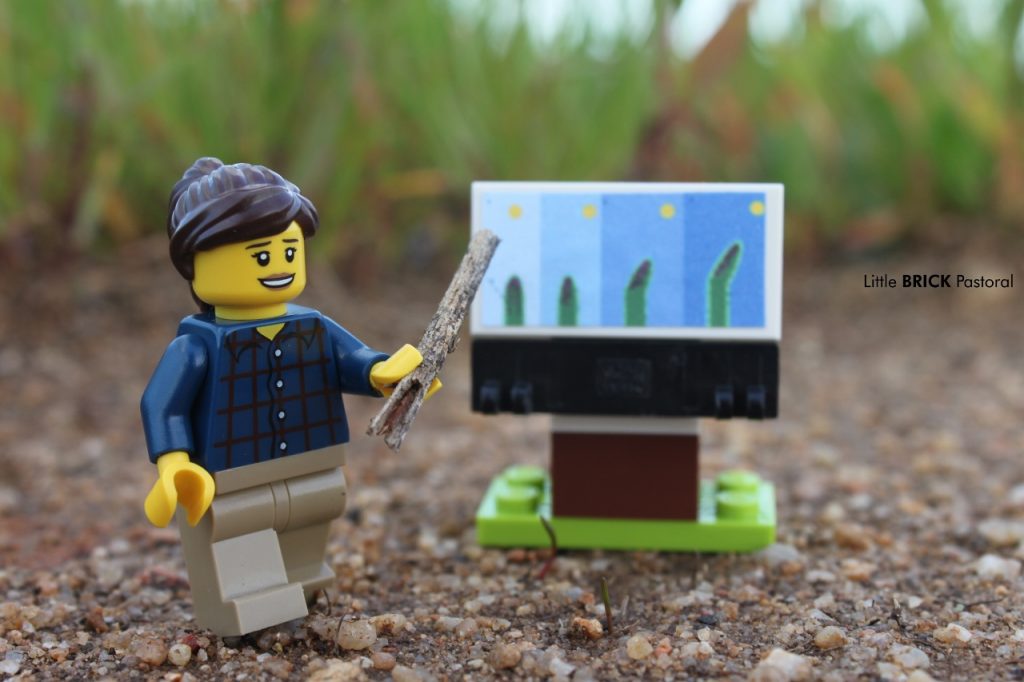 All from one tiny little figure and that first photo! And I couldn't be more excited for the future of Little Brick Pastoral.