Sometimes, you have a bad day and just need to buy a bunch of toys to cheer yourself up. Of course, shops these days are FULL of blind bag/box type toys for 'kids' to spend their pocket money on (or Tesco coupons in this case). So, in the interests of finding new things to photograph, I grabbed a whole bunch of different toys.
The sheer number of available blind bag toys at my local supermarket can be seen in the following slideshow of awkwardly taken photos.
[metaslider id=17067]
Take a look below at my mini-reviews to see just what I ended up buying, and whether I would buy them again. Maybe it will help you decide whether these mini toys are worth getting your camera (and wallet) out for!
Ooshies
[metaslider id=17049]
First up, we have 'Ooshies.' I should have figured out from the 'feeling test' that I wouldn't like these. Squishy, and faintly sticky, they are meant to go on the end of a pencil. I was attracted by the prospect of some Toy Story crew, but instead I got 'Anger' and someone from the Incredibles (yeah, I bought two of these…)
I find them kind of disturbing, although my cranky little 'Anger' may have to come to work in my pencil case…
Price: £2
Packaging rating: Average (Could just about tear it open without scissors)
Cuteness rating: 2/5 (Blah!)
Photographic rating: 1/5 (A little boring and very shiny. Also, dust sticks to them like anything!)
Would I buy it again? No. A never to be repeated purchase.
Tsum Tsum
[metaslider id=17031]
I wasn't going to get a Tsum Tsum but when I saw that tiny little Woody on the packaging, I had to search through a box of Tsum Tsum's to find him. I figured his Sherif badge prop would be easy to find and it was!
Price: £3 (on sale)
Packaging rating: Poor (had to find scissors AND there was more plastic inside)
Cuteness rating: 5/5
Photographic rating: 3/5 (Not sure how much I will photograph this chap, but he was pretty cute when I did!)
Would I buy it again? Possibly, depending on if I could find other characters I wanted.
Playmobil
[metaslider id=17053]
OK, so this one was cheating a tiny bit as I've had one Playmobil blind bag before (I wanted the Pizza guy) but I figured why not! Playmobil do a nice range of characters in their blind bags, and this one was no exception. A lovely glamorous lady, with an amazing umbrella that I am sure I will find no end of opportunities to photograph!
My only real gripe with the Playmobil blind bags is that I had NO IDEA how to put the woman together. There were so many pieces and the instructions were limited. I could barely get her arms and head attached! For a moment, I thought it was defective and was wondering what to do.
Price: £2
Packaging rating: Average (Had to find scissors!)
Cuteness rating: 5/5
Photographic rating: 5/5 (Look at that dress! Such style!)
Would I buy it again? Yes, definitely.
Pint size heroes
[metaslider id=17040]
These guys were too cute to resist. Surprisingly detailed for their size, and they had some examples on show so I could see what they were like before buying! I went for two in the range: Disney and The Nightmare Before Christmas.
Price: £3 (only they scanned at £2, so I'm not sure…)
Packaging rating: Excellent (These bags are exactly how I want blind bags to be. Single lot of packaging, and easy to open cleanly without scissors!)
Cuteness rating: 4/5 (They are pretty adorable!)
Photographic rating: 3/5 (Cute for a couple of shots, but no long term potential for me.)
Would I buy it again? Possibly. Again, only if I could figure out what the figures were. I don't want another monkey.
Harry Potter vinyl figure (Funko)
[metaslider id=17058]
So, I know the picture only shows ONE Harry Potter vinyl box, but I got two. I actually got Herminone earlier in the week, but I wanted the excuse to get another. I won the odds though and got the figure I most wanted! Grumpy Snape!
Price: £5
Packaging rating: Awful (Plastic wrapper over the box, then another plastic bag inside the box. All openable without scissors though.)
Cuteness rating: 5/5 (I'm sold on anything Potter related I'm afraid.)
Photographic rating: 4/5 (Snape wins points for this one as I love how grumpy he looks but I'm not sure Hermione has the same potential due to the hat pose.)
Would I buy it again? Yes, but I think I would prefer to spend the extra to choose the figure I wanted from the main Funko Pop collection. These are nice, but you really can't tell what you are getting.
World's Smallest
[metaslider id=17035]
This was a shot in the dark and I figured I would most likely end up with something not really photographable. I really wanted the tiny Polariod Camera, although the magic 8 ball would have been cool too. Instead, I got a Yo-Yo. I was pretty damn annoyed about this to start with (£5 for a tiny Yo-Yo???) , but my other half absolutely loves it and has stolen it until (in his words) "I buy myself a real one!" He's trying tricks with it and everything! What did I start?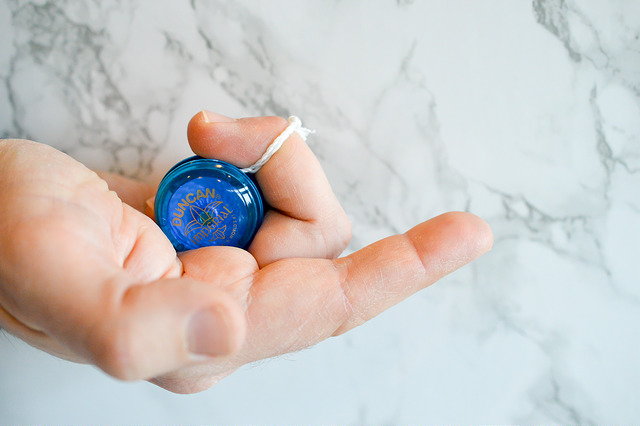 Price: £5
Packaging rating: Average (Again, more plastic than necessary)
Cuteness rating: 1/5 (It's a tiny Yo-Yo. I'm not sure it could be cute.)
Photographic rating: 0/5 (Not good to photograph, although some of the other toys might have made cool props!)
Would I buy it again? No, it's too expensive to guess, and I might end up with more Yo-Yo's.
---
After playing with my new toys for an afternoon, I think it's safe to say that blind bags can be incredibly hit and miss for the toy photographer. Sometimes you get some good stuff, other times, you get some ****. Kind of like life, I guess.
In general, whilst I do still dislike the overwhelming amount of blind bags now available[1], I do think they can be a great source of inspiration if you are struggling to get ideas. However, they are also an expensive habit if you start collecting and can result in unhappiness with the results.
I think I will stick to blind bags where I can feel out what's in them in the future. The random attack approach is too messy for my liking.
[1] Does anyone else in the UK remember Lucky Bags? Are blind bag/box toys the 21st century version of these?
Do you collect any (non-LEGO) blind bag toys? What have you found works best for photography from them? Let me know in the comments.
---
– Lizzi
Stepping on Bricks
If you've ended up here, you should sign up to our weekly email round up where you'll get a recap of all the babbling from the week. 
And while you're doing things, you should definitely join our G+ Community where we hold monthly contests with prizes and lots of other cool stuff too.