The San Francisco Toy Photographers meet-up has come and gone. A years worth of planning, organizing and a fair amount of worry, paid off in another epic weekend. There's no way I can share with you the many moments, both small and large, that bonded this group together. We laughed, we shared toys, we shared equipment and we inspired each other in so many way.  I will do my best to impart a little bit of the magic of our four days together. 
G+ Headquarters
My G+ planning partner, Pamela Abj Najem, greeted us at Googles latest expansion campus and whisked us away to our meeting room. I will admit I was star struck. I mean I was at Google HQ!. Even though the campus grounds are still under construction the buildings are beautiful, light filled spaces. There are lots of nooks and crannies for working and collaborating. We were greeted by Carter Gibson, Program Manager and Community Management (Google+) and Faith Tan a Community Manager for Google+. In short, these are the people who guide the good ship G+. After a few slices of pizza and drinks Carter gave a short presentation on G+. This was brief glimpse into the mission and the future of the platform. I was amazed to see how much our toy photography community is spotlighted in their presentation. In the world of G+, we're rock stars. 🙂
While the content of G+ is controlled by an algorithm, just like any of the other social media platforms, there are people behind the veil, pulling the strings. They're continuously looking at what the algorithm is selecting, tweaking the results and occasionally hand selecting content. The excitement this group of people have for their product was inspiring. They only want to grow G+, an interest based social platform, into a vibrant community of creatives. Yes, their well aware of the uglier sides of G+; spam, porn and comments that are simply gibberish. I was happy to here that they are working hard to solve (or at least mitigate) these problems. 
After the presentation we gave out our swag bags (LEGO, name badges and a custom figure created by Dennis), grabbed a G+ mini figure from our new G+ friends and then passed out even more LEGO. We then moved to another building with a three story glass and wood atrium to photograph our toys and hang out with our hosts. It was a great opportunity to chat with my fellow photographers and ask a few more questions of Carter and his crew. Soon it was time for a quick group photo, then it was back to the other building to grab our stuff and head out.
Sutro Baths
Our first stop on Friday was the Sutra Baths the site of a historic bathhouse. All that remain of the old public baths are concrete foundations filled with sea water and a stunning view of the Pacific Ocean. The sun was out and the wind was up, not ideal toy photography conditions. But by the time I arrived, everyone had hunkered down out of the wind with their toys out. The safari was in full swing. Travin (@SaiyanRanger) put together a very cool video of the mornings events. I will let his video have the last word on the subject. Go watch it, its lots of fun!
GoldeN Gate Park
The afternoon included a picnic lunch in Golden Gate Park, our white elephant gift exchange and an afternoon of toy photography fun around Stow Lake and Strawberry Hill. If you're not familiar with the idea of our gift change the rules are simple. Bring a toy valued at $20 or less wrapped for giving; everyone gets a number and we choose gifts in order. Each person can choose a gift from those already unwrapped or a new one from the pile. There was the usual range of amazing toys to, umm… 'interesting' toys; truly something for every taste! I told IntangibleDandy I would pay him $20 if he took a photo of his toy and posted it to social. I don't think he took me up on my offer. 🙂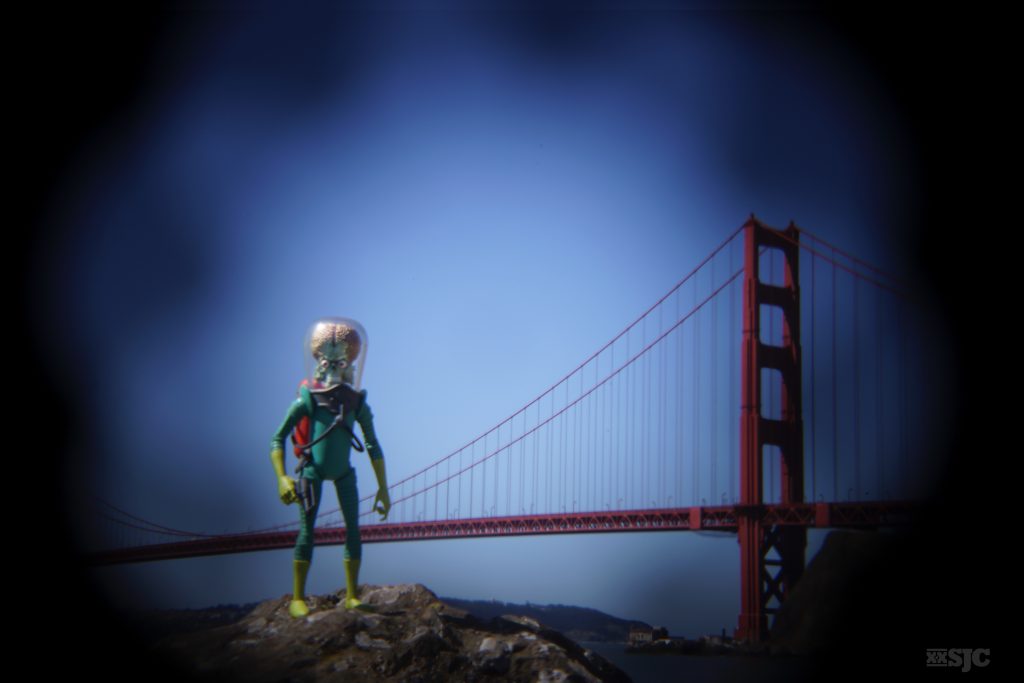 Stow Lake
We packed up our lunches, grabbed our toys and headed out. Some people stopped at the Chinese Pavilion while others headed to the top of Strawberry Hill.  You could find small groups of toy photographers hanging out, chatting and swapping stories and toys all around the island. 
Another highlight of the weekend was meeting Daniel (@Louiebaton). This was both unexpected and awesome! Daniel was in the area and he had a couple of hours to spare so he stopped by to say 'hi!' to the group. I gave Daniel a couple of beers and he created a quick photo near the Chinese Pavilion in true Louiebaton style! 
Pier 39
With so many friends in attendance from out of town, these included David (@Fathersfigures), Austin (@toy.at.heart), Josh (@Papjov), Maëlick (@Reiterlied) and Julien (@Ballou34), we wanted to do at least one cheesy touristy activity. So off to Pier 39 we went to round up some dinner. We ended up at the home of the original San Francisco sourdough bread, Boudin Bakery. After a satisfying meal, it was clear that everyone was experiencing exhaustion and sore muscles to some degree. It was a great first day!
Fort Baker
This is one of the few locations I had not scouted in advance. My hosting partners, Dennis (@Krash_Override) and Melissa (@Lizzybelle9) did a great job choosing this location. Even though it was another sunny and windy day, the view of the Golden Gate Bridge was amazing. Sea lions were cavorting in the Bay, kayaks were gliding by, the city sparkled in the distance, pelicans dived for fish and the keen eye spotted a whale in the bay. Saturday was off to a spectacular start. 
I torn my gaze away from the spectacular view and saw toy photographers swarming the nearby rocks, lining the pedestrian sidewalk and heading off to explore the abandoned fort. It was a great start to another epic day of toy photography!
Experimentation is an important part of these events. Final results are always nice, but with this many photographers in close proximity, toys, lenses, tricks and tips were being continuously swapped. Josh was kind enough to loan me his crystal ball so I could experiment. I played around with a Holga lens for my camera and I loaned my LensBaby to David to play with. When you look through the #SFToyPhotoSafari see if you can spot photos being taken with any of these alternative lenses.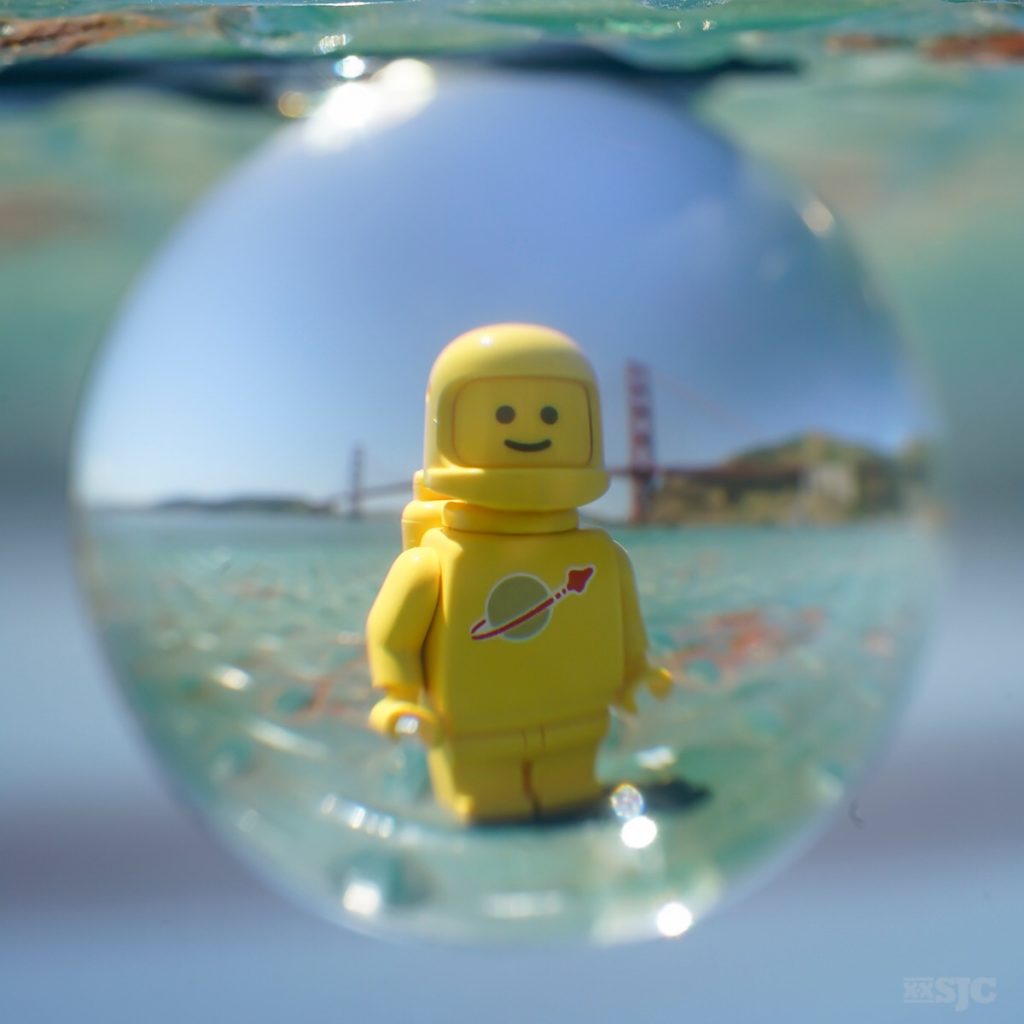 Photo Swap
Honestly this is my favorite part of the meet-ups. I love to trade photos with my fellow attendees. It fun to see which image they will choose to share, either a personal favorite or one that best represents their style. Having a physical memento of the weekend and of each person present is important to me. After our group lunch, where the toys came out to play, we swapped photos. It was wonderful to see the pride on everyones faces as they shared their favorite images and often told the stories behind them. 
Albany Bulb
So far, our photography conditions had been less than ideal. High, bright sun and a strong wind doesn't usually mean great photos. I was really looking forward to photographing during the golden hour on the Albany Bulb. From past experience, I knew this was my best chance at capturing a few interesting photos. I wasn't disappointed.
The Albany Bulb is a former landfill on the end of a peninsula jutting out into the Bay.  The Bulb used to be a homeless community, has the remnants of many art installations and now is a pseudo park. Basically, it is was the perfect place for a bunch of photographers to hunker down for several hours of excellent toy photography.
As the sun went down, we packed up our toys, took one more group photo and headed back to our cars. I gave out a few more LEGO sets and we made plans for our evenings. The mood was relaxed and everyone felt good about a day well spent.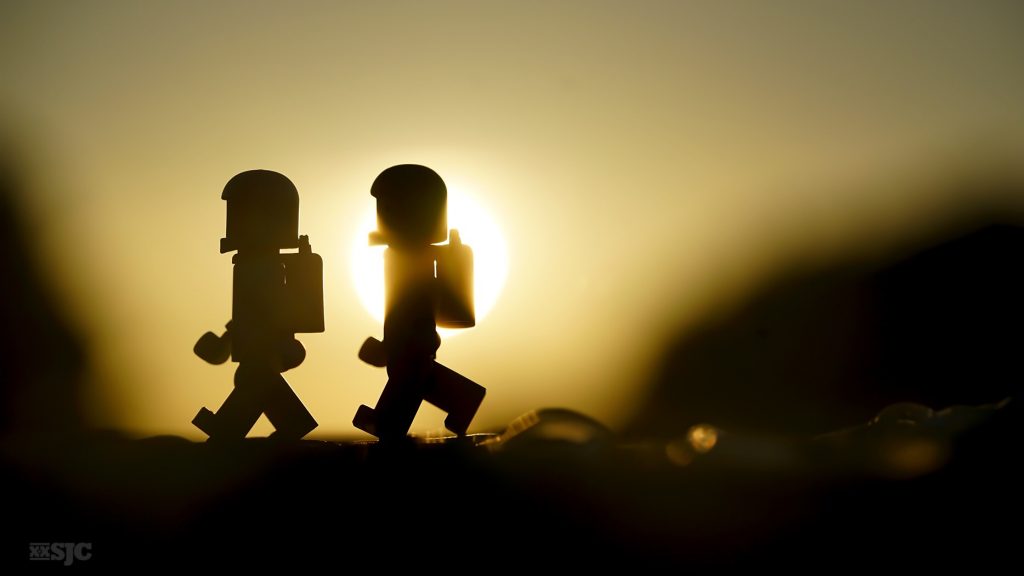 Sausalito
Our last morning together started a little earlier. With many of our out of town attendees needing to get to the airport, meet-up with family or begin the drive home, we knew this would be our chance to wind down before returning to reality. We started at Marinship park in Sausalito and walked through the marina to a hidden sandy beach. It was the perfect place to set up toys and snap a few toy photos before the good byes had to begin in ernest. We walked back to Marinship Park, I gave away a few more LEGO sets and soon it was time for me to hit the road.  When I drove away, the good byes were still going strong. *sniff*
Collaborations
When you have twenty toy photographers in close proximity to each other collaborations are bound to happen. In fact, this is what makes these meet-ups so much fun. There's always a photographer around who needs an extra hand. Several times friends stepped in to help me with lighting and I returned the favor. I saw Austin trying to mange a particularly difficult one handed camera maneuver and I quickly stepped in to help out. When I saw the perfect location for my x-wing photo Julien was quick to step in and help me to realize me photographic vision. In fact, I recommend taking Julien on all your photo safaris! He will undoubtedly have anything you're looking for…wire, knife, extra bumble bees… 
One of the more amusing weekend moments happened when three photographers got together to help David realize his vision of batman being attacked by Lego bumble bees. He borrowed the batman from Jazer (@Knightwing2110) and the bees on wires were courtesy of Julien (see!) and Maëlick. Check out the final photo here and the behind the scenes photo here.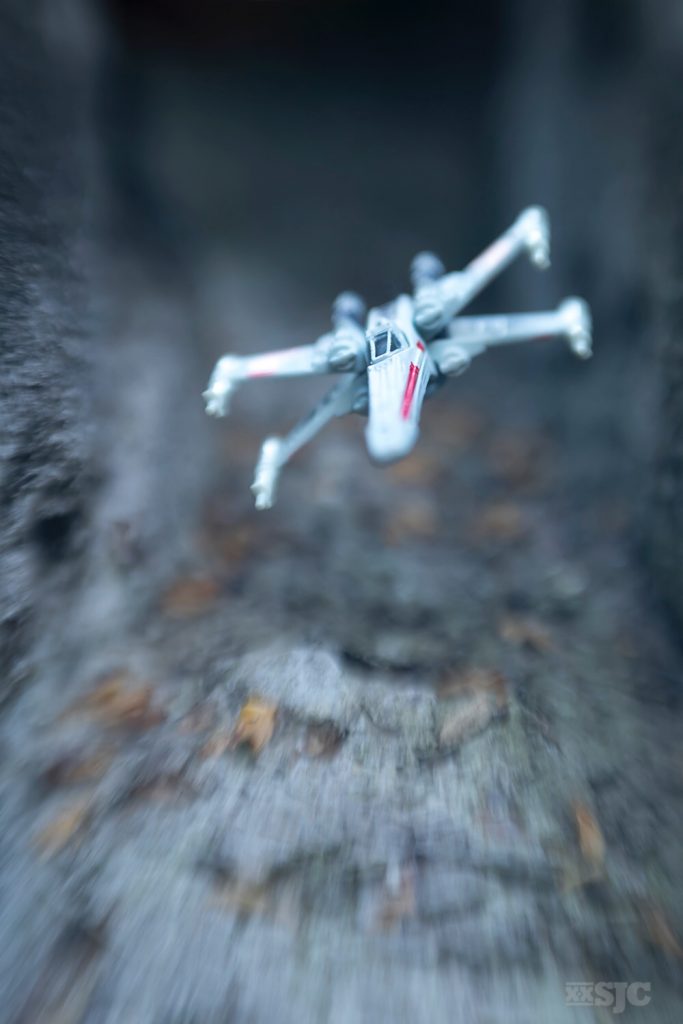 Success!
With comments like: "Cant wait for next year", "I'm feeling blessed to know you all", "What an amazing event!", "I miss you all already!" and "It went by too fast. It felt like a fantastic dream." I know that this was our best event yet. Sure there's room for improvement and I will keep tinkering with activities (no toy store this year!). But over all, I think we have a winning formula. 
I want to take a moment to thank Maëlick, who traveled from Finland and Julien, who traveled from France, for attending. I've 'know' both of these men for several years through social media, stuck in plastic and of course this blog. We've chatted, exchanged emails, talked photography; and it was my absolute pleasure to meet them in person. I love it when I can finally put a face to the photographs. Getting to know the people behind the photos is just one more reason these events are so special. 
My personal goal of these events is to put the 'social' back in social media. You can take photos of toys anytime. But when can you chat toys, share toys, share a meal with other toy photographers or laugh at a toy joke that only a toy photographer would get? 
I hope to see you at next years photo safari! 
Shelly
To see all the photos that were taken over our four days together, follow the hashtag: #SFToyPhotoSafari. If you would like to be notified about next years event, make sure you are a subscriber to the blog. I'll be contacting past participants and subscribers soon with a survey regarding our next destination. 
I have so much love for this crew…