I virtually met Shelly on the Internet approximately one year ago and soon discovered her toy photographers' meet-ups. I've definitely wanted to go to one; unfortunately the dates and locations didn't work for me.
So, I started thinking about how I could organize my own. Well, organize is a big word. My lack of experience unequivocally didn't help me at all, but the wish to take part in one was too strong to resist.
My original idea was to gather people together at my LUG's annual LEGO exhibition. Every year Cremona Bricks hosts a big meet up. This year it was the sixth edition of it, with more than 80 exhibitors from all over Northern Italy. If you're curious about the event you can have a look at this gallery on Flickr. Initially this seemed like the biggest mistake ever! Since we're all LEGO fans too, we spent a lot of time looking at dioramas and the MOCs. We also spent time buying custom accessories in the market area.
While hosting the meet up during a brick exhibition wasn't the best planning, it did bring us together. The best part of this experiences is, without any doubts, spending time with people who share the same passion; photography. Especially of toys, and in this particular case, LEGO. And that happened. A lot.
While we were looking at MOC's and shopping we were also talking. We talked and talked about everything, almost forgetting to take photos. With the distractions of the exhibition and market place the 'official' photography session was brief, very brief. But it was also funny and gratifying.
I'm not an outdoor toy photographer; most of my shots, as many of you know, are taken in my "studio". I must confess, I've never ventured downtown alone with my camera and a backpack full of mini figs and accessories. But, as you know, unity is strength and being a group of eight people made me step up.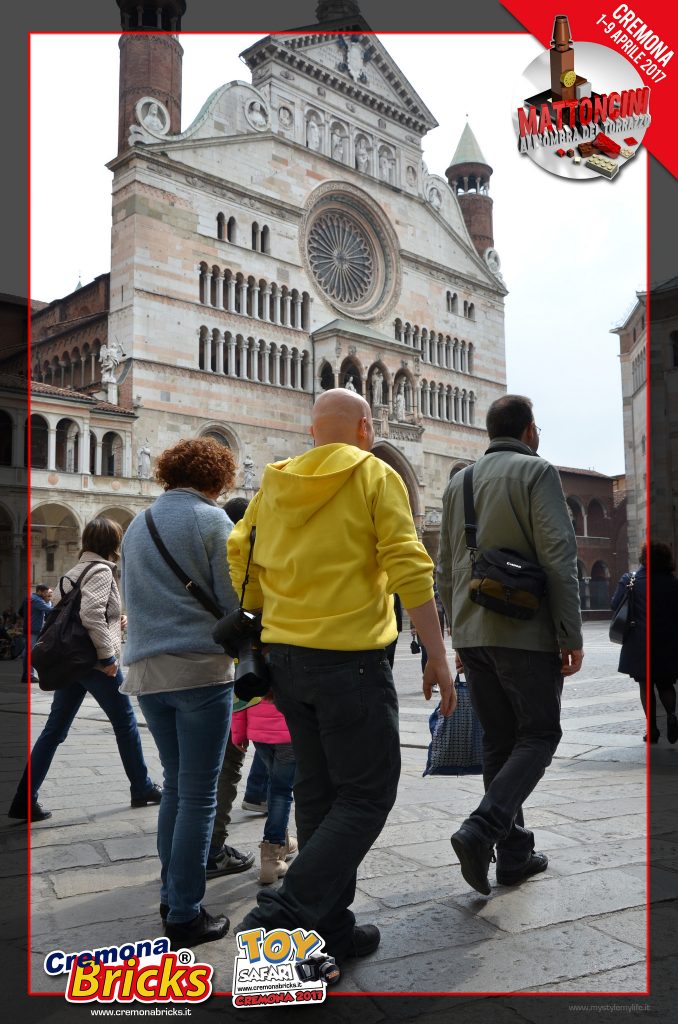 I had already met Fabio (@ilcarota) and his wife once and I've been following Marco on IG and G+ (@the_aphol). Patrick (@digitalprint_patrickbaroni) and Andrea are friends of mine and members of Cremona Bricks. But surely the biggest surprise was Christian Stringari with his whole family who drove all the way from Val di Non to Cremona! He was intrigued by the LEGO exhibition and the toy safari. Moira, the wife of a member of my LUG, with her two adorable sons joined our photo party after lunch.
I hadn't planned anything, I thought it would be enough simply to take a stroll downtown and let inspiration find us. But it's not that simple, as many of you surely know. We inevitably ended up in Cathedral Square, on a Sunday morning. The square was full of tourists and people in the bars for an "aperitif".
[metaslider id=12215]
After a moment of hesitation we opened our backpacks, pulled out our mini figs and started shooting. Soon the magic began. We shared mini figs, accessories, we helped each other and we exchanged tips.
For me, the most memorable moment came when a lady (older than me, for sure) got closer asking us what we were doing. And then, totally unexpected, she asked if she could borrow a mini fig and started taking photos herself. Soon a few teenagers joined in too! Unbelievable!
[metaslider id=12196]
While our time photographing was brief, it was intense. The most important lesson I learned in this experience was simply to try it. Somebody had to lead the first toy meet-up in Italy! I'm so happy to be the one who did. From now on, we can only improve.