COOLFUNPLAY reached out to us about the new 1/12 Scale Anime "ULTRAMAN" Die-Cast Action Figure Lineup and we are excited to get one of the action figures for photos and a review and to run a contest, so you can win one too! Stay tuned to learn more about the action figures and contest and learn more below.
Building on the success of their initial pre-order offering in July 2023, COOLPLAYFUN is proud to announce the release of two more captivating characters for their highly sought-after 1/12 scale Anime "ULTRAMAN" Die-Cast Action Figure product line. Fans and collectors can now secure their pre-orders for the exquisite ULTRAMAN SUIT ZOFFY and ULTRAMAN SUIT JACK figures, both set to be launched in the first quarter of 2024.

Standing at an impressive 15cm tall, the ULTRAMAN SUIT ZOFFY figure is a meticulously crafted masterpiece that faithfully captures the essence of the iconic character. Constructed using a blend of premium materials, including ABS, Zinc Alloy, PVC, and POM, it ranks high in durability without sacrificing any authenticity. The action body of the figure has over 30 points of articulation, allowing fans to create dynamic, heroic, and thrilling poses as desired.

As an homage to the original series, the figure's eyes and chest feature LED lights, which can be activated for a realistic display. Adding to the allure, the package includes a pair of Specium Blade effect parts and a pair of Ultra Slash effect parts, enabling collectors to recreate their scenes from the series. The ULTRAMAN SUIT ZOFFY figure also comes with four pairs of interchangeable hands, allowing for further customization, and is accompanied by a Figure Stand for presentation.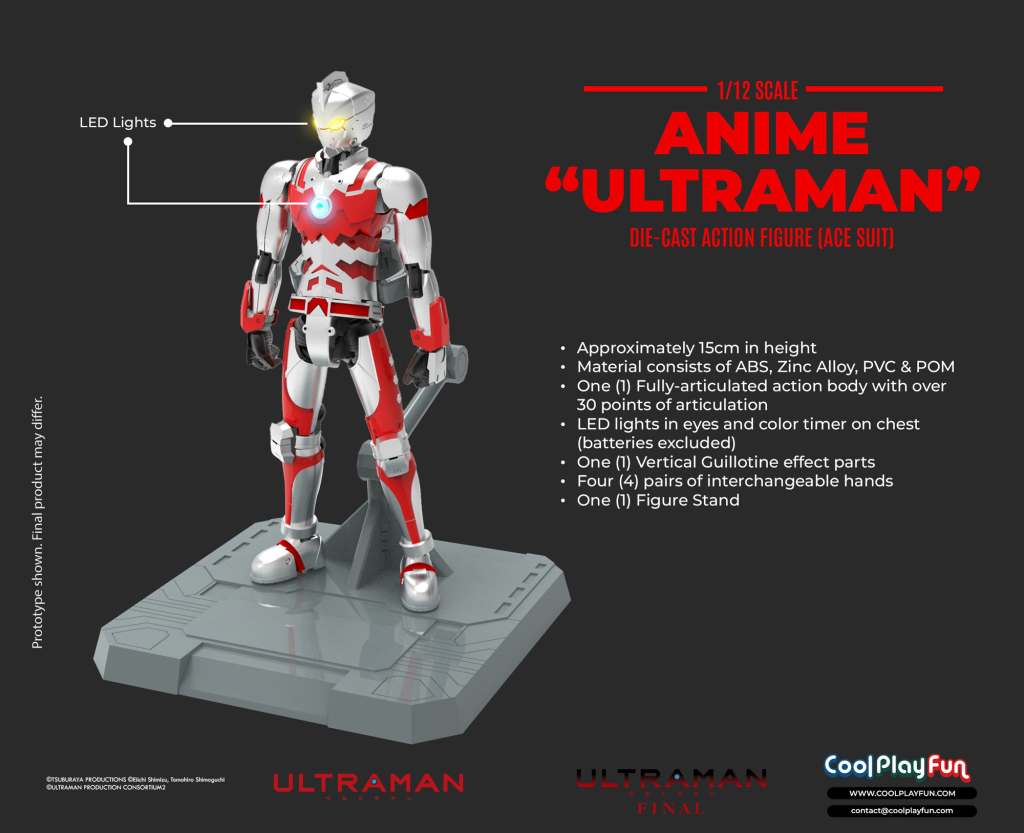 Next in the new releases is ULTRAMAN SUIT JACK. At approximately 18cm, the ULTRAMAN SUIT JACK figure embodies the character's striking and courageous spirit. Crafted with the same attention to detail and utilizing top-quality materials the brand is known for, this action figure offers durability and accuracy fans will undoubtedly appreciate. The fully-articulated action body also keeps to the highest standards.


Equipped with LED lights in its eyes and a Color Timer on its chest, the ULTRAMAN SUIT JACK radiates an aura of strength. Four pairs of interchangeable hands and a high-quality stand fill out the package.

Completing the ULTRAMAN Collection: Pre-Order Now

Since securing a multi-territory licensing deal with Tsuburaya Productions, COOLPLAYFUN has steadfastly delivered an extensive range of Ultraman characters from the "ULTRAMAN" 3DCG animation series. Adding ULTRAMAN SUIT ZOFFY and ULTRAMAN SUIT JACK to the pre-order list signifies the brand's dedication to faithfully recreating the entire animated universe through its meticulously crafted die-cast action figures.

To secure these collectibles and complete their Ultraman collections, fans are encouraged to place their pre-orders now.