LEGO's Monkie Kid theme has been around since 2020 and has resulted in more than 40 LEGO sets (with more announced for this summer). It is based on the ancient Chinese stories of the Monkey King and The Journey to the West. Alas, even though I own one other Monkie Kid set (80024) and a few minifigures, it's a theme I hardly know anything about. I didn't find any Monkie Kid set reviews in a quick search of the Toy Photographer's review posts … could it be that maybe I'm not alone in my unfamiliarity with Monkie Kid's story? So when offered the opportunity to review a LEGO set for Toy Photographers, I saw the new LEGO Monkie Kid's Team Hideout set (80044, $139.99) and decided to take a chance on it. As it turns out, it was a very good decision :).
The Characters
 Monkie Kid's Team Hideout comes with six minifigures. There's Monkie Kid (MK for short), Pigsy (noodle shop owner and MK's boss), MK's friends Mei, Lee, and Sandy, and a villain – the Golden-Winged Eagle. The minifig team is colorful, detailed, and quite photogenic. Most of them are new versions for this set. As a bonus, MK, Mei, and Lee have dual-sided heads (more options for varied facial expressions, yay!). I must admit I don't particularly like this Pigsy version; I prefer the previous versions with his chef's outfit and hat. Unfortunately, my chef Pigsy was AWOL when I photographed this set, but I improvised and replaced him anyway in this review (sorry, LEGO). I was also originally disappointed by the very plain-looking Mo, Sandy's pet cat. Definitely not as cool as the spunky mohawk version in other sets (see his cameo appearance in the final photo below). I eventually figured out that the 80044 Mo version is actually a kitten, and decided it's kinda great to have the little one. So except for Pigsy, all the minifigures are keepers for me.
The villain in this set comes with a fantastic (and very poseable) eagle build.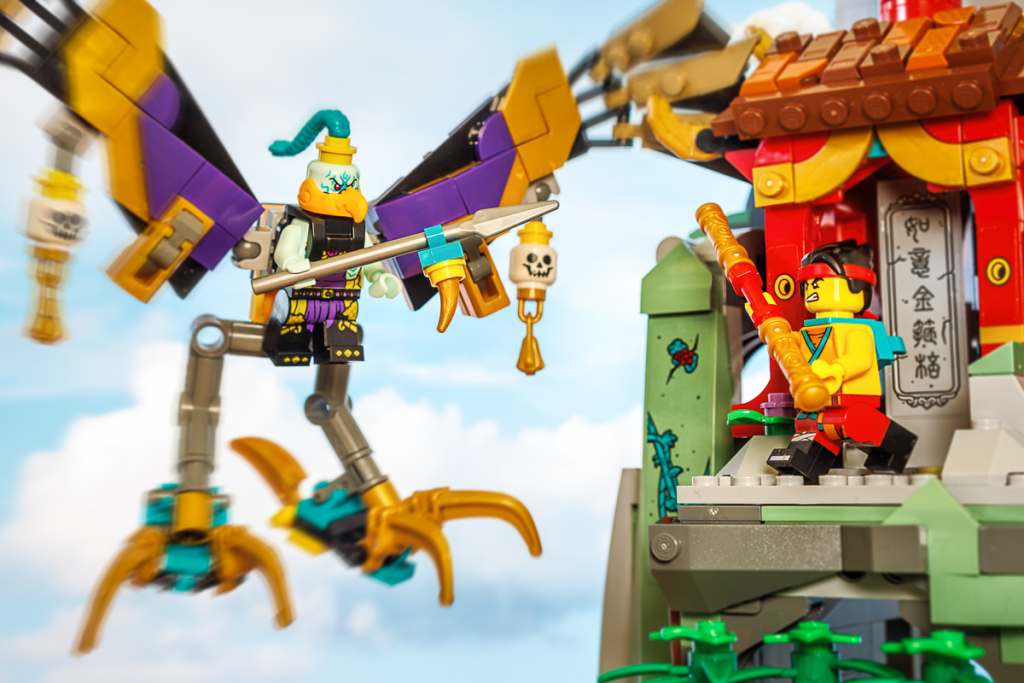 The Monkey King would have been a good minifigure addition to this set, but luckily he's available to borrow from other sets or from the Collectible Minifigure (CMF) Series 19.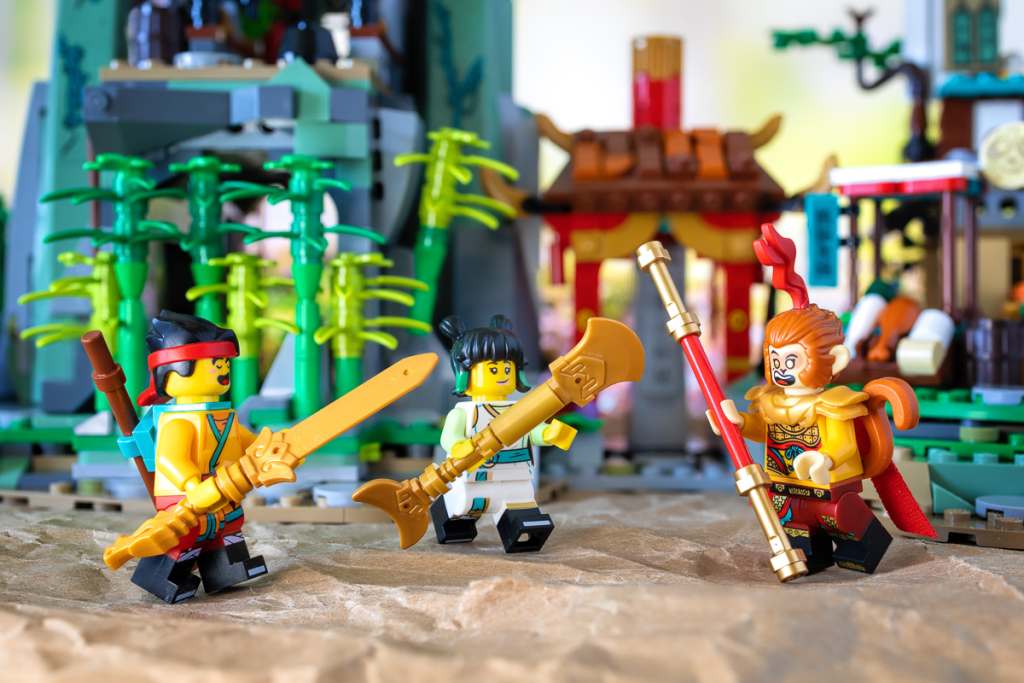 The Build
Ok, the build is amazing. It was quite fun (and a bit challenging) to put together. Even though the set contains only 1582 pieces, it took me a few evenings to complete it. If you're not a fan of stickers, be warned, there are 42 of them here. But they definitely add a great deal of visual interest. The depth and details in the build are fantastic, in part due to plenty of accessories, signs, and artwork. And it is so colorful! The result is that the MK's Team Hideout build is captivating and photo-worthy from almost every angle.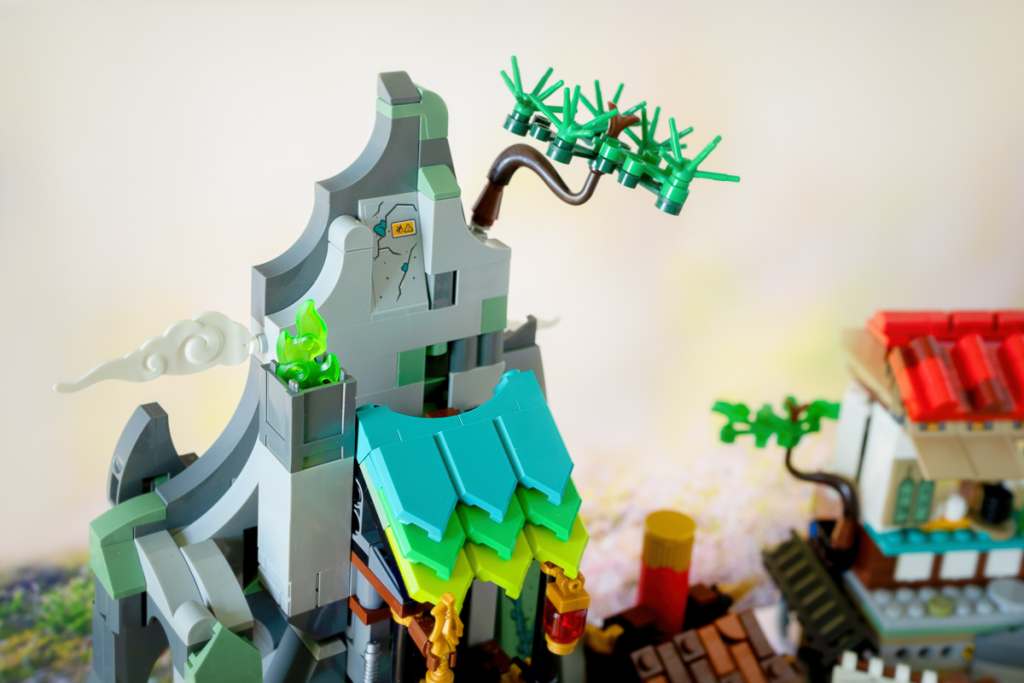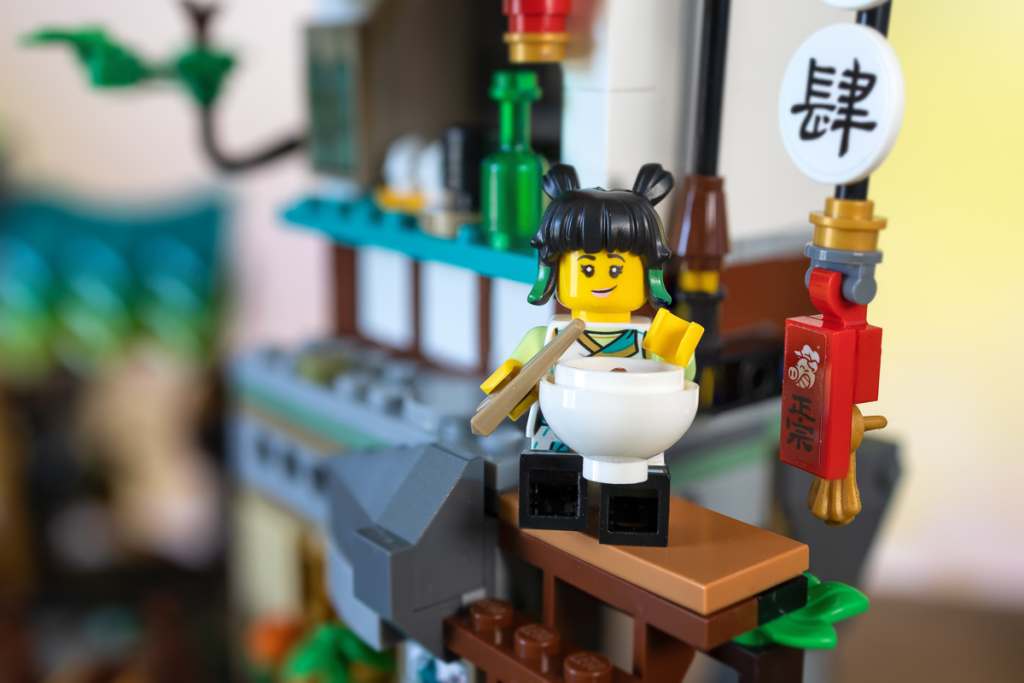 If there is a downside to the build, it is that the interiors are a bit cozy (which is the case with many LEGO sets). It took some trial and error to photograph some of the scenes I had in mind. But it was a fun (and mostly successful!) challenge.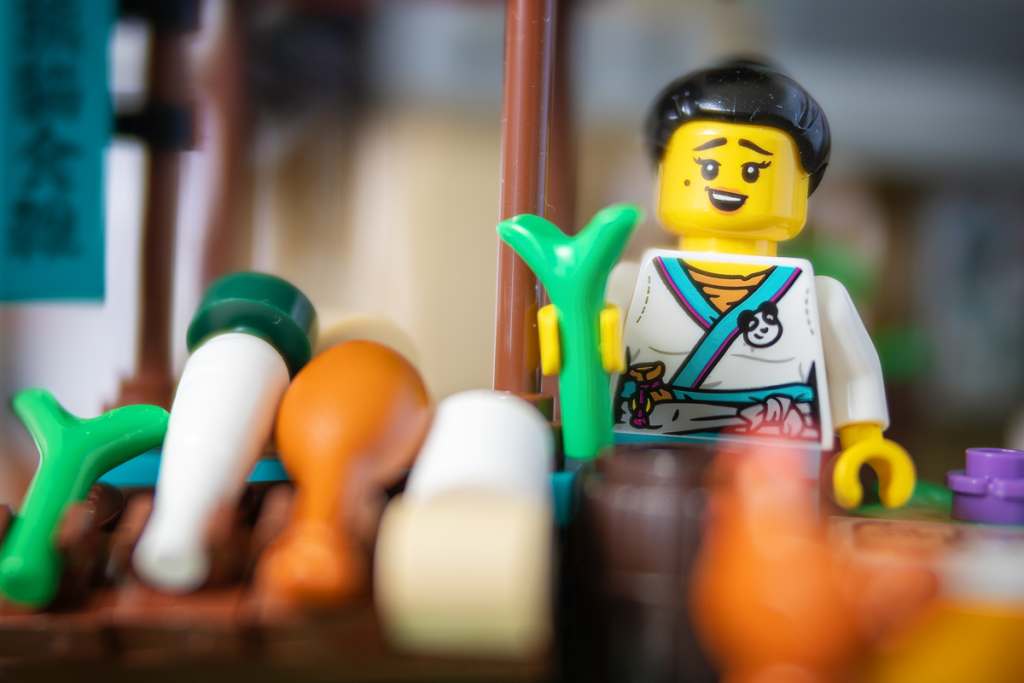 Hello, Modular!
The absolute best feature of the MK's Team Hideout set is that it is modular. The build consists of two main sections – the village and the mountain, four small interchangeable "buildings", and three end/connector landscape pieces that combine to form a small "island". I always consider how much variety a set will offer for photography setups (both in-theme and mashups) when deciding whether to buy it. This set scores big for setup possibilities, as the nine modules can be re-arranged, combined with other sets (including The MK City of Lanterns set 80036, according to the instruction book), or used on their own. Well done, LEGO designers! Let's explore …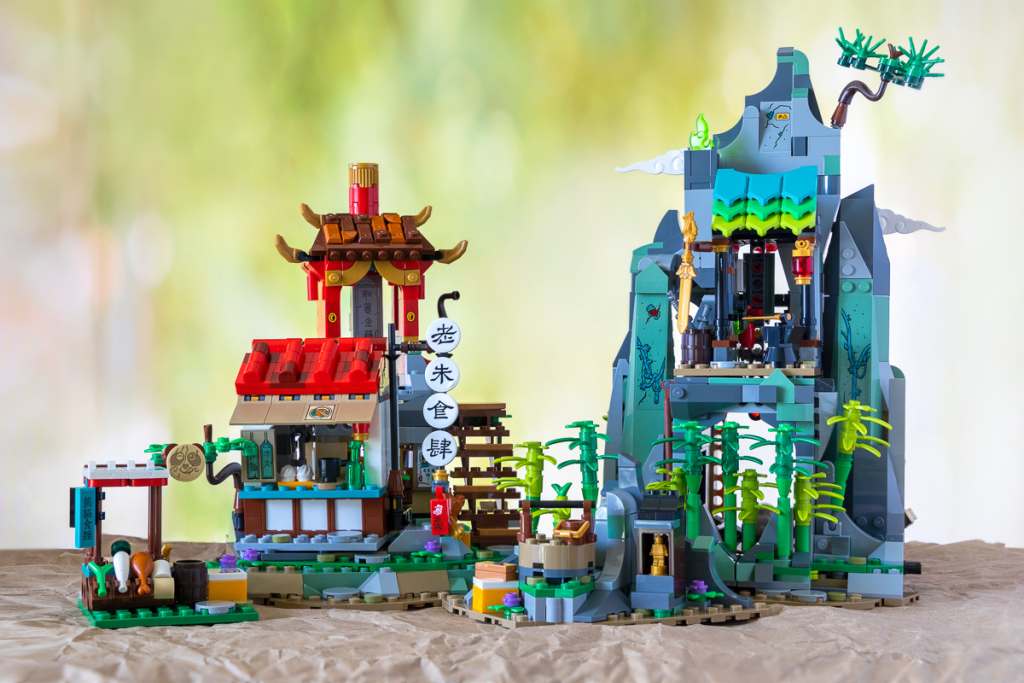 The Village
The village includes Pigsy's noodle shop, Lee's panda market, and Mei's blacksmith shop. The noodle shop and blacksmith shop have secret weapon launchers built into their roofs, in case you need a little play time between photo setups.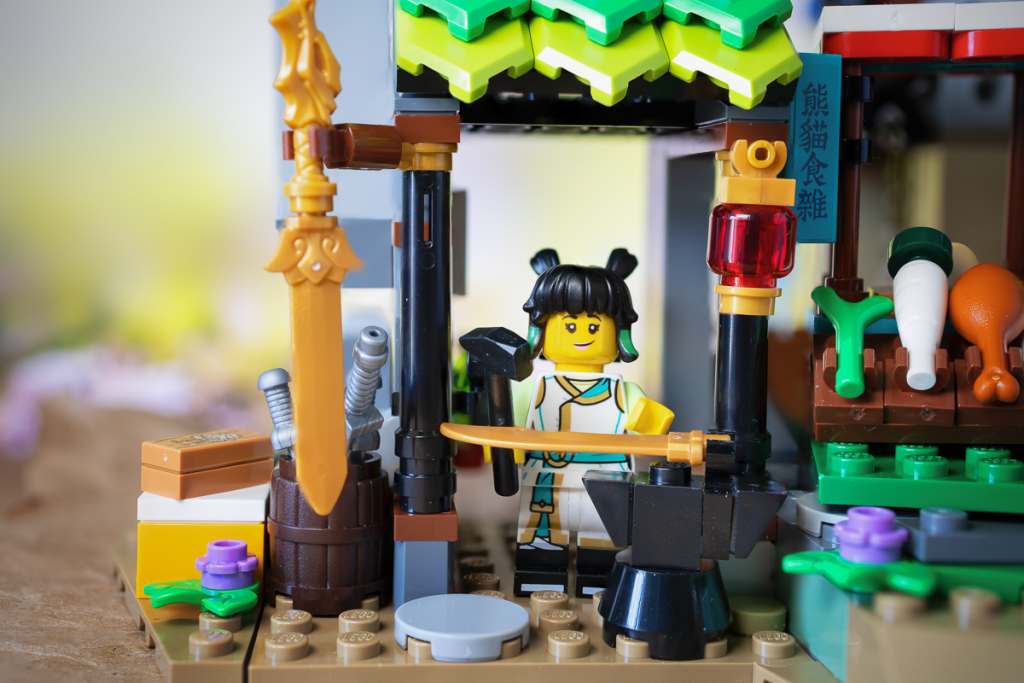 On the back side of the village base there is a small fish market.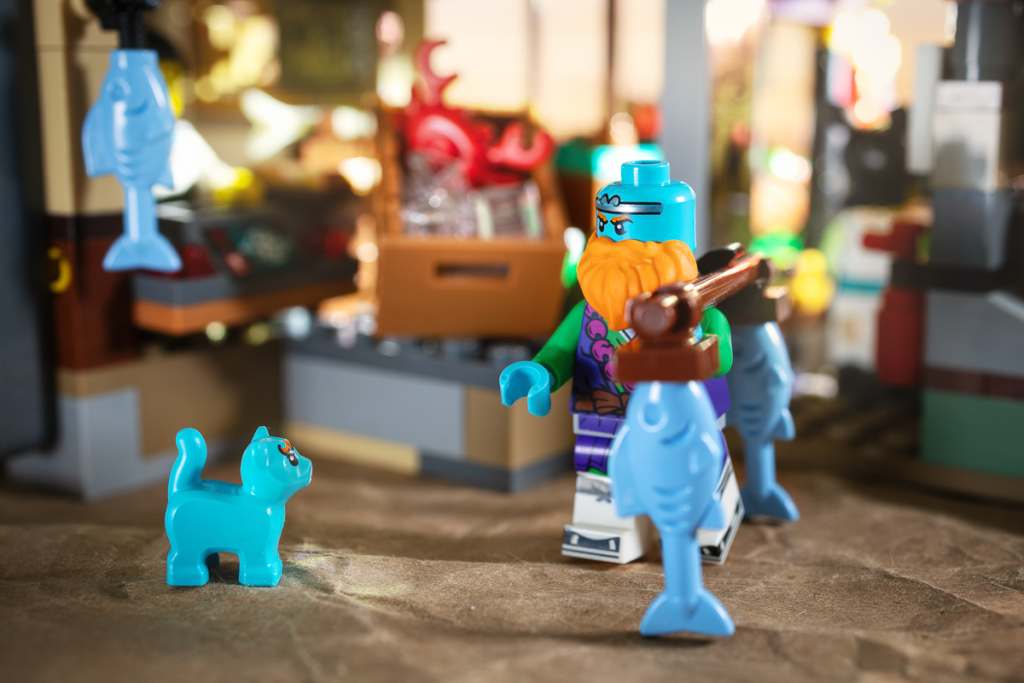 The Mountain
The mountain is pretty awesome. The top section has a platform for one of the small building modules.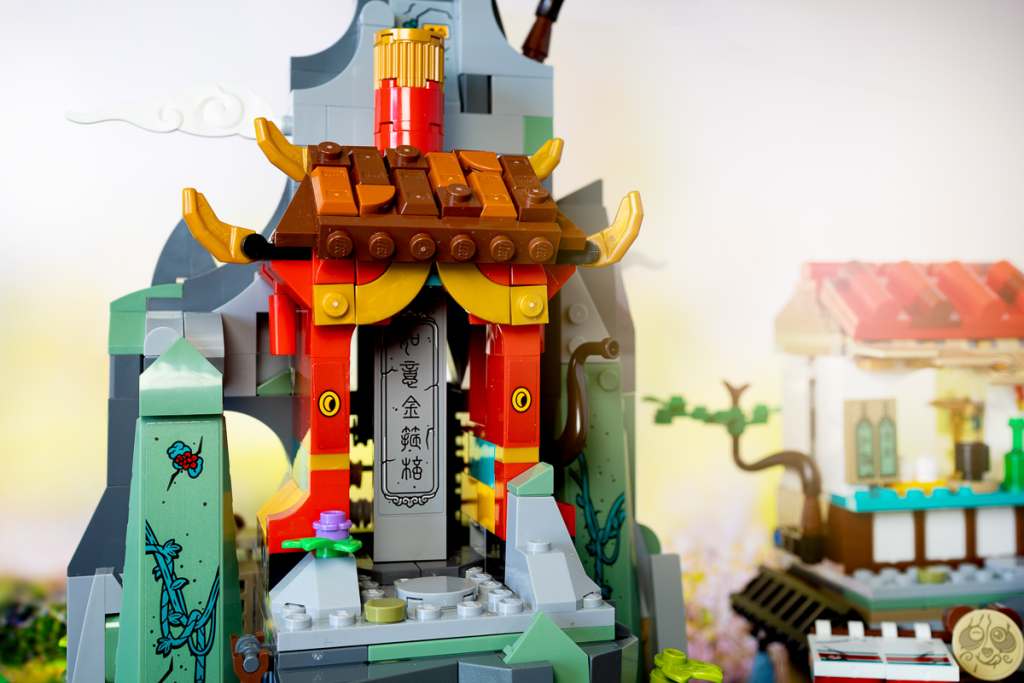 The bottom section has a cute little grove of bamboo plants that hides a cave where MK's flyer is parked (and a flyer launcher if you want to play!).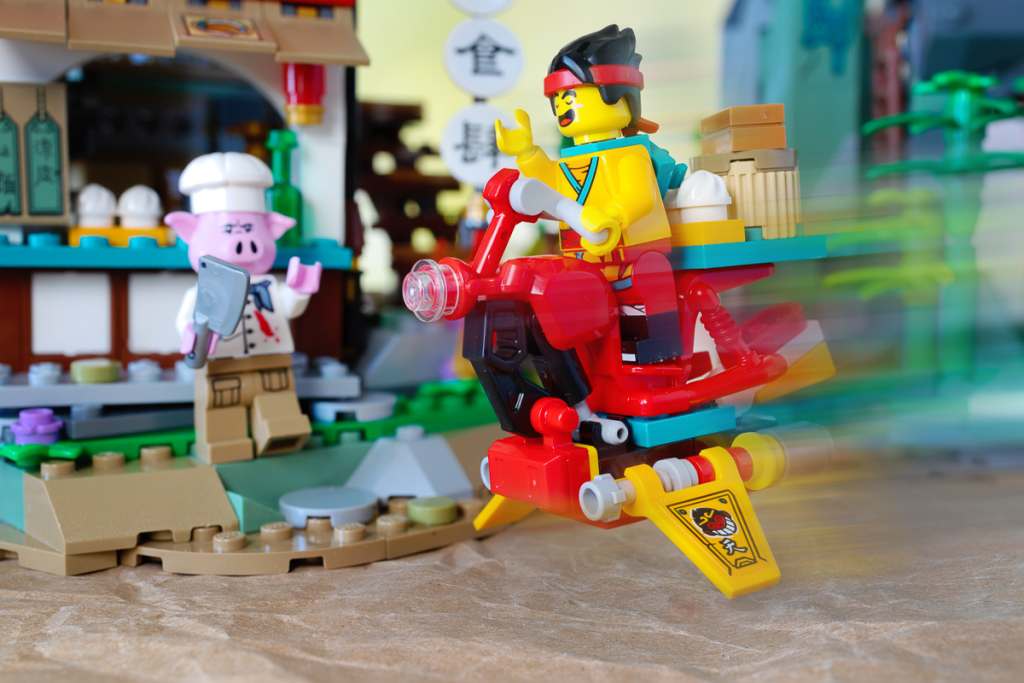 On the back side of the mountain (yes, the back!) is the heart of the MK team hideout, with more nooks and crannies to explore.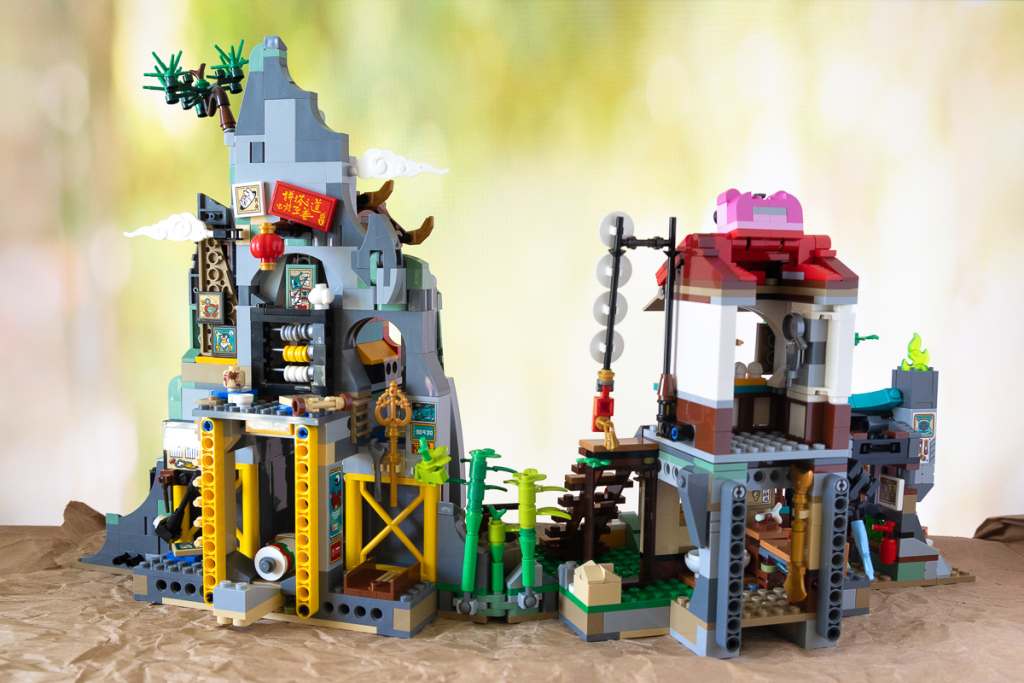 A Fun Find
LEGO set designers often include clever little easter eggs in their sets. Since I don't know the Monkie Kid theme well (yet!) and can't read Chinese, I couldn't decipher the hidden meanings behind the artwork, signs, and accessories included in this set. But there was one strange looking piece that really intrigued me. It's tucked away in the back corner of the hideout, and I knew it must have been an intentional inclusion. Take a look:
If I was more astute (or more closely read the set description on the LEGO website before I started, duh!), I would have honed in on the little music note on the wall. But hey, I missed it. Turns out that the mystery piece is an erhu, a Chinese folk instrument also known as a two-stringed fiddle. How fun! I also wondered about the horse tile on the floor beneath it. While researching a bit further, I found a traditional erhu solo piece called "Sai Ma" ("Horse Race") composed by Huang Haihuai. Check it out here; it's mesmerizing :). Of course, I have no idea if that's what the horse tile was intended to represent, but it's cool nevertheless. What a wonderful rabbit hole to stumble upon. Who says LEGO can't be educational for adults, LOL!
Conclusion
Thank you to The LEGO Group for providing this set to the Toy Photographers community for this review. I had a really, really hard time putting my camera down …so many ideas to try out. Surprisingly, other than not getting the hidden meaning of the easter eggs, I did not find my limited knowledge of the MK theme a hinderance to creating photos with this set. And even though I liked (most of) the minifigs, it's the build itself with its attention to detail, vivid colors, and those fabulous interchangeable modules that make the Monkie Kid's Team Hideout set an absolute win. I look forward to exploring the set (and the MK theme) more. But in the meantime, I'll be using it for mashups. Ninjago and Legend of Chima minifigs are solid choices for me, but imagine what fun stories could be told using this set as a setup for your favorite superheroes, Star Wars characters, knights and wizards, pirates … ok, you get the point. Bottom line: grab this set and get creating!