Before we get into the photo, let's look at short explanation of what noir is and how it differs from black and white images. Noir is a style of film commonly created in the 1940's and 1950's. Flim noir translated from French is literally black movie. Noir films generally have cynical characters caught between good and evil. The main characters are generally police, private investigators, gangsters and sometimes nazis. Noir films are processed as black and white, low key, high contrast images that pop from the screen. Noir tends to use heavier shadowing and starker black contrast than the typical black and white films and photos do.
Being a huge fan of the Noir style of cinematography and story telling, I dove into this challenge right away. The above image is one of the photos I created in the noir style. The question some had was how did you achieve that look? 
Processing Photos for "Noir" Style
In the above photo, I crushed the blacks and brought down the exposure, along with a few other post processing tricks. Well, what exactly does that mean? Reducing the exposure is just that, bringing down the overall exposure of your photo. Crushing the blacks means you are removing all light from the dark areas of your photo. Basically pushing them to the point of no return. You can crush the blacks by adjusting the tone curve to bring the blacks down or by adjusting the blacks slider to the negative side. I feel using the blacks slider gives more control than the tone curve as it only affects the blacks in the photo. Adding in some dodge and burn via masking and filters completes the look.
When creating a photo of our toys, we generally look at things from the standpoint of telling a story. We use dioramas, outdoor scenes, lighting, shadows and composition, among other things, to tell these stories. Sometimes when creating our story we want to tell a story that we can't quite get right in camera. This can either be because we don't have the equipment (i.e. lighting, flags, reflectors etc) or we want to create multiple stories from one photo (i.e black and white and color or even a composite piece of art). This is where post processing can come to our rescue. I am a big fan of processing each and every photo I take as I find it relaxing and feel it that it helps me tell my story. Post processing really can take a good photo and make it one that is great and will stand out among others. You can make your art really speak to the audience with the proper post processing.
I use Lightroom and Photoshop for my post processing work, but they are only two of the plethora of processing software available to the artist. I encourage you to use what works for you.
Here I created a noir scene with an English dark and misty night feel.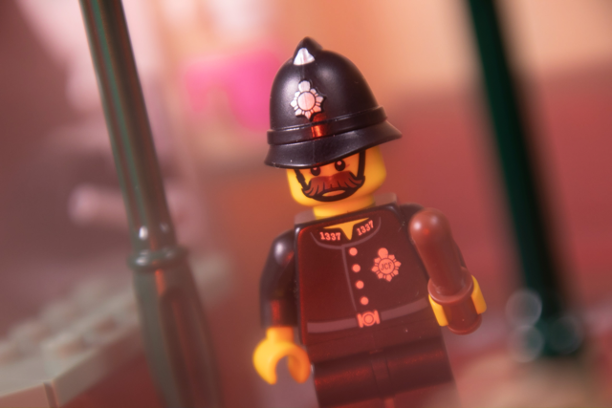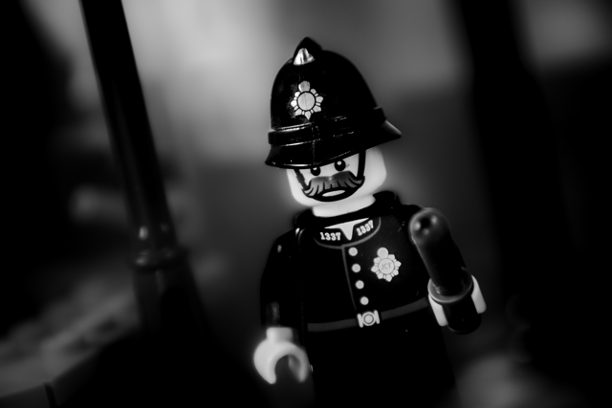 Workflow
The following is my basic work flow for this piece.
Import to Lightroom
Convert to black and white
Select background and reduce overall exposure by .25.
Increase the contrast slider by +12
Bring the black slider down to -100
Select subject (Lego Bobby) and increase highlights and whites, reduce blacks
I then added some radial and linear gradients to further reduce blacks and exposure
I added a few brushes and increased exposure in areas I felt needed it
Finally I added some haze and increased exposure using the brush tool to highlight the subject.
In Conclusion
There are a multitude of additional post processing options available to the artist from removing distracting elements and sensor dust, compositing to color options and more. I highly encourage you to experiment with all of them to see what you can create. It's your art and you decide how much or how little you want to do.
Looking for More?
The Toy Photographers group on MeWe is currently working on a year long challenge we have deemed #ToyPhotographersBingo2023. You can find more information in the titled "MeWe 2023 Photo Bingo Challenge". If you would like to participate in the challenge, please join us on MeWe. For this challenge we are given a series of prompt words that a photo is created from. Noir is one of the prompts.