I first discovered Fox Forge Toys when an ad for their Star Dusk Kickstarter campaign appeared in my Instagram feed. Normally I breeze right past IG ads, but two things about Star Dusk caught my eye. First, I was attracted to the burly, video-game-esque, sci-fi character design of the figures, and second, the ad tagged their location as Bergen County, NJ—a mere 20-minute drive from me. I was intrigued, and decided to reach out to the team at Fox Forge to learn more about the Kickstarter they've created.
A long time ago…
Being local, I had the opportunity to meet up with James Brinkley and Joe Weil from Fox Forge Toys at the Wayne NJ Toy Show. It was there that I got the backstory on how the pair met as college roommates at St. Thomas Aquinas College in Sparkill, NY where they bonded over Star Wars movies and toy collecting.
After college, James began working at Toys "R" Us corporate where he was exposed to the end-to-end process of manufacturing an action figure line. Toys "R" Us filed for bankruptcy in 2017, but the knowledge James picked up jumpstarted the brainstorming that eventually led the duo to create Star Dusk. The two put their heads together on designs and, with Joe's artistic skill, collaborated on the characters that would inhabit Star Dusk.
Would you like to know more?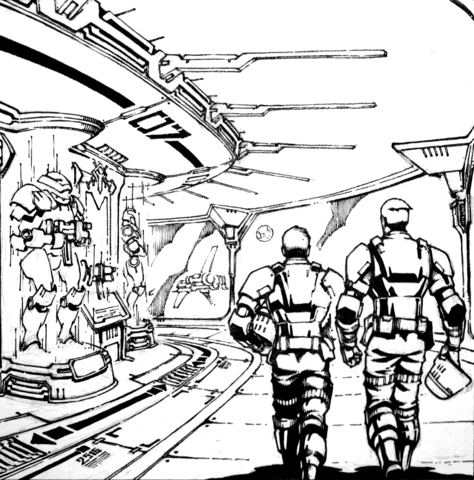 As the characters came to life, so did the planets, star systems and strife that would shape them. Surviving in the Star Dusk universe is not for the faint of heart. Genocidal corporations thirst for power as humanity expands its reach beyond the stars. You can find first two installments of the Star Dusk story as well as a prologue and character bios over on the Story Blog.
The core four
Up for grabs in Star Dusk's first crowdfunding effort are four premium, 1:12 scale figures, all boasting an impressive 30 points of articulation. Backers can pledge their support and choose from Commander Alder, Xeno and a Legionnaire trooper, as well as the Kickstarter exclusive Commander Alder Reaper Division.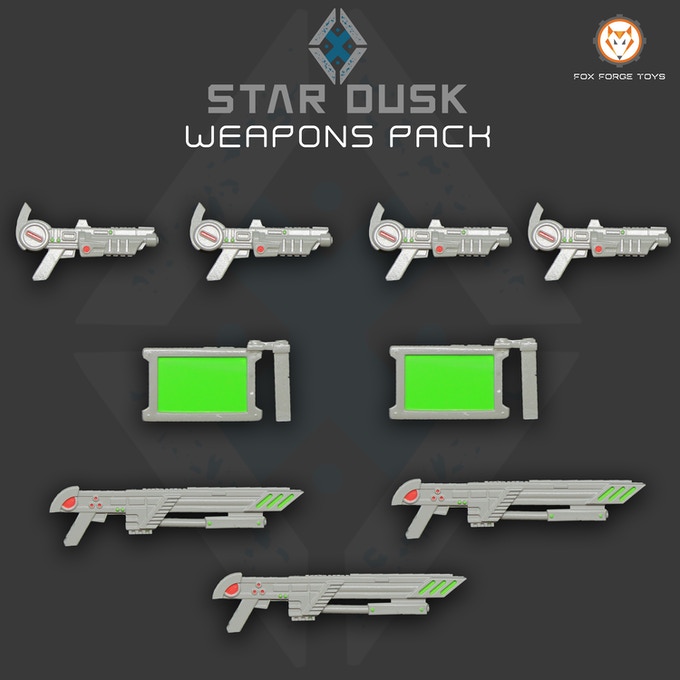 All figures come with their own weapons and accessories, but if that isn't enough, a weapons pack can be added to your pledge.
There is also a DIY Legionnaire blank for those iteching to put your own mark on the Star Dusk galaxy.
In addition to the "core four" Star Dusk's Kickstarter features a bevy of stretch goals, from additional characters to more weapons and accessories.
I'm a leaf on the wind
Beyond the current Kickstarter, Fox Forge has big ideas for Star Dusk, including more detailed designs and eventual vehicles and mech accessories.
This is their first crowdfunding experience, but James and Joe say it has taught them so much already. The two have learned a lot about what works, what doesn't, and what people want to see more during the project's duration.
Since they hit the "go-live" button on Kickstarter, James and Joe have been collecting heaps of notes and takeaways from the process with an eagerness to put them into practice for future projects.
"The future of Star Dusk holds many more characters, well-defined stories, comic books, video games, animations and so much more! The ideas that flow through our minds are seldom quiet and that can be both daunting and exciting! This Kickstarter is only the beginning for Star Dusk and Fox Forge Toys!"

– James Brinkley
To learn more about Star Dusk and Fox Forge Toys, you can visit them at foxforgetoys.com
To support Star Dusk, check out the project on Kickstarter. The campaign ends on Saturday, November 21, 2020 at 5:31 p.m. EST.
Thanks to James and Joe for taking the time to speak with ToyPhotographers.com. We wish them well on their Kickstarter and will watch the world of Star Dusk with great interest.