I really like the movie Frozen. I love snow and winter, so my dream is basically to become Elsa. After seeing the second movie, I fell in love with its autumn visuals, so I really wanted them in LEGO. I loved birches already and now I get to have them in LEGO! All the new sets have very nice colors, very cute builds and sparkly Olaf! How could I say no to that? So I got Arendelle Castle Village set for review. Warning: No cute Olaf in this particular set, but he is available in smaller sets, so it's cheaper to get him!
I started building with a little help of the minidolls that came with the set. Elsa is really not the practical type, but she can follow instructions. Anna, with her can-do attitude, happily helped.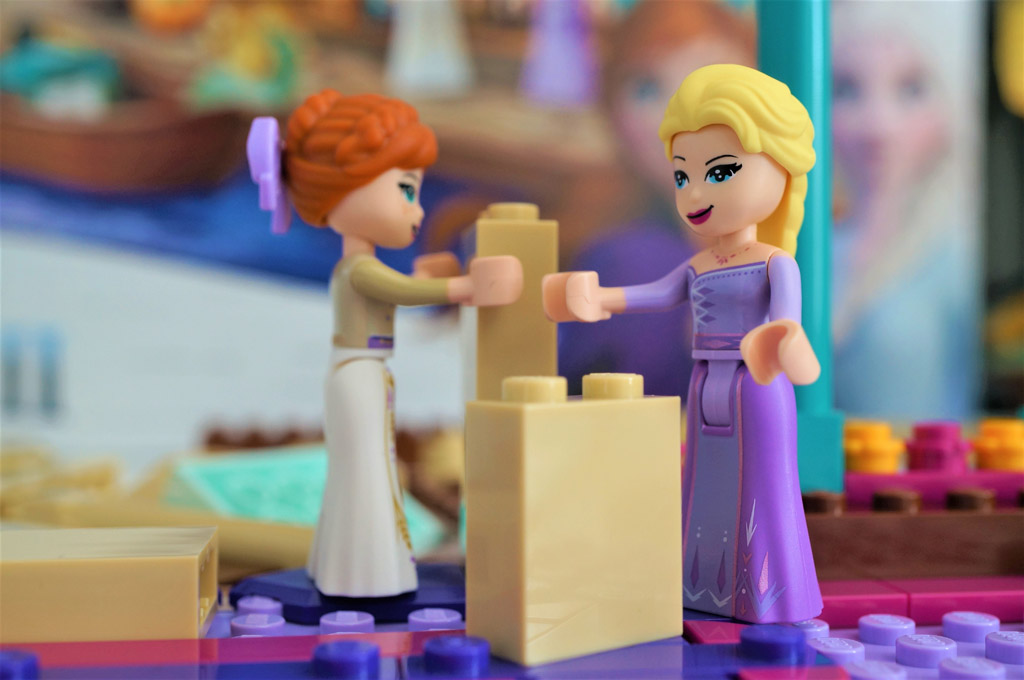 The build was easy, as you would expect from a set for 5+. And of course there were stickers, but I decided, that I would do my best and not be frustrated if some of them end up a little bit skewed. So I was not frustrated. I'm fine. So happy. Absolutely just fine. F. i. n. e. Stop asking. Aaaanyway, I really like the way the castle is built! First the floors and the walls, generally the whole building, and then you build the furniture and put it inside!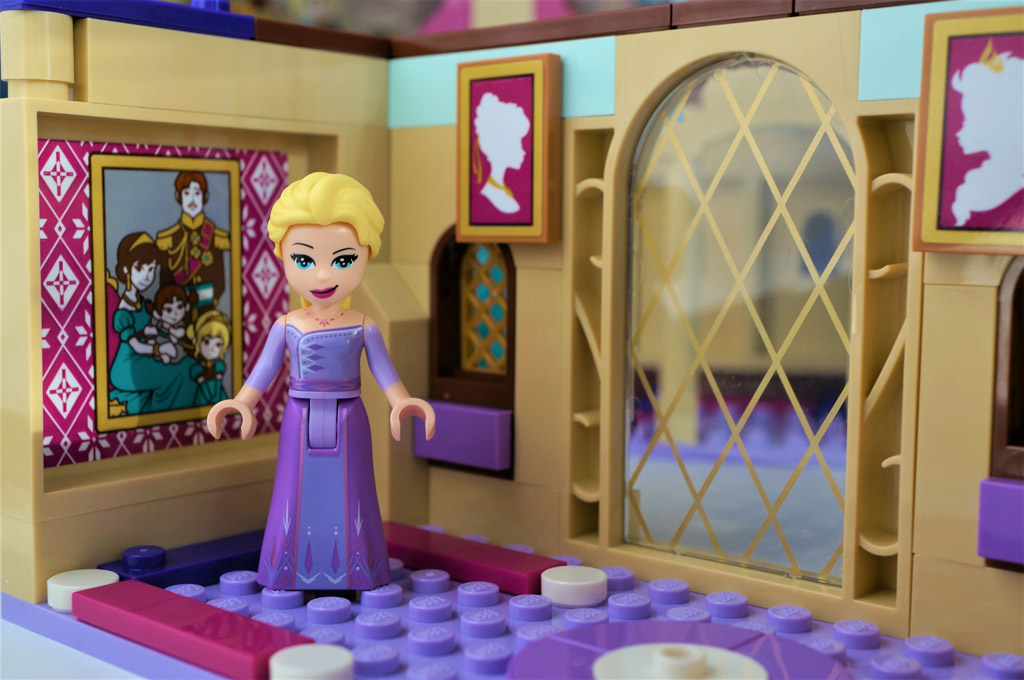 I love this set. It's open in the back, which is awesome for toy photography. The whole build is full of little nooks, where you can take photos.

I especially love the wardrobe, the stickers really add to the look and it looks very cute.
I also liked that you can actually put a minidoll to bed and cover her with a bed cover!
The telescope on the top is simple yet awesome and both Elsa and Anna can't wait to use it soon. Also, Olaf wants to know what the fuss is about. But first some cleaning!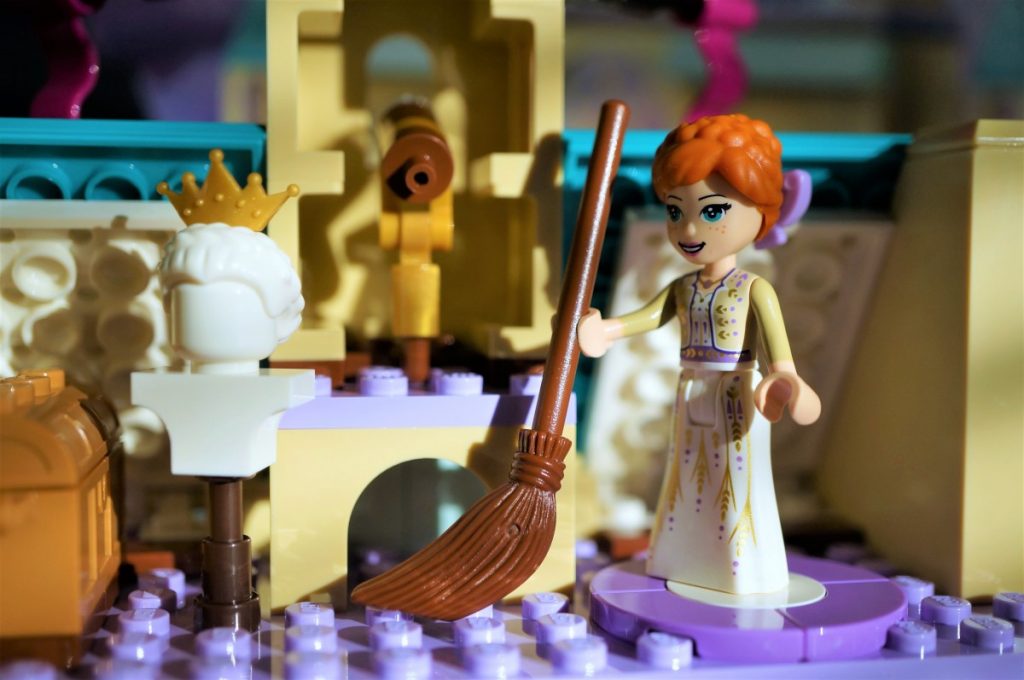 The set also includes an extra hair piece on the bust on the top floor, which Elsa had to try.
Anna and Kristoff sneaked off to the sofa to have a quiet moment while Elsa explored all the features of her castle.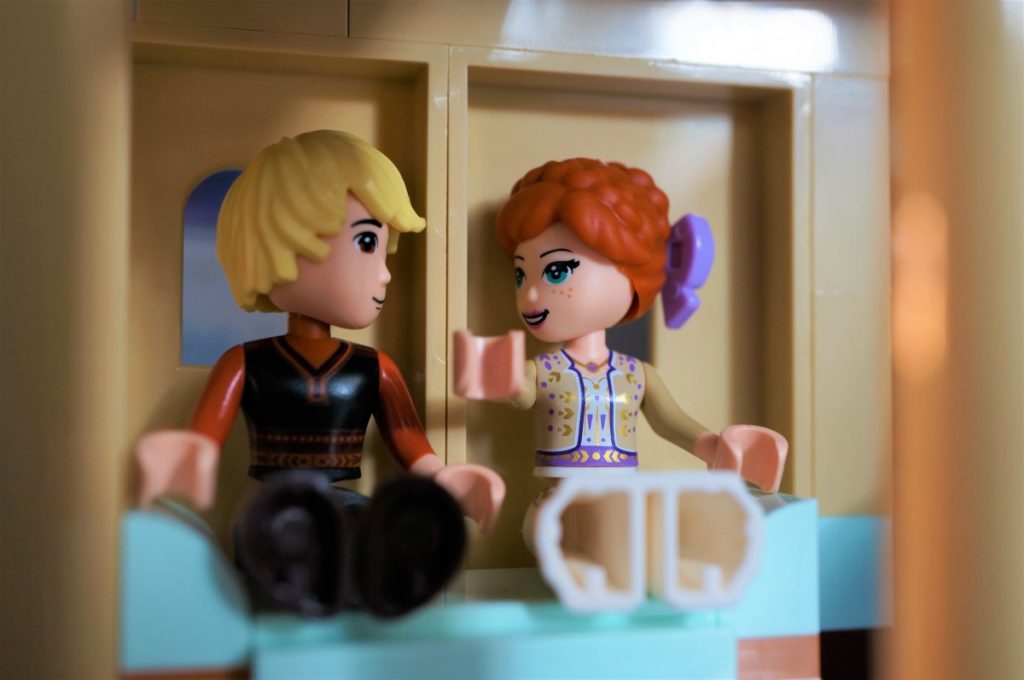 Let's not forget all the little builds that are also in the set: I especially like the adorable little pier. And there's a boat to go with it!
There is one thing that I don't really like, though: Elsa's new face. She seems very snobby to me. I prefer the old face—she looks so much nicer.
I'm trying to find something else that I don't like about this set, but that's it. Everything else is pretty much great.
I tried to take as many photos as I could inside, since currently we are in a lockdown in Czechia, but I couldn't resist taking the castle to the forest for at least a few photos. We are still allowed to go into the nature, while we avoid other people, so that was fine.
I have many more ideas for photos with this set! The LEGO Arendelle Castle Village is an amazing set for toy photography, lots of available angles, accessories, nice colors… I could go on and on. So I would like to thank Toy Photographers blog and LEGO for giving me this set for review. It was a great experience! And now I will head off to take more photos! Good light to you all!
~ Jana Sabé Skálová