Connect the dots is a well-known and popular graphic game. In it, players connect numbered dots with lines to gradually reveal a previously hidden image. This game captures the character of the new LEGO DOTS arts and crafts line quite well, though not completely—but more on that later.
DOTS is LEGO's latest approach to the subject of jewelry (following the Clikits series) and children's desk accessories. Unlike Clikits, however, the new line is based on bricks and tiles.
Probably referring to the main LEGO slogan, "Rebuild the World," each DOTS set has "create your own designs!" written on the package.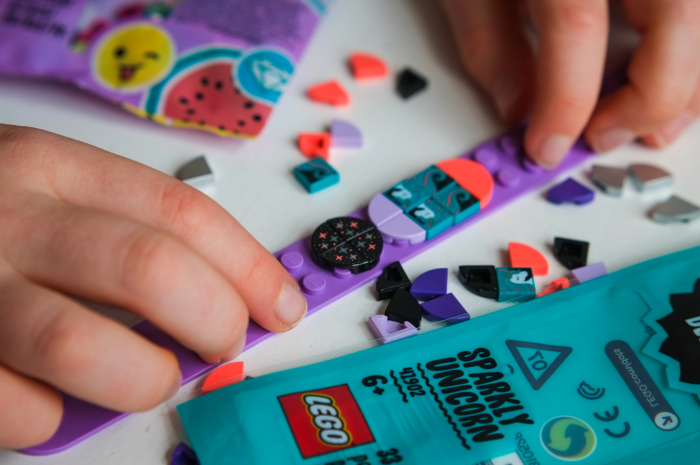 I invited my daughters—Helena (9) and Melania (3.5)—to test the DOTS. Both reviewers happily accepted my proposal that they create their own versions of these sets, especially when it came to bracelets.
LEGO DOTS bracelets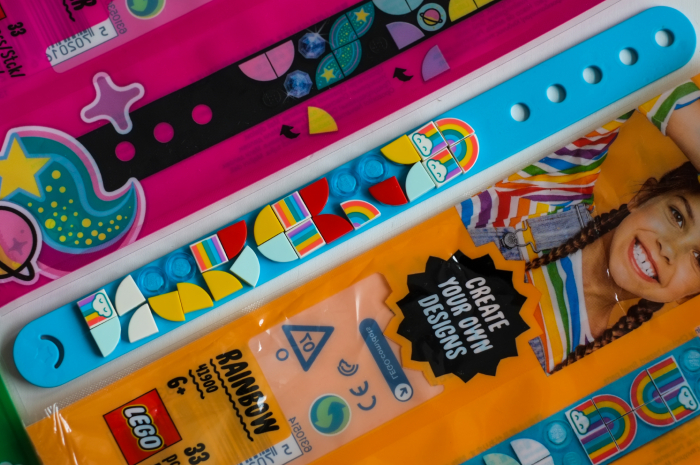 DOTS bracelets come in rustling foil packaging and bring up associations with sweets as their pastel-colored tiles pour out looking like powdered lozenges. Each pack includes a studded, soft rubber bracelet and a solid handful of tiles, including the decorative pieces matching the individual kit's theme: Rainbow Bracelet (41900), Funky Animals Bracelet (41901), Sparkly Unicorn Bracelet (41902), Cosmic Wonder Bracelet (41903) and Love Birds Bracelet (41912), which is not included in this review.
Each kit's lack of instructions offers another incentive to create your own designs.
Both girls decorated their bracelets according to their own ideas, without really looking at the sample designs on the packaging. Helena pointed out that after putting the bracelet on her wrist, the pads no longer touch as nicely as when the bracelet is lying down, but she quickly stopped paying attention to it.
There are enough parts in these sets to easily change the look of the bracelets. But if it's not enough, a booster pack, Extra DOTS – Series 1 (41908) [Associations with candies are even more justified!] may come to the rescue. These provide another 109 pieces, including 10 unique parts: round, colorful tiles with printed emoticons and emojis.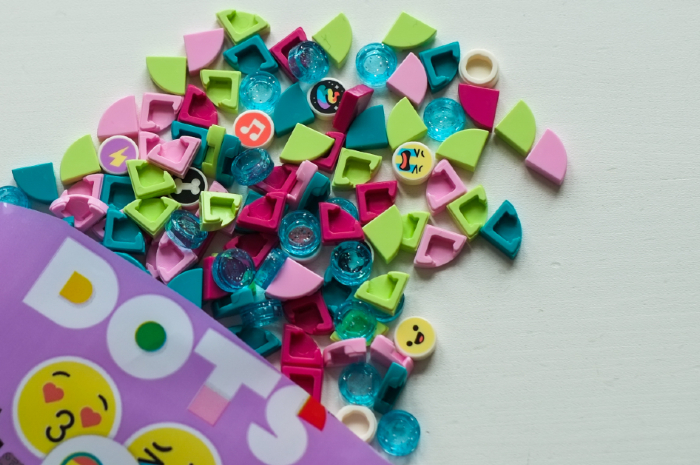 Thanks to these elements, you can add even more individual character
to your bracelet or…
LEGO DOTS desk accessories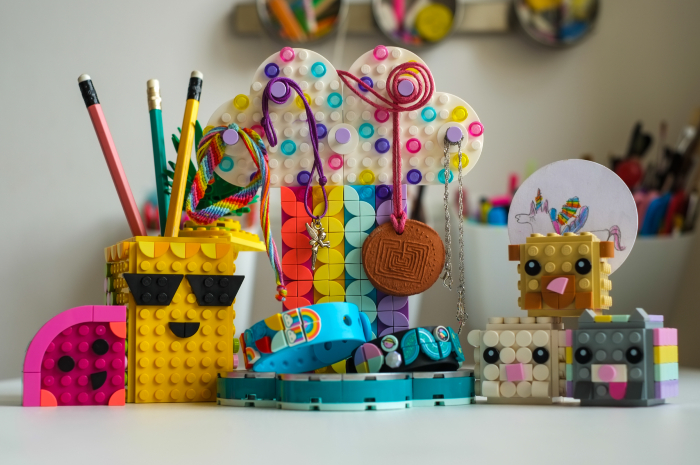 …photo/drawing/graphics, like in Animal Picture Holders (41904). This set includes bricks to build three animals, each of which work as a picture stand, and a whole lot of "dots" to decorate them.
Unlike the bracelets, the desktop sets have instructions, because the building process is bit more complicated. They also include several photos of finished animals, which may inspire young designers. At this stage of testing, only Helena remained at the construction site, while Melania bragged about her bracelets.
Helena decided to keep up the momentum and created her own specimens—a cat, a hamster and a sheep.
Just like with the bracelets, there are several types of pastel tiles you can use to decorate these holders.
It is worth paying attention to the packaging, a tray with compartments, convenient for sorting bricks and storing unused parts. The lid of this tray is transparent. It must have been this way made on purpose, because the sorted piles of colored bricks and tiles really catch the eye.
A specially designed brick holds the photos. In my opinion it's placed a little too low, which hides a good portion of any smaller photos or cards behind the back of the holder.
Either way, it's certainly nice to look at your favorite drawing or photo of a friend, and then at the friendly face of the animal that holds it.
These animals-holders have one more function—they are also boxes for storing small objects, such as spare parts for changing the expression of a creature's mouth. Or, perhaps you'd like a container for a favourite pencil or ball pen?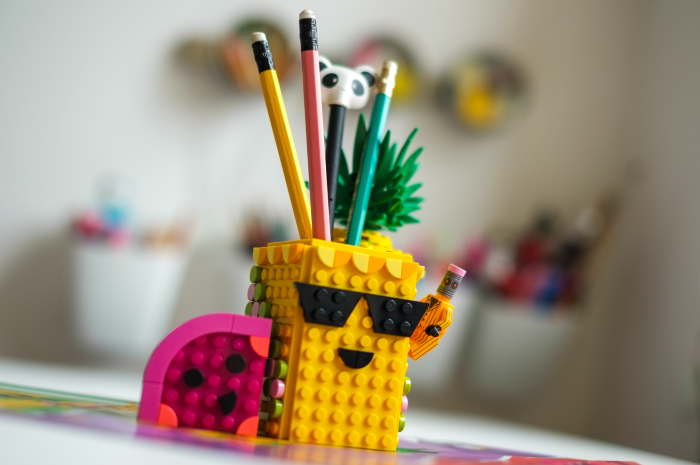 When we need more space for stationery, Mr. Cool Pineapple and his friend Joyful Watermelon come to the rescue in LEGO's Pineapple Pencil Holder (41906) set. Remember that "create your own designs" slogan? This set comes in the same packaging as the previous one, and the manual also helps only to build the base models. From there…go ahead!
Helena consistently followed the footsteps of her own ideas, though she used the inspiration picture on the instructions to make the pineapple's facial expression. She decorated the rest of his surface according to her own creative invention. Pineapple and his smaller friend Watermelon can hold other small things, which circulate like meteors in the children's universe. And if we need to really display something…
…the Rainbow Jewelry Stand (41905) will do the trick. Just like the two other desk sets, this one also comes in a tray with compartments and instructions.
The set has the form of a cloud, artfully made from two hearts—yes, there are two large, white, heart-shaped plates—with a rainbow cascade flowing down, straight into the cloud-shaped pool. The cloud is dotted with blocks to hang chains or necklaces, and the pool can be used as a container for rings or bracelets, or whatever you choose.
Demonstrating another feature of these sets, Helena needed more tiles than it included to achieve her idea. Nothing easier! The sets are designed to give great freedom in rebuilding them, and they allow a free flow of parts between them to implement other designs. Their unified colors also make the sets look quite neat and attractive when arranged next to each other on a desk.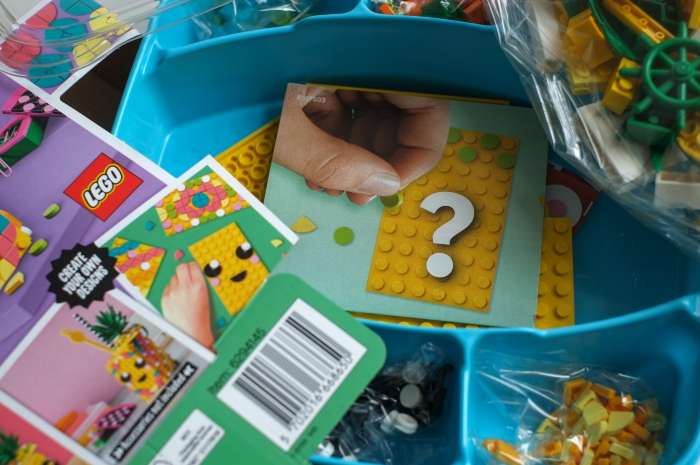 DOTS vs. toy photography
DOTS can also be a valuable support for toy photographer. A large amount of tiles is a great material for all kinds of dioramas, vignettes, MOCs etc. Just imagine the house wall, in children's room in particular, decorated with these unicorn/space/rainbow tiles!
It is also worth paying attention to printed decorative round tiles, coming with extra dots pack. With the right amount of imagination, these elements can enrich photos very well, fulfilling both a decorative role [see, for example, all the armor and overlays on the minifigs' torsos that can be decorated with such a single dot], but also as an axis of the image, as in the photo of our colleague, Elliot :
And you, what would you use new dots for? Share your ideas in the comments, or even better – photos when you take them!
Overall impressions
Several times, when we were building these sets, Helena emphasized how cool it is that you can swap the bricks and their arrangement, and that she can implement her own ideas. Every now and then I also heard "It's cute!" and "How nice it looks!"
These sets are cute indeed and they look nice as decorations for children's desks. Because they have plenty of tiles in a few shapes, I'm pretty sure an AFOL can find them useful in some way—filler parts, for example.
Returning to the beginning, the "connect the dots" game reflects the character of these new LEGO DOTS pretty well. Both lead you to create a whole picture using dots. However, this analogy is not fully applicable because LEGO "dots" can be combined in different ways to create different images.
Hi! If you ended up here, you should sign up to our weekly email round up where you'll get a recap of all the babbling from the week. And while you're doing things, you should definitely join our MeWe Community where we hold monthly contests with prizes and lots of other cool stuff too.