Come to see how the green plantation rises with the Sun and gives you the best tea you've ever tasted! With this quick DIY diorama tutorial we'll make a trip to Japan and take some memorable photos of the sunny green farmlands. The size shown in this example is good for LEGO minifigures, but you can adjust it to work for larger figures, too.
Sew the fields!
To create the rows of crops for the diorama background, you will need: a base layer of fabric (any type or color), cotton or batting, green felt, dark green thread, a sewing needle or sewing machine.
Let's study the "natural" set up of the scene in detail. Rows of crops will go in different directions across the rolling hills. To create this effect, you will need rows of fields of different shapes. The plantations can be sewed "by hand"–you even don't need to work with a sewing machine (but if you have one, it is quicker).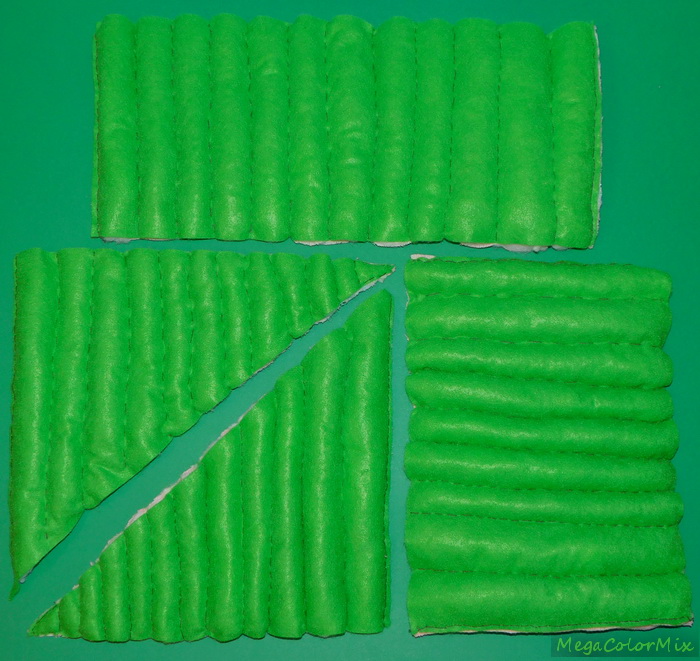 Take any fabric for the lower layer, then cover it with a layer of cotton: the thickness of the cotton layer depends on how much you want to increase the 3D relief of your plantation.
The third layer is the green soft felt. Put all the layers together with green or dark green threads. In my opinion, dark green is much better because it matches the lines of the plantation when it becomes a blurred background for your minifigures.
The stitches will be invisible from most angles (see below) and can be blurred out with your camera focus if they do show, so they don't have to be perfect. Look how realistic they are!
Paint the mountain
Time for the background for our tea fields. I painted the mountain and regulated its position so that it would be on the right level with the ground. You could also print out a large photo of a mountain or use a computer monitor for the background, if you prefer.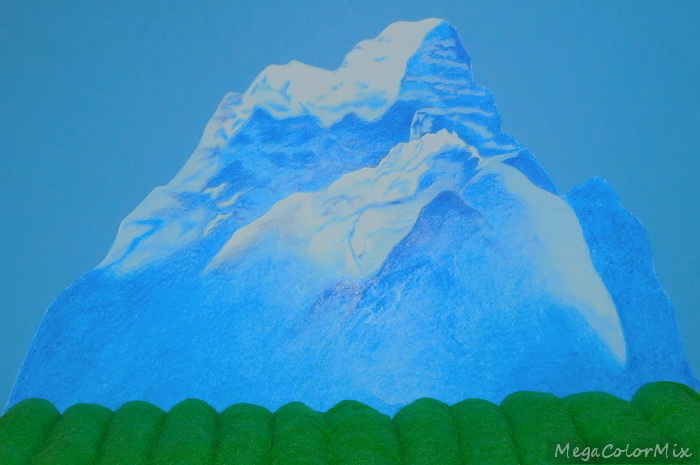 Make the magical leaves fly
Besides the technical preparations with flying paper (using wires or threads to suspend them), we have one more artistic task: selecting the right color for the leaves. I tried to make them darker as an experiment but they looked too heavy in comparison with such a sunny view. So I brightened the leaves and it really worked!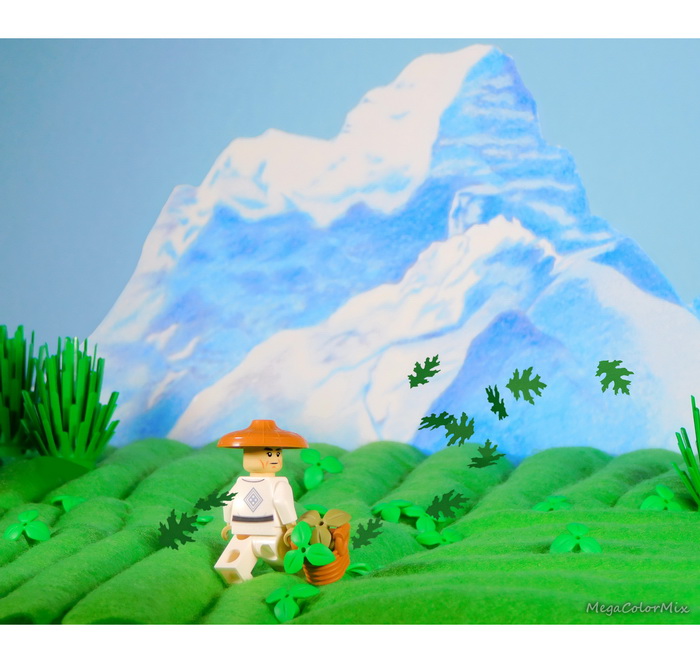 Done!
Now we can enjoy the natural view of our tea plantation and the flying leaves caught by the wind. Thanks for your attention!
Ann @Megacolormix
Do you enjoy exploring the Toy Photographers' creative world? Subscribe to our weekly email round up so you never miss a post. You can continue the conversation in our communities on MeWe and Flickr.