Dear friends, meet the new guest in our studio! Today I'm pleased to introduce the Sluban B0705E Food Court Sushi Cooking Fast Food Restaurant DIY Model (320pcs) and share my impressions about this Chinese brand of construction toys. Sluban sets are bright, creative and compatible with all kinds of bricks. That's why two LEGO characters will play the key roles in this post (though the set does come with two of Sluban's less iconic minifigures).
I hope you're not hungry!
This is a small and cozy sushi restaurant, and it's one of the most brilliant designs among construction toys!
The set looks so great—it not only makes me want to eat the restaurant's food, I want to eat the building itself. The Sluban pieces connect rather well for a non-LEGO bricks, but their main advantages are good quality and very pleasant colors.
"How much can you talk instead of eating?" they ask me. And while the sushi chef cooks dinner, I'll show you another part of this amazing set: this table looks edible, doesn't it?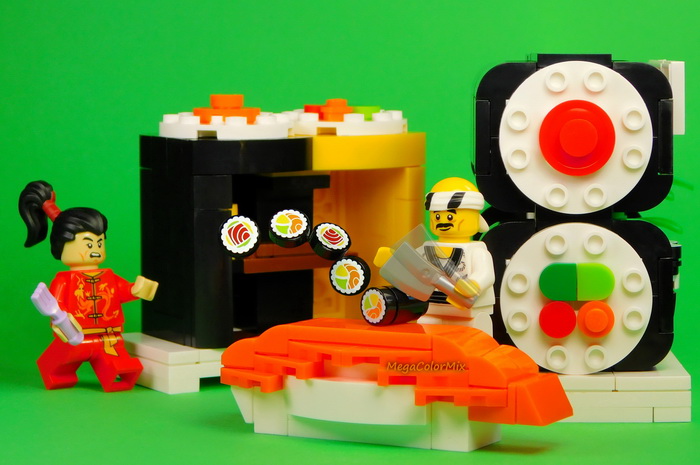 All kinds of sushi are presented in one miniature set. Have a look: The set isn't big, but it's so detailed! I cooked some food for mister samurai so he would get a rich menu.
As for the technical analysis, the shape of Sluban bricks looks a little bit sharper than in other construction brands, some colors are much brighter, and it gives us much more artistic possibilities if we combine it with different brick sets.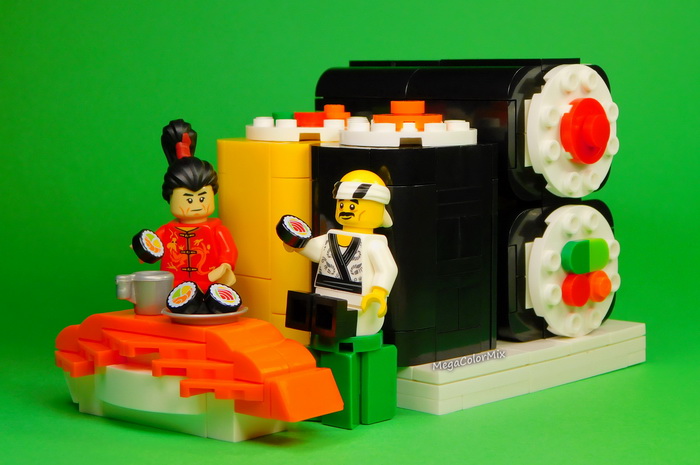 I really enjoyed the high quality and amazing design of this Sluban set.
***
How many construction brands do you collect? Is Sluban on your list?
– Ann @megacolormix
Do you enjoy exploring the Toy Photographers' creative world? Subscribe to our weekly email round up so you never miss a post. You can continue the conversation in our communities on MeWe and Flickr.