'Minimates' toy line gave me much positive emotions. Being a huge fan of 'Spider-Man' movies, I chose my first collection and can say that it's as amazing as the Spider Man! The special square style is combined with the great atmosphere of the story. I created two dioramas and presented some of the characters in my post. Let's meet Peter Parker and Gwen Stacy, and see how cool Minimates are!
Characters' faces
The resemblance between the character and the figure is incredible! They have the same mood, the same expression and the same traits—a picture is worth a thousand words. One face is convenient for different movie scenes, it's rather 'eloquent' for a tiny toy. Some heroes have the additional heads—for example, Peter can smile or be lost in thought.
Articulation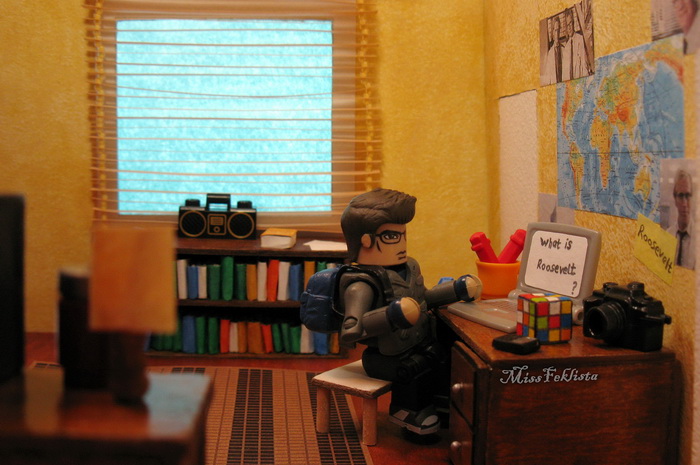 These figures have 14 points of articulation! So Spidey has the necessary acrobatic skills for any action scene. Being at home, he packs his school bag, works on the computer and studies his father's mysterious briefcase.
Accessories
The small Minimates set is marked with the richness of accessories. For example, Peter Parker has a phone, a school bag and a skateboard. The figures also got the additional heads and clothes.
Conclusion
The Minimates sets are great for collecting, playing and photographing—three times hooray! With the variety of accessories and articulation, these figures deserve the status of action figures and perfectly recreate the atmosphere of the film.
Do you have 'Minimates' figures? Do you like to collect the small action figures? What line do you prefer?
Thank you for your attention!
Ann @Miss_Feklista
 Do you enjoy exploring the Toy Photographers' creative world? Subscribe to our weekly email round up so that you never miss a post. You can continue the conversation in our communities on MeWe and Flickr.