The winter is in the full play. It's a good time for the snowy, bright and extreme shots!
The photographer's imagination draws the jumping skiers with a perfect mountain landscape as a background, impressive snow splashes and exciting camera angles. But suppose the weather has no idea about your plans…
Hello, winter! Bye-bye, camera!
So my bag is full of extreme sportsmen minifigures and skiing equipment. Enjoying the long-awaited white view, I choose the cozy place for some extraordinary adventure that would please my eye during the warm evening at home. Here is what I see in my camera.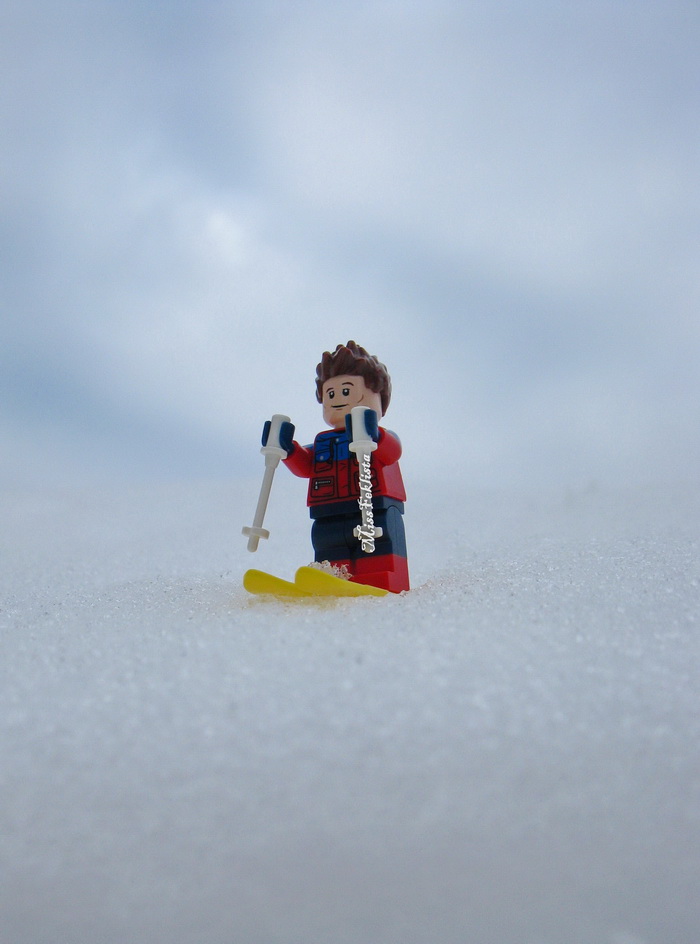 Don't think I didn't use the trans-clear LEGO bars for jumping and flying above the snow. There will be the white or grey background wherever you turn because my south city can't transform into Alps. 🙂
Never give up!
This dramatic situation 😉 is one reason why I'm a studio photographer. The second reason is an amazing challenge that the studio gives! While the sun is going down, I'm preparing my lights. Cutting a circle in blue paper, I fix a lamp behind it and make a sun. After adding the printed mountains, I start the craziest and funniest part of my project – flouring of my artificial hill!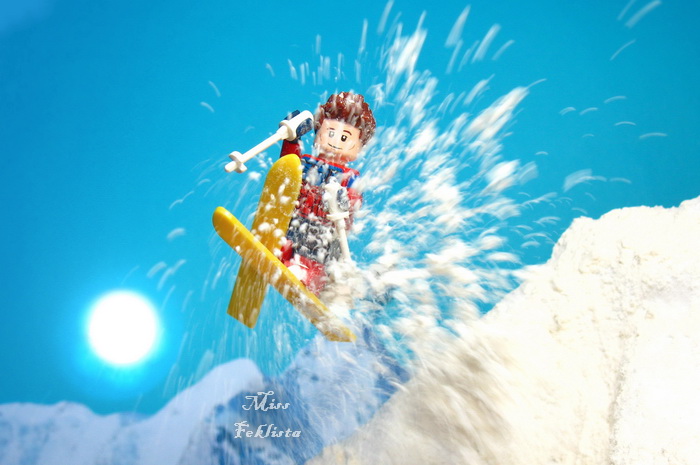 Sweet taste of a Victory!
…or is it a taste of flour? Because it is everywhere! I am excited how the problem of weather conditions helped me find a new creative "recipe" of a winter shot. It makes me think about Shelly's post dedicated to the profit of limits for our imagination. Choose the "territorial" limit and the studio will surprise you!
Do you have your own recipe of snow?
Flour, artificial snow, cotton… there is such a richness of materials! We started a great conversation about "photo snow" on MeWe and I enjoyed the beautiful illustrations of different ideas. Many of our friends live in warm countries but it doesn't mean they don't see the real winter in their camera.
P.S. The experience shows that the outdoor location hides the unexpected natural beauty when I don't plan any scene. For example, this shot is made without any effects and the evening lights revealed all these magical snowflakes. It's much easier to adapt to the weather and nature than the reverse. 🙂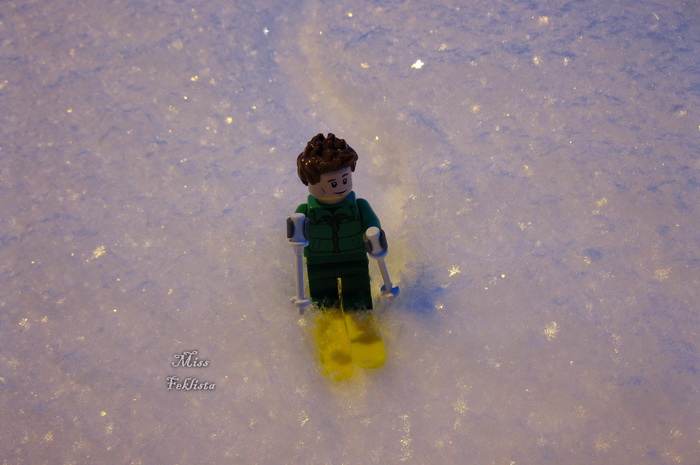 What is your way to the victory when the Weather says "NO" to you? Do you like to make the snowy shots? Does the landscape help you or not? Do you have your own recipe of snow?
Do you enjoy exploring the Toy Photographers' creative world?  Subscribe to our weekly email round up so that you never miss a post. You can continue the conversation in our communities on MeWe and Flickr.